Lowepro Photo Hatchback 16L AW
Lowepro
Price: $99.99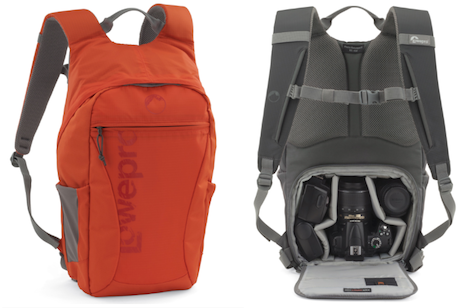 If you're searching for a product with the best camera and tablet device storage on the market, you have come to the right review. The Lowepro Photo Hatchback 16L AW is an exceptional case for either a rookie or pro photographer who is looking for simple and easy access to all his gear on the go. The Lowepro Photo Hatchback has all the capabilities of any ordinary backpack, but it has been infused with hidden pockets and convenient storage compartments to fit all the accessories for your DSLR and also the body of your DSLR, while incorporating space to fit any 10″ tablet or ultra book with ease.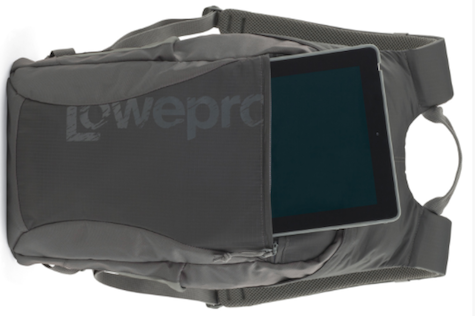 The Lowepro Photo Hatchback is not only a well put together pack with tons of storage options, but it is sleek and thin and makes you feel like you have a uncluttered backpack when loading your items in and out of it. The Lowepro Hatchback conveniently comes with an inner shell that is located on the back of the backpack underneath a zippered  panel that will hold the following:
DSLR camera with lens attached (up to 18-55mm zoom)
Extra Lens (up to 18-55mm zoom)
Extra Flash Extension Accessory
The storage of the Lowepro Photo Hatchback does not stop there. There is a section in the front of the backpack that fits any tablet or ultra book either 10″ in size or smaller. Also on the main compartment of the pack you are able to fit smaller items, for example: extra chargers, connection kits, or a lunch when you are on the go. One of my favorite concepts of the bag is the way you are able to choose whether you want to use it as a full camera pack or using the backpack for school use or just to lug your computer (13″ or smaller) around. The nifty holster that holds the components of the camera as well as its accessories conveniently can be unattached from the back which allows the main compartment to have whole interior area of the back.
Since I am in high school, I am always trying to follow the trend of fashion that goes around all over my school. I found that the bag is very useful for storage but also has a sleek, almost stealth like design that fits your body and makes you feel that it is extremely secure to you, which I need since kids are constantly bumping one another in the halls. The bag makes me feel confident that whatever item I put inside the bag, whether it be my camera, tablet, computer, or school books, that they will not become ruined from rubbing but will come out the same way I put them in. My MyMac Review Rating for this product is a easy 10 out of 10.
Lowepro packs are also featured in bigger sizes or styles. Check them out at http://www.lowepro.com.