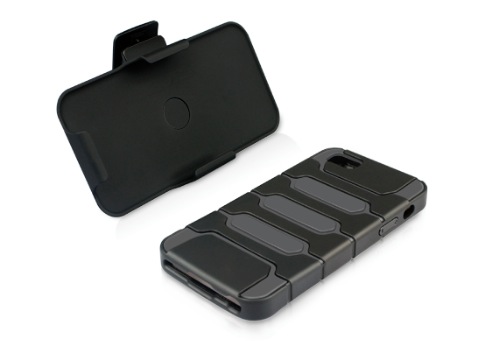 Macally Holster Case with Belt Clip & Stand for iPhone 5
Macally
Price: $29.99
When it comes to iPhone cases they are a dime a dozen. One thing you rarely see in an iPhone case is a belt clip attachment. At least, I have rarely seen any- until I learned about the Macally Holster Case with Belt Clip & Stand for iPhone 5. Why would you want a belt clip? There are times you might want to leave the house in pants that don't have pockets, possibly while exercising. There might be times when your pockets are too full and you don't want to squezee you phone in there. I'm sure you could come up with reasons. Anyway, this Macally case for $29.99 is a great option.
The case itself is made up of three parts. First, there is the silicone case. This is the first level of protection and would work fine without the other two parts if you ever want to cut down on the bulk. It has a back that might be compared to tire treads. This is needed to work with the second part of the exoskeleton frame. This is a hard plastic frame that locks into the treads and goes around the silicone case, adding another layer of protection. The frame is needed to make the final part work. The final part is the clip and stand holster. The frame slides into the clip for a nice snug fit. Surprisingly, the shell and skeleton add very little weight to the phone itself, which is nice. It does add bulk, but that is expected with a double layered case.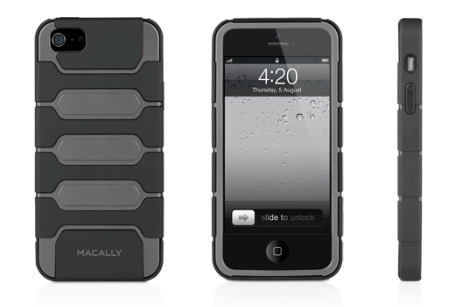 The clip itself has several features, including being a nice large and strong clip. It rotates for different positioning on your waste. The fit is tight, so no worries about the phone slipping out. It also locks in an out position transforming itself into a stand for the iPhone 5. I found the stand is sturdy both horizontally and vertically. This is a great touch by Macally to add an extra feature to an already great case.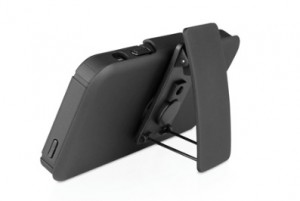 The case is available in a black/gray option and a black/black option. I was sent both and I prefer the black on black option. The gray has a sparkly look to it and reminded me of glitter Playdough. It doesn't look bad, but I just like the other color combo better.
I did try the exoskeleton and the holster with several other brand cases to see if they would work. Whiile one fit in the skeleton, it did not fit correctly for access to the buttons. Other cases did not fit at all, and without the skeleton the other cases just slid right out of the holster.
One word of caution: If you are the type of person that likes to play musical cases, this is not the case for you. The silicone case was very difficult to put on the phone and not something you want to be taking on and off. It was a realy struggle to stretch it over the phone. I almost gave up at one point. If you buy one case and stick with it, this is definitely a nice option.
Overall, it really like this case and the price of $29.99 is definitely reasonable for what you get.
MyMac.com rating 9 out of 10