Macally Foldable Charging Stand For iPhone 4S/4
Macally
$39.99
Macally Foldable Charging Stand for iPhone 4S/4 is a foldable L-shape charging dock for iPhone 4/4S. It has a rubberized edge grip to hold the iPhone, and is foldable for easy storage and travel. The stand can charge and sync the iPhone 4S/4 in a vertical or horizontal position.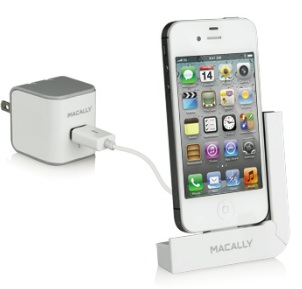 Features of Macally Charging Stand:
A low profile and minimalistic stand for your iPhone while it syncs or charges
Folds close for easy storage and optimum portability
Dense rubber bottom designed to keep the stand from slipping and tipping
Supports both portrait and landscape viewing
Charge through computer's USB port or wall outlet with included USA AC Adapter
Perfect for hands-free FaceTime chats
The MacAlly Foldable Charging Stand is a docking station and a stand designed specifically for the Apple iPhone 4 and 4S. The white stand has a hinge allowing it to unfold into a L-shaped, allowing the phone to be oriented in a portrait or landscape mode. The portrait mode is is idea for handsfree FaceTime chats or my favorite use, docking the iPhone on the night stand to function as an alarm clock while charging over night. The landscape orientation is ideal for watching videos.
The MacAlly Foldable Charging Stand comes with the foldable dock, a USB cable, and an AC power adapter. A provided USB cable allows connection to the AC power adapter for charging or the computer for syncing. One issue I had was with the USB to dock connection. When you attach the cable to the stand, you twist it slightly to secure the connection. I forgot and tried pulling it off, breaking the plastic. This did not affect use of the stand or the cable.
Another notable feature of the stand is the rubberized grips on its base. This provides slip resistance on any surface and prevents the stand from falling over. In addition, the folded stand measurements of 3″ height and 1.25″ width make it small enough for a shirt pocket and convenient for mobile users.
I loved this stand. The portability, simple design, ease of use, and reasonable pricing makes this a must have accessory for the iPhone.
MyMac Review Rating is 9 out of 10