WideCam F100
Company: Genius
Price: $59.99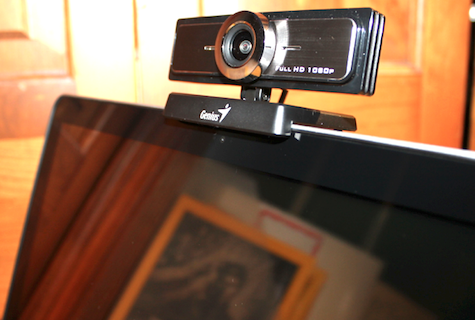 The Genius WideCam F100 webcam is a excellent device. It brings broad spectrum of versatility to your computer. What I mean by this is that the WideCam F100 has many features that are definitely not built into your typical webcam.
The Genius WideCame F100 has a wide-angle lens that can capture 120 degrees of viewing area. Also the WideCam F100 is able to take full 1080p video while recording HD stereo audio and is also able to take 12 megapixel photos. The WideCam F100 has a manual focus ring and also sports a glass lens.
When trying the webcam out for the first time on my MacBook, I used the standard Photo Booth application and changed the video input to the USB Webcam. When comparing the two cameras (the stock iSight against the Genius WideCam F100) there was noticeable difference in the quality.
The WideCam had crisp picture quality and HD video recording as well. The downside to the video recording feature was the audio input. I did not find the sound input from the Genius WideCam to be that great. The reason being is because it had mouse-like sound with excessive treble and little bass, if any.
Pictures turned out fantastic and video was amazing for a webcam. There was almost no noise in the video when taking video in moderate lighting, but as you would expect there was a lot of noise in low light situation; but it was much better than the stander HD iSight camera found on a MacBook Pro.
My overall MyMac rating for the Genius WideCam F100 is a 7 out of 10. I ranked this product with a 7 because of flaws in one of the prominent features for the device, which was the audio input. The audio not live up to its quality that was written about in the product's description. Also the software CD that came inside the box was not compatible with OSX, but only with Windows operating systems.
To summarize, the positives of the device were the outstanding quality of the 12 megapixel sensor, 1080p video playback, and ease of use.