a-JAYS Four (White) Earbuds
Manufacturer: JAYS
MSRP: $79.95 ($70.00 street price)
a-JAYS Four Earbuds
The promotional tagline for these a-JAYS Four earbuds is: Walk, Talk, Listen. This is because they are designed for use with the iPhone—a mic as well as great sounding ear pieces are included. They are from Jays, a Swedish firm that specializes in quality headphones and earbuds. Sleek, functional Scandinavian design, and warm, natural sound are the highlights of these beautifully made earbuds.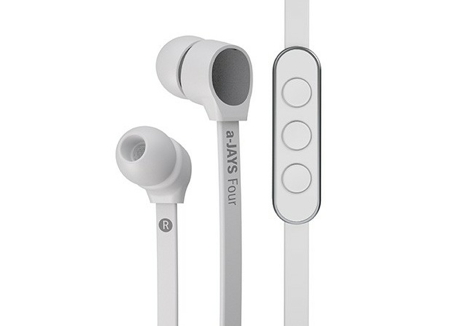 The $79.95 price is quite reasonable considering the pleasing sound quality. Bass is not over-emphasized as it is in so many other mobile headphones. Treble is a bit strong but the manufacturer claims this is because the sonic profile has been tweaked a bit to make voice sound clear and natural—after all, these earbuds are made for use with the iPhone.
The cables are flat and wide (5mm) and are remarkably tangle-free due. Typical earbud cables easily become tangled knots; these almost magically spring straight when they are unwound and hang straight when worn. They weigh 0.4 ounces, double the weight of the ones that come with the iPhone, because they are considerably more substantial.
The cables tend to rub together and scrub over clothing, both of which produce sound that is transferred to the headphones. This isn't a major problem, but it can be annoying if you are particularly active.
The a-JAYS Four earbuds have a nicely made three-button remote that performs exactly the way the Apple remote does. You can leave your iDevice in your pocket and control its functions from the remote. The earbuds come packaged with six silicone sleeves graduating from a tiny XXS size to a jumbo L size, a wide enough range to fit most ears.
The elaborate rubbery coated plastic container in which the earbuds are packed is beautifully designed, but seems overbuilt. Three hands are required to open it—one at each end to pull the two telescoping halves apart and another to insert a sharp object into a small hole in the base to release a plastic clip. This little hole is covered with a sticker to prevent tampering. Wow. The packaging weighs nearly half a pound.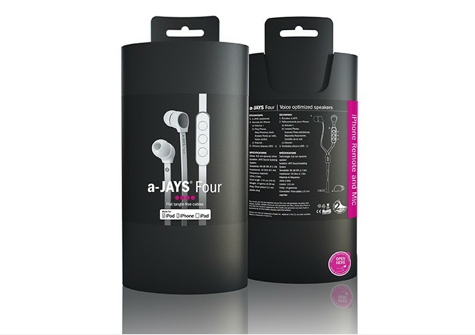 The a-JAYS Four earbuds are beautiful to see and delightful to hear—with refined Scandinavian attention to the design and very clear, warm sound. The sound quality borders on spectacular.
MyMac review rating: 9 out of 10