Bento 4 for iPad
Company: FileMaker
Version: 4.0.0
Price: $4.99 until July 31, 2012, then increases to regular price of $9.99
Requires: any version of iPad and iOS 5.0 or later
iTunes link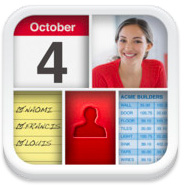 Organizational apps are a big category in the iTunes Store. There's multiple app choices for contacts, expenses, projects. Why use all those different apps when Bento 4 for iPad can handle all those tasks, plus much more.
Bento 4 for iPad (Bento 4), recently released by FileMaker (of FileMaker Pro fame), has been totally redesigned from the ground up. Bento 4 boasts 25 new templates and 40 retina-ready themes. Now it's easier than ever to design a database from scratch on the iPad. No Mac needed.
To get started, choose a template, anything from Home Inventory to Exercise Log to Event Planning, or select a Blank Template for a totally customized database. FileMaker created templates that users want, but for more ideas click on the More Templates button, which brings users to the Bento Template Exchange. Over 1,000 free templates are available in eight languages and will immediately download to the iPad, ready to be used as is, or changed as needed.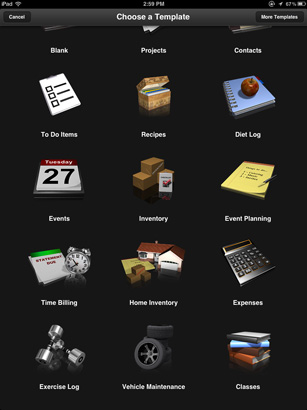 What hasn't changed in Bento 4, and in fact has improved, is the drag-and-drop simplicity for adding fields. Guides help with exact placement for a neat and clean look. Clicking on a New Fields data type gives a description of how to use that particular field. In addition to the usual text, number, and date fields are new field choices of calculation, encrypted, simple lists, and GPS locations.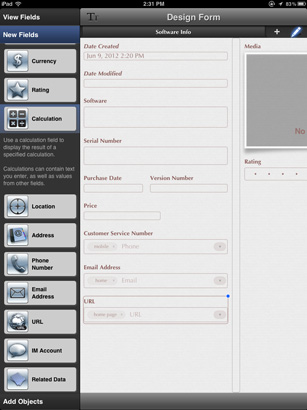 Now there are new ways to look at the information in Bento 4. Choose from Form, Table, Split, and Full Screen views. If all the information in the record doesn't show up on the screen, simply swipe to the left. In Table view columns are easily moved, renamed, customized, or deleted by tapping and swiping. A summary row at the bottom of the table knows what type of data is in each column and shows the appropriate result. For example, if the column is a cost field, the summary row can show the average.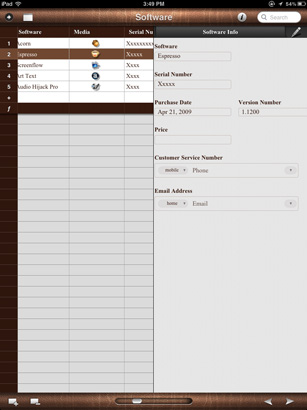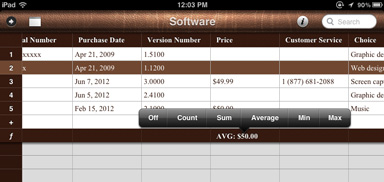 There are plenty of other new features that users will soon come to use on a regular basis. A scrubber bar at the bottom of the screen shows the sort type, total records, and current record number chosen. Highlighted search results and multiple fields sorting make it easy to find specific information.
Alas, sometimes with the good comes a little bad. Bento 4 doesn't allow for emailing individual records or libraries as a PDF. The entire library is sent as a CSV file, which for me opened in Microsoft Excel rather than Bento on my MacBook. I don't want to send someone an entire library when all they need is one or two records, nor should the recipient be expected to have Bento or Excel to open the file. Sending as a PDF would be a great improvement, if for no other reason, to ensure privacy.
On Bento for Mac libraries can be put into folders for better organization. Not so on Bento 4 for iPad. Each library is shown individually in the Library pane. It's not the end of the world; I'd just prefer to group similar libraries into folders. I can imagine the Library getting out of control on Bento 4 for someone with many databases.
Bento 4 no longer inputs iCal data or iCal events and tasks from the Mac. This is no big deal for me, but for others, it could be a problem. Contacts from the Mac or iPad Address Book aren't directly imported as in the past; however, a new Bento Contacts library is created with the Contacts information.
Bento on the iPad used to be targeted more to home users than businesses. While large companies will need something more, like FileMaker Pro, smaller businesses should definitely consider Bento 4 for iPad. Still not sure? Read how customers are using Bento here.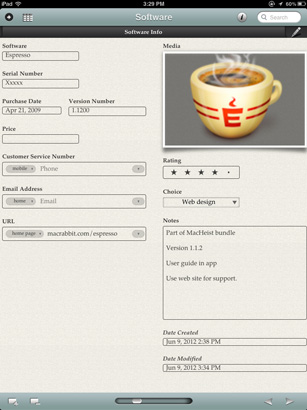 Bento, for both the iPad and Mac, is one of those applications that has more functionality than can be discussed in a single review. The best way to really get a feel for it is to download it and use it. FileMaker has plenty of support on their web site, as well as built-in help within the app. Despite the few negatives listed above, Bento 4 for iPad is a killer application, and well worth the $4.99 price.
(As a side note, Bento 4 for Mac is on sale until July 31, 2012 for $29.99. On August 1, 2012 to price goes back to $49.99. It requires Mac OSX 10.6 or 10.7.)
MyMac.com Review Rating: 9 out of 10