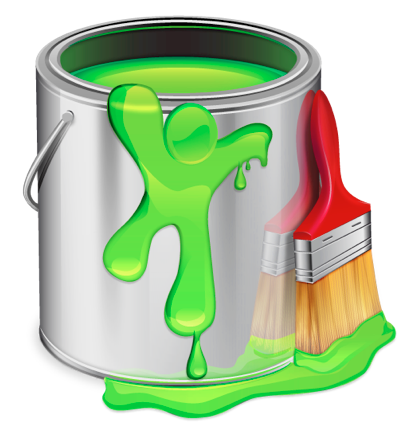 Sketchoo Mac
Green and Slimy
Website
App Store Link
Price: $29.99
I have tried many painting/drawing programs since I have been writing for MyMac.com, and Sketchoo is the latest to be installed on my computer. Sketchoo's website describes the app as "Drawing for everyone." It also states that it is "for beginners and professionals." I would definitely agree that it is a drawing program that anyone can use, but I would have to disagree with the part about it being for professionals.
Let's start with the basics, which is what I would consider Sketchoo. Sketchoo is a basic drawing and painting program. It has the basic tools of pencil, paintbrush, airbrush, eraser, and pen. It has a color picker, and you can zoom in and out and pan through the work as you are zoomed in. It doesn't have any further tools. You get the basics.

Another nice feature are the templates. You can load a template of a cartoon character from a genre or style and draw your own version over the outline of the character. You can then use your character however you wish. However, the template is on the same layer you are painting on so you have to erase the parts you don't use. (More on lack of layers coming up.)
Don't get me wrong. As a basic paint program Sketchoo is great. The tools are smooth and responsive and they do what you would expect. The paint even blends together. Anyone of my students (especially younger ones), or anyone needing a simple paint program would be more than happy with Sketchoo.
However, if you want something more you should look at other options. While Sketchoo has the basics, it is missing a lot the professional or more advanced user would want. Number one on the list is layers. There is no layers option. For the way I work, and many others, layers is a must. I put a sketch on a bottom layer and paint on layers above it.
Another problem is the pencil resizing (or resizing for any of the tools). You have a slider, but are basically guessing at the size. The cursor does not change from the icon of the tool and the slider does not give any numbers or percents for the size of the tip. Again, a must have for me.
There is also not selection tool for moving parts of your image around or copying and pasting from one image to the next.
These are just a few of the missing tools from Sketchoo.
As I said earlier, as a basic painting and drawing program Sketchoo is great. However, it  will not be enough for those wanting more than a basic program. At $29.99 I would expect some of the missing features, or others that are not present.  For a little less or a little more you can get a lot more in a painting program out of other titles like Artrage than you get out of Sketchoo.
MyMac.com rating 7 out of 10