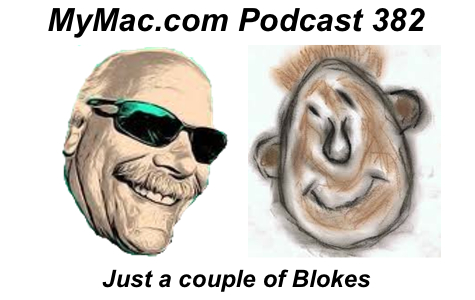 Download & Listen to the show here
Subscribe in iTunes
A complaining email gets answered (it's not always about peace and love darn it) and Gaz can't remember that 1password (see what I did there?) for work so goes back in Time to find it. We finally get around to a few questions from James about how we do the podcast and what we do it with and Jonny Ive get's Knighted and Guy gets squat. It's SO unfair!
Some links:
Samson COU3 USB Microphone 
Rode Podcaster
Heil PL-2T Boom
Nady SSPF-4 Mount and pop filter
Ultimate Stand and Boom
PSM Rode Shockmount
WS2 Pop filter
SoundBoard
WireTap Anywhere (Snow Leopard only)
Audio Hijack Pro
DropBox
Google Documents
Jamendo
Elgato Hybrid TV
iDentify for the Mac
Flat Out 2
Zen Pinball
The Music:
b-Shake – Our Future Begins Here
Please visit and check out the artists that supply great music to our podcast!
Contact info: Drop us a line and let us know you want to be on the show. Gaz and Guy on Twitter, guy@mymac.com and gaz@mymac.com, or our Skype direct number 703-436-9501. Also go into iTunes and leave some feedback. Also don't forget our FaceBook Page!