PhotoPresenter 4
App Developer: Boinx Software Ltd
Version Reviewed: 4.1.6
License: US$9.99 – Requires Mac OS X 10.6.6 or later
If you like showing off your photo collection to family and friends but want something more entertaining than the traditional slideshow then PhotoPresenter may be for you.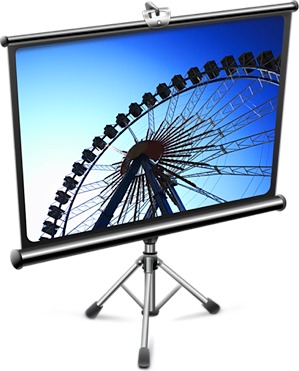 PhotoPresenter takes the idea of a slideshow collation of photographs and changes the way it is conceived, developed, and presented.
The layout is elegant and simple with navigation of various online and offline image libraries appearing on the left hand side. A preview of each available theme is presented at the top of the window. Photographs included in the theme are located in the main window area.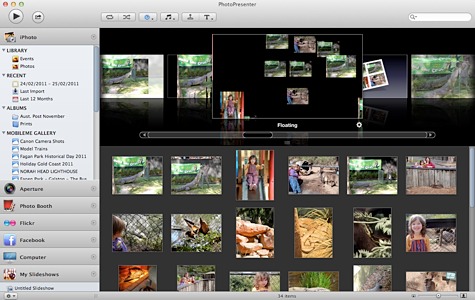 Users can select from various sources that include iPhoto, Aperture (if installed), Photo Booth, Computer, and My Slideshows. From within the application you are unable to merge multiple sources to a single presentation. Although that is a limitation, PhotoPresenter is also Smart Album aware. This awareness allows the application to recognize changes in Flickr, iPhoto, and Aperture Smart Albums.
Social networks play a significant role in our online experiences. As a result users are able to obtain photographs directly from their Flickr or Facebook accounts from within the application.
PhotoPresenter has 36 pre-built themes ranging from a Book Presentation, to Cover Flow, to Ken Burns, and Reflection themes. Users will not be short of themes to suit their photographs.
Music from your iTunes library can be added alongside any created theme to further enhance the experience. The slideshow can also be adjusted to play to the length of the chosen music.
Fine tuning the duration of your slideshow couldn't be easier. Preset options are available such as the duration between photograph changes and the ability to adjust the entire presentation to the length of the music. Manual timing options are also available.
Professional photographers will appreciate the ability to add a custom watermark along with any copyright information. An opacity level slider is available allowing the watermark to be displayed appropriately.
Once you have your presentation ready you will want to look at the most appropriate method to export. Users have many options including a Standalone Player, Screen Saver, iPod, iPhone, iPad, AppleTV, iWeb, iDVD, and QuickTime Movie export options.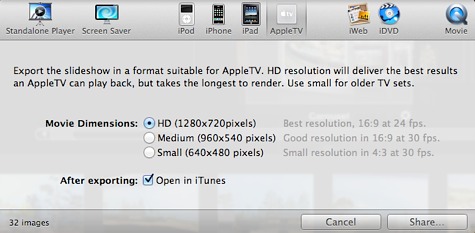 Whilst the list is diverse, the export options assume users are completely locked into the Apple ecosystem of associated products. With many family and friends opting for non-Apple products this limits the ability to share the content.
The standalone slideshow player is great for anyone wanting a simple application style file. Upon launch users will present their photos and associated theme at the full screen resolution. The file created is for use in Mac OS X Snow Leopard and Lion only.
A screensaver is less important today than it once was. Monitors no longer suffer from burn-in effects that plagued users of CRT displays. That doesn't mean the screensaver is no longer useful. Many computer users take their personal photographs and create a screensaver to act as a temporary digital photo frame. As with the Standalone Player the Screensaver is also limited to Snow Leopard and Lion users. The screensaver will automatically install but only one screensaver created in PhotoPresenter can be used at a time.
Users of Apple's iPod's can also enjoy the slideshows on the small screen. Support is available for the iPod touch, Classic, and Nano range. iPods capable of outputting video to a TV screen via a component or composite cable will allow the slideshows to be presented on a supported television. Export to iPod allows the choice of three different resolutions: 320×240, 480×320, and 640×480 pixels.

iPhone and iPod touch users have a simple option allowing the slideshow to be exported into iTunes and supposedly played in the devices' native resolution. This is not the case, as during testing I was able to confirm the export from this option was in-fact 480×320 resolution. The iPhone 4, 4S, and iPod touch 4th Generation all support the retina display at a native 960×640 resolution.
iPad users have two options with the first being a Standard (1024×768 pixel resolution), and a HD (1280×720 pixel resolution). The key difference in the two options is Standard is formatted at a 4:3 ratio at 30 fps (frames per second) whereas the HD option is a 16:9 ratio at 30 fps. Besides outputting the content to a HDTV via AirPlay or a HDMI cable the second option is unnecessary as the default resolution for the iPad and iPad 2 is only 1024×768.
AppleTV gets three options of output resolutions. They are: HD (1280x720pixels), Medium (960x540pixels), and Small (640x480pixels). Both AppleTV models support these resolutions.
iWeb is a simple web site building application that shipped with many Apple computers. It is still available on retail copies of iLife '11 and some earlier versions of iLife. iWeb is an end of life application and has not seen a major upgrade since iLife '09. You can still use the application if you have access to it. This option will create a small QuickTime movie and create a movie or blog template within iWeb for addition to your site.
iDVD is similar to iWeb as it is considered end of life. Anyone still using DVDs to share their home videos and photographs will be happy this option exists. Selecting this option requires users to create a new project in iDVD prior to exporting. This requirement is to allow users to set the correct video aspect ratio and color mode, such as NTSC or PAL.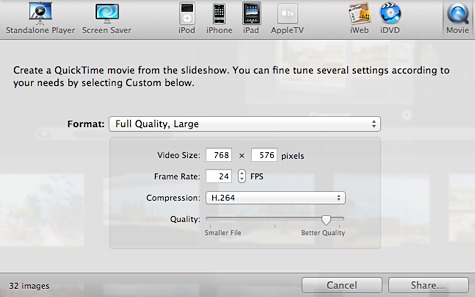 QuickTime export is where the user gets complete control. Preset options include Email, Web Movie (Small), CD-ROM Movie (Medium), Full Quality (Large), HD 720p (30fps), HD 1080p (24fps), HD 1080P (30fps), and custom.
Within each of the preset options users can change individual settings such as the Video Size, Frame Rate, Compression technique, and overall Quality.
It would be nice to see additional export options for compatibility with products outside of the Apple ecosystem. This would allow more seamless sharing ability with family, friends, and associates.
Import options for Flickr and Facebook are welcome but export options to the same services would further enhance the application.
It was disappointing to see export to iPhone only supporting the lower non-retina resolutions. With updates to the application as recent as December 15, 2011, there is no reason why this has not been rectified.
Overall, the app performed well consuming very little system resources and outputting spectacular slideshows that anyone would be proud to present.
Therefore, I am awarding this Mac App a MyMac.com review rating of 7 out of a possible 10.