Inkling
Company:Â Wacom
Price: $199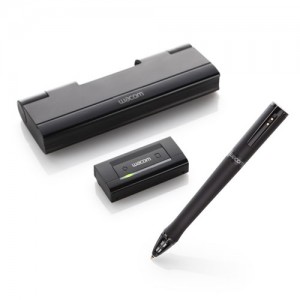 When I first saw the Wacom Inkling my reaction was "Wow!" I also thought it was too good to be true. Well, I am happy to report, after being sent a review unit by Wacom, that it is not too good to be true and the device is awesome! As an illustrator who has scanned sketches into my computer for years and redrawn those sketches in Illustrator the Inkling is exactly what I have been looking for. Not only will it save me time and allow me to skip the scanning process it will propel me to another level where I can do a lot more artwork on my computer.
So what exactly is this Inkling thing that I am raving about and haven't even described yet? Simply put it is a device by Wacom (the company known for drawing tablets) which allows you to draw on a regular piece of paper with a ball point pen and have that image digitized. That image can then be converted to a vector image for Illustrator or it can be converted into a Photoshop file. (It can also be sent to Sketchbook Pro). Instead of exporting to one of these programs you can also export in JPG, BMP, TIFF, PNG, SVG or PDF for use in the software of your choice. As I said, it works as advertised and is fantastic.
Now that you have the basic idea of the Inkling, let's get a little more detailed. The Inkling consists of several parts. First there is the receiver. This is a little rectangular box that clips onto a sketch pad, a piece of paper, or several pieces of paper. The clip will hold about 20 pieces of standard paper and the device is capable of reading an area as big as 8.5"x11."
The second part of the device is the pen. The pen is a special Wacom ballpoint pen that is pressure sensitive, just like drawing tablet pens. The pressure sensitivity helps get thick and thin lines as you are drawing. The pen communicates with the receiver as you draw.
The third part is the Inkling software called Sketch Manager. Through this software you import your images into the computer and convert it into the formats you want to work with. You can also see the image being drawn in the software. I would love to see the ability to export this animation. It would be great for a how-to-draw video. The software also allows you to delete steps in the drawing and "clean it up" before exporting.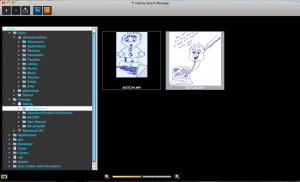 The fourth part is the case. The case holds the "reader" and pen and also charges both when connect to a power source via the included USB cable (also stored in the case). You also get 4 pen refills. Pen refills are standard, so if needed you can purchase standard refills from any office supply store.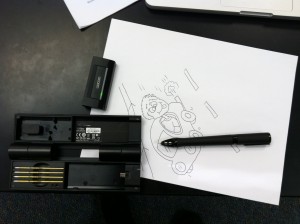 If the Inkling only digitized your drawing and converted it to a usable format on the computer that would be enough for me. It would get a great rating. However, Wacom went even further and enabled layers! With a push of a button on the Inkling you continue your drawing, but what you are drawing is placed into a new layer. These layers are visible in the Sketch Manager software and also transfer to Photoshop and Illustrator! Fantastic!
Transferring to Illustrator is great! Every time you pick up the pen and start a new line on your paper you get a new line in Illustrator. The vector points are created and you can modify the image point by point if you want to. I like taking the image into Illustrator and using the smoothing tool to clean up the edges.
I have been using the Inkling for a couple of weeks and I love it. I am amazed at how well it works. Below is an image drawn with the Inkling and unedited. The first image is the pen drawing and the second image is what imported into the Inkling. Overall it did a nice job. The lines that are out of place in the Inkling version are lines that were drawn very fast. I found that when you take your time the result is almost 99% accurate. When you draw fast and rush you take the risk of things being out of place. If you are like me, you will be drawing at a "normal" not fast pace and the Inkling will do what you expect it to do.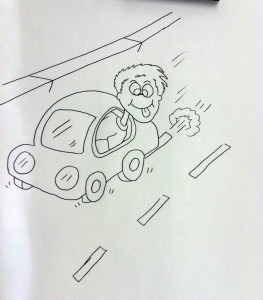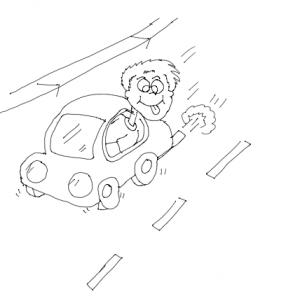 The pen itself has 1024 levels of pressure sensitivity and it shows. No matter how soft I drew with the pen it was picked up by the receiver. On the same note, the smallest and finest lines I could draw were also picked up.
Here is another drawing I did. Again, original followed by the Inkling version.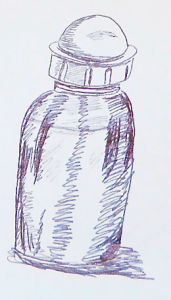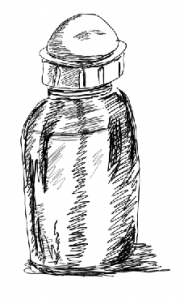 As for how many drawings the Inkling can hold, I'd say a lot. It has 2gb of storage and mine shows 1.83 left with the preinstalled software. Each image I have drawn is less than 1mb. The more complicated the image, the larger the file.
There are a few rules for drawing. First, you have to hold the pen above a certain point or you block the signal. You also cannot use a ruler or any other device that could block the signal. You also have no way to erase with the pen itself, but that can be done in the drawing software you choose to use. However, with that said a pencil version would be a great addition to the line. Possibly with the ability to erase with the pencil and actually erase the digital image too.
I also found the need to push the tip of the pen down when I first started drawing a couple of times to turn it on. I got the best results by pressing the pen down on a piece of paper outside the scan area to turn it on. This way I could start drawing without having an extra "turning on" mark. Not a big deal, but maybe an on/off button would be better.
As for battery life, I found the Inkling lasted a full day with on and off use. In fact, I went an entire week with light usage without having to charge it. With that said, if you are going to be using the Inkling on a regular basis I definitely recommend charging it overnight and have a USB power source with you to charge it during the day (depending on how much you use it in one day). Wacom says the battery should be good for about eight hours.
Overall, I love the Inkling. It is something I have been looking for for a long time. Drawing on a drawing tablet is great, but drawing with an Inkling is even better. When using the Inkling the one thing you have to keep in mind is that it is not a tablet. It is a tool to help you get your sketch or line drawing into the computer. You can then use the tablet or whatever tool to help refine and finish your image.
At $199 it seems a little pricey, but it is well worth every penny if you are an artist and this is something that will help your workflow. It will definitely help mine.
MyMac.com rating 9 out of 10