Fat Gecko Mount and Accessory for iPad 2
Company: Delkin
Price: $36.74 U.S. for the mount and $20.99 U.S. for the iPad accessory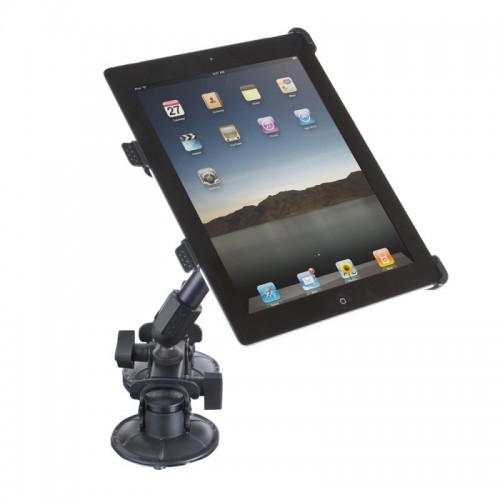 Delkin Fat Gecko Mount is a suction cup arm that can be used to attach a small camera to a smooth surface. With the iPad Accessory mount (available for either iPad 1 or iPad 2), you can attach your iPad anywhere.
At least, it is the claim Delkin makes. While the Fat Gecko Mount suction cup is rather large (three inches) and looks to have a solid hold on any surface, I had limited success with it. On wooden surfaces, such as kitchen counter, table (melamine-made), and similar surfaces, the suction cup was loosing its grip after only a few minutes. And it is not because I had not cleaned the surface properly or did not put enough pressure on it to succeed. But on a glass surface or mirror, the suction cup works perfectly and is very sturdy. The arm can be extended by about four inches with a provided accessory.
The iPad Accessory kit is a good clip-in for the iPad if you don't have any case on it. You must order your accessory according to the model of iPad you have. Using it is very simple; just place your iPad on it and clip it. The accessory can be screwed to the Fat Gecko Mount or to any standard photography accessory with its 1/4-20 nut mount.
Since the iPad has become a popular device among photographers, having a way to afix it in a studio is a must today. Using a few of my photo accessories, I successfully attached my iPad 2 to a table or to a light stand. I used a few combination of things I had around (such as: Super Clamp, Extension Arm, Flexible Arm). The accessory doesn't have a twisting mechanism to place the iPad in portrait or landscape mode, but because it is screwed in, it is easy to place the iPad in the position you want.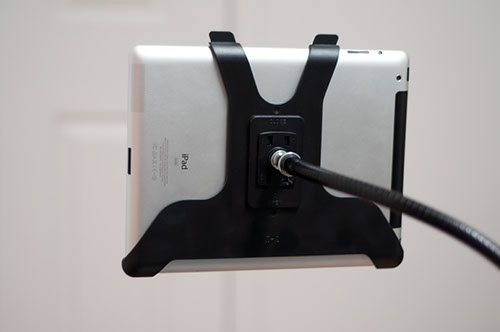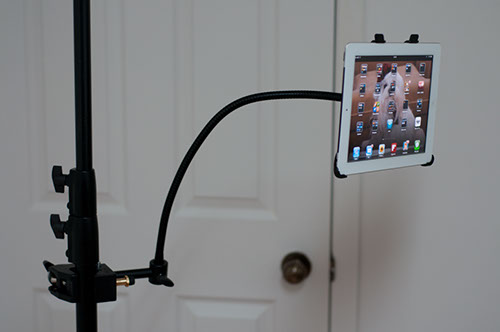 If your goal is mainly to have your iPad in a photography studio, you should take a look at the Delkin iPad or iPad 2 Accessory. The price on this accessory is very good. Use your own studio mounting gear to attach it anywhere. I would not suggest buying the Fat Gecko Mount unless you plan to use it on glass or a surface of that nature. Any other surface is at risk of letting your iPad fall to the floor.
Fat Gecko Mount
MyMac Review Rating: 4 out of 10
iPad 2 Accessory
MyMac Review Rating: 9 out of 10