Take Control of Your 802.11n Airport Network 2nd Edition
BY GLENN FLEISHMAN
TidBITS Publishing Inc.
Price: $20
In Take Control of Your 802.11n Airport Network, networking guru, Glenn Fleishman, provides advice on setting up wireless networks using Apple Airport Extreme and Time Capsule base stations. This second edition update includes support for Mac OS X 10.7 Lion, Windows 7, and iOS devices. As the title suggests, the focus of the book is on the 802.11n standard but the author does provide techniques to address those users still attached to 802.11g gear.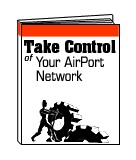 Whether you want to master 802.11n networking or simply resolve a problem with your Airport network,
Take Control of Your 802.11n Network
 delivers. As with other books in the Take Control eBook series, this eBook provides expert insights and advice from the novice to the professional. The topic layout is as follows:
Wireless network basics
Installation and configuration
Printer and disk network sharing
Wi-Fi network connectivity
Extending the network range and quality
Airport Express features
Network Security
As a fan of The Take Control series of books, I was delighted to review this latest in the series. I expect a how-to book to have clear instructions on the how-to and for the book to be able to stand alone as a reference. The Take Control series has always met those requirements and this book continues the tradition.
Some of the features of the book:
Quick Start to allow you to jump to the networking install or configuration stage you need help with
Set up chapters for the network, shared USB printer, and shared USB disk respectively
Quick Troubleshooting Guide
An Appendix with detailed information on networking for the Apple TV, setting up your Mac as a Software Base Station.
Demystifying channels, MAC addresses, and IPv6 for the uninitiated.
Since I am not a network novice, I found the material to be comprehensive. A newbie to networking may need to return several times to the areas that aren't quite clear. The author leaves no stone unturned. All you need to know about the 802-11n Airport networking is in this book.
Mymac Review Rating is 8 out of 10