SpeakMyTunes available on the Mac App Store
App Developer: Riccardo Ettore
Version Reviewed: 2.0.1
License: Freeware, Compatible on PowerPC and Intel Macs with Mac OS X 10.5, 10.6 and 10.7
SpeakMyTunes is a small companion application for iTunes that will vocally announce the current track name, artist and album. The developer has the user in mind and has allowed customization of not only which song elements can be used but also the associated text you would like spoken around these elements.
You may assume that this application is only suited for users with visual impairments. I beg to differ. There is something about listening to your own music library and having the track and artist announced as if you were listening to a live radio show.
It also allows me to instantly say, no, I don't wish to listen to that track and hence I will proceed to the next track. You therefore don't need to have that constant argument in your mind as to who that artist is or what is the name of that song.
By default the application doesn't burden the user with automatically launching at login, although this is available as an option in the preferences as seen below: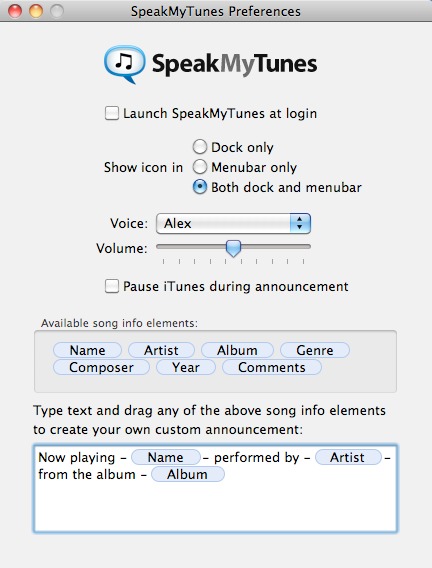 What you are seeing above is the complete set of options available, which whilst they look basic and perhaps limiting they are anything but.
The developer has given you a choice of where you would like the application to reside. It is a welcome addition to my Menu Bar.
The voice selection is also vast and uses all of the available voice synthesizers that Apple has installed with the Mac OS platform. Additional, more realistic voices have been added to Mac OS X Lion and are accessible in multiple languages as well. To obtain some of these new voices, you will need to download them through the "Speech" area in the "System Preferences" of your Mac.
When you play a track for the first time you will hear the spoken word over the beginning of the track by default. I didn't like this. The voice over got in the way of AC/DC's epic Thunderstruck guitar solo introduction. The developer also thought of this and allows user to select the "Pause iTunes during announcement". By doing this the spoken word will take place and then the music will start upon completion, meaning I get to enjoy my guitar solo introductions.
This isn't just for your own library of music. You can go to the iTunes Store and request a preview of a movie, music or podcast and you will be presented with the voice over also at that point. The feature didn't work when sampling audio books. However, upon discussing this with the developer he stated that this would be looked at and corrected, if possible, on a future update. Please note this is only within the iTunes Store. Purchased audio books worked without problem.
You may be wondering what happens when you navigate using just the keyboard and the pre-determined iTunes control keys. Well, it just works. Press the next track button and the next track will be spoken to you even when iTunes is not the front most window.
I was thinking I can trick this nifty little application and press the back key, because sometimes I love listening to the same track over and over again. However, the voice over would never play when I went back to the beginning of the track. Even if I told iTunes to repeat the track, the voice over again would not interrupt my listening experience each time the song played. However, repeating an entire album or a selection of an artist will invoke the vocal announcement upon the second play through.
You may be wondering what if I want this turned off temporarily. At present you need to quit the application from the Dock or the Menu Bar. However, upon speaking with the app developer you will, in a future edition, be able to pause the service from within iTunes and then un-pause at will. Meaning you can when the time suits use the feature and then when it's not appropriate prevent it temporarily from activating.
One of the essential areas is the ability to change the way in which the name of the music and other additional elements are announced.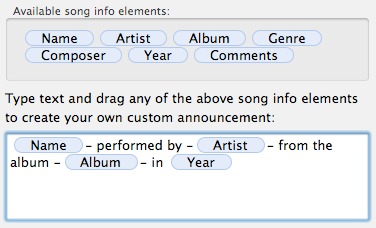 As you can see, in the image above, I have changed this slightly from the default setting as I would also like to know what year the song in question was released. It is so easy to do. Simply add your own text and assign a song element to customize the way your music is introduced.
When looking at these small applications, which offer additional services to iTunes, one sometimes needs to be wary about how they will impact your system. Will you notice a drop in performance? Will files be scattered throughout your hard drive making it difficult to remove?
Well, the good news is that SpeakMyTunes does none of that. It simply sits there in the background, using very little system resources and there are no additional files scattered throughout your drive or additional system preferences for that matter. It is clear in my opinion that the developer has taken significant time to keep this application as user friendly and transparent as possible.
SpeakMyTunes is the perfect companion for iTunes. It is well designed for anyone to use not; just those with visual impairments. I have enjoyed using this extension to iTunes extensively over the past week and feel that even though the review is now complete I will continue using it on a daily basis and look forward to new features from the developer as they are released.
SpeakMyTunes does exactly what it says and does it well. As a free application is a welcome addition to my Mac. However, if it were a paid application I would certainly buy it.
Therefore, I am giving this application a MyMac rating of 9 out of a possible 10