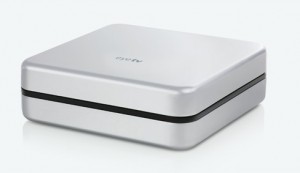 EyeTV HD
Company: Elgato
Price: $199.95 (US)
I have been a long time user and fan of EyeTV. In fact, we don't have a true DVR in our house. EyeTV is our DVR. I currently use the EyeTV Hybrid with the EyeTV software, and when I was presented with the opportunity to try the EyeTV HD I jumped at it.
Let me take a step back for those who don't know what EyeTV is. EyeTV is software for your Mac that basically, with the proper hardware, turns your Mac into a TV and/or DVR. Recordings can then be viewed through EyeTV, transferred to iTunes for your AppleTV or iOS device, and even watched anywhere in the world through the EyeTV app. Through the software you have a program guide, can schedule recordings, and even edit the recordings to trim out commercials or unwanted sections. The program is also integrated with Roxio Toast for burning your recordings to disc.
The software is fantastic and easy to use, but it is useless without hardware. The EyeTV hardware is what brings the TV signal to your computer. There are several different types of EyeTV pieces of hardware, and you can see what is available on the Elgato website.
As I said earlier, I own the EyeTV Hybrid, which allowed me to record digital cable on my iMac, and what I thought was HD. It works great, and I was very happy with it. I could record any channel I wanted to from my cable box. However, (and I have written about this at MyMac) I had to use something called an IR blaster (basically a remote connected to the Mac) to change the channels on the cable box through EyeTV. Without the IR blaster the TV would always have to be set to the channel I wanted to record ahead of time. This was reminiscent of the old VCR days and not have a VCR that could tune in channels.
Before trying the EyeTV HD I thought I had everything I needed, and wasn't even really sure what was different in this $200 box that I needed. Once I started using the EyeTV HD I found out what I was missing in this little silver box that looks like a baby Mac Mini.
First, EyeTV HD records TRUE HD programming. With my Hybrid I was recording HD channels, but only getting the digital signal. The recording was not true HD. Now I am getting true HD recordings that look great. The EyeTV HD records HD and non-HD channels (you do have to have an HD signal going to the device to get HD channels). The press material also says it can record premium channels that other EyeTV devices cannot record. I do not get any premium channels, so I am unable to confirm or deny this feature.
Second, transferring recordings to iTunes is blazing fast. As I said earlier, one of the EyeTV features is the ability to export your recordings to iTunes for the AppleTV or iPod/iPhone/iPad. This is the feature I use all of the time, and it would take forever, The conversion process used in exporting a twenty five minute recording would take over an hour. The EyeTV HD has a processor in the device and is able to record in "regular" format and iOS compatible formats at the same time! This means when I hit the export button in EyeTV the recording (HD or standard definition) is transferred to iTunes within minutes or seconds (depending on the recording length). Of course, transfer times vary depending on the recording length, HD or standard definition, and if you are exporting to iPod or AppleTV formats. A long HD recording the is 7GB in size takes 10-20 minutes to transfer, but compared to the hours it would take before- we'll call that fast.
Third, the device has its own integrated IR Blaster. Yes, I have an IR blaster that worked, but because it is a third party device it isn't perfect. Every now and then I would miss a recording because it did not work correctly. The EyeTV HD's IR blaster is made specifically for EyeTV and works great! It is always better to have an accessory that is made by the company for its own device, and this definitely supports that theory.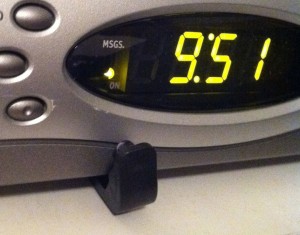 Fourth, and this might be my imagination because I have not found literature to support it. The EyeTV iOS app that allows you to watch live TV or recordings from anywhere  you have an internet connection seems to work better with the EyeTV HD then it did with the Hybrid.
Those are my big must have EyeTV HD reasons, but it has several more features. You can connect a digital camcorder to the device with the included cables and make the camera the input source for recording. The package also comes with a remote control for the cable box to truly turn your Mac into a TV. I have never used the remotes since I have a TV in the same room as the computer I record from. Plus, I have to have a cable box to get a cable signal, so I use that remote. In fact, I have several EyeTV remotes that have never been used.
As much as I like the EyeTV HD, I did have one problem setting it up. Set up is extremely easy . The hardware connects via USB to the computer, you connect the IR blaster, and then you connect the component cables (all supplied).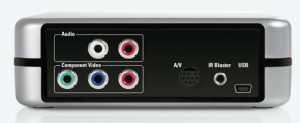 For the software there is an EyeTV setup assistant to walk you through. However, if you have a previous EyeTV device that was set up pay attention. All of my scheduled recordings and channel lists from my EyeTV Hybrid "broke" with the new device. They would not work anymore and I had to reprogram them. Not a big deal, but worth mentioning.
Another warning: While I was preparing this review an update was pushed out for EyeTV. After installing the update my video continually froze and EyeTV became useless. Elgato is aware of this problem and working on a fix. In the meantime, I was sent to a support article (http://support.elgato.com/index.php?_m=knowledgebase&_a=viewarticle&kbarticl
eid=4167&languageid=1&group=englishdefault) which provides a link to go back to the older version.
At a price of $199.95 the EyeTV is a bit pricey. There are other Elgato solutions that can turn your Mac into a DVR (like the Hybrid) for a lot less money. If the features I mentioned above are not important to you, go for a cheaper option. However, if you like what I talked about, especially true HD recordings, you won't be disappointed.
MyMac.com Rating 9 out of 10