Perfect Harmony
Folding Keyboard – $99.95 USD
iRizer for iPad – $39.95 USD
Company:Â Matias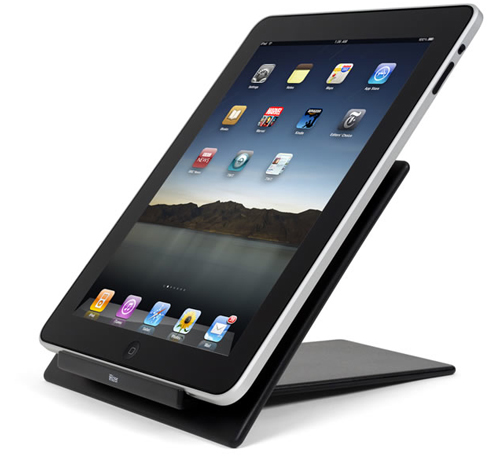 I've done several reviews of late that revolve around keyboards. I reviewed the excellent Matias Tactile Pro 3, and using an iPad, took a look at the very handy Kensington Keyfolio. What if someone could create a great full functioned keyboard that you could use with an iPad, and then offered something to hold the iPad while you were typing? Both would need to be compact and light for carrying, but rugged enough to hold up to a lot of use.
I think I found this combination. Matias Corporation, known for their excellent keyboards, manufactures the Matias Folding Keyboard. Pair this keyboard up with the Matias iRizer for iPad and you have a winning combination to easily type on your iPad.
The Folding Keyboard:
The Matias Folding Keyboard is a full size Bluetooth keyboard that folds in half for travel. There is a hinge in the middle that allows you to fold one half over the second half and it snaps into place with a small button latch. There is a small power button at one end and a set of LED lights that show the status of the keyboard: On, Off, Pairing.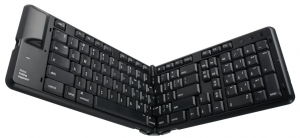 This is a full size keyboard and it has everything a typist could want: full numeric keypad, F keys one through twelve, cursor keys, and it even has a fn (function) key. The fn commands are printed on the keys in italics. The keys have a responsive feel, not unlike an Apple branded keyboard. High-quality dome switches give the keyboard a responsive, tactile feel, with enough resistance to hold the weight of your hands. The enhanced number pad has a tab key for one handed number entry. Nestled in the upper right hand corner are three volume buttons to raise, lower, or mute the volume. These volume buttons work perfectly with your iPad.

The Matias Folding Keyboard comes with a very thorough 32 page manual that walks you through the bluetooth pairing process on a variety of devices. One of the big plusses about this keyboard is you can use it with just about any device that has bluetooth. That means you can use this device with an iPhone, iPad, Macintosh computer, or a Windows computer. This baby will work with anything you throw at it. You can even eject a disc on a Mac by holding down the F12 key. The keyboard comes with a small cloth carry bag and weighs in at 15.3 oz (433 g). The dimensions closed: 10.08" x 5" x 1.38" (25.6 x 12.7 x 3.5 cm)

There is very little not to like about this keyboard, however I do have a couple of quibbles. I wish there was a way to lock the keyboard in the open position. If you prefer to use the keyboard on your lap it wants to bend at the hinge in the middle. Also, while the power button is recessed into the left edge of the keyboard, I kept inadvertently shutting the keyboard power off when I lifted the unit. This "problem" went away after a short bit of use. Overall, this is a great keyboard and I highly recommend it.
iRizer for iPad:
If you want to use the Matias Folding Keyboard with an iPad, you will want some kind of travel stand. Matias makes the iRizer for iPad portable stand that is simple to use, very stable, and has a variety of viewing angles.

The iRizer consists of two thin panels that interlock with each other at different viewing angles. There are six different angles to choose from: a very low 20° angle for typing directly on your iPad using the built in keyboard, to a vertical 70° angle for desktop use. In between these are 30°, 40°, and 50° angles. You can set your iPad on the iRizer in portrait or landscape mode. One of the best features of this stand is the ability to use it when your iPad is already in a case, skin, or bumper. I think this is a critical consideration for an iPad stand. I use a variety of cases for different situations and to not have to remove the case to use the stand is a big plus, especially when traveling.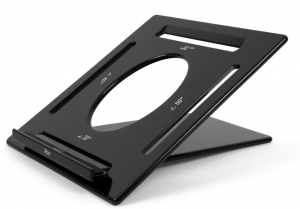 The unit comes with a small cloth carry bag and weighs in at 10.5 oz (295 g). When the stand is in the carry bag, it measures less than 1/2" (11.5 mm) thick. Thinner than your iPad. The iRizer is made from a special composite material that contains 45% organic fiber, reducing its carbon footprint.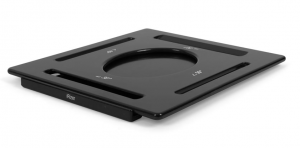 This Matias combination of keyboard and stand make using your iPad for work or play very easy. Use the stand for watching movies or reading, then break out the keyboard to answer mail or write your next novel. This is a combo you can't beat.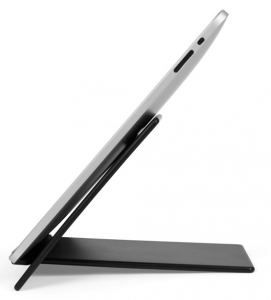 Matias Folding Keyboard – MyMac Review Rating 8 out of 10
Matias iRizer Stand – MyMac Review Rating 10 out of 10