STM Bags Jacket for iPad
Company: STM Bags
Price: $24.95 USD MSRP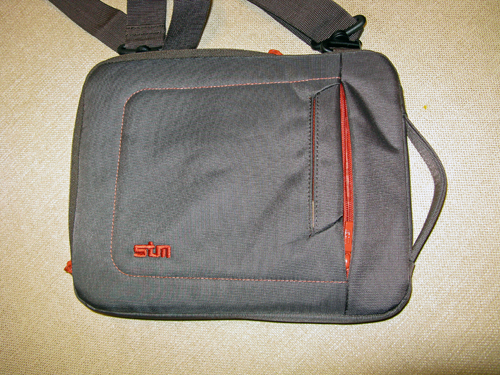 The one thing that everyone immediately notices is that you cannot just stick your iPad in your pocket as you can with your iPhone or cellphone and go. You either need to place your iPad in a case or into a bag to transport it around. Besides, why offer you and your iPad up as possible targets for those who would love to get their hands on your iPad… free of charge, of course.
STM Bags has provided iPad users with a really good choice for a bag to carry their iPad around in; the STM Jacket for iPad. Made from 600D water resistant nylon, the Jacket has an interior of soft brushed polyester with foam padding between the interior and exterior layers, so when you place your iPad inside, it's not going to get scratched up. Weighing in at .4 pounds, the Jacket is extremely light weight and durable. You can utilize the removable, adjustable shoulder strap  to carry your iPad in a horizontal position or carry it by utilizing the quick grab handle at the top of the case so that the iPad is now vertical.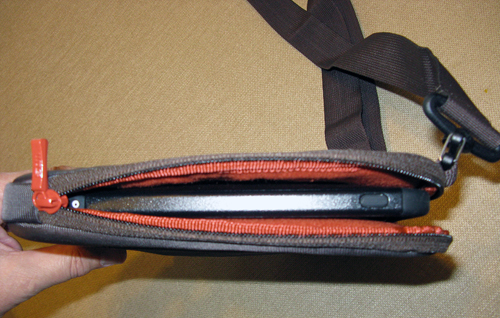 Although the specifications for the Jacket give its dimensions as 7.8 x 9.9 x 0.6 inches for the interior of the bag, I found that the bag easily carried a naked iPad, or an iPad with a polycarbonate shell or a few other cases designed for the iPad, as long as the case was not too large. On the back of the Jacket there is a small, open pocket that you can insert some paperwork, albeit folded in half unless you don't mind the paperwork sticking up.
On the front of the bag are two pockets; the furthest one out is designed to hold your iPhone or cell phone, with a thoughtful insight that the phone angles downward when placed in the pocket to prevent it from accidently slipping out. The second pocket, that is zippered, is intended to carry the cables for your iPad and the AC adaptor and is about 7 inches deep. The shoulder strap is really easy to install or remove, no muss or fuss.
The one thing that you will need to understand is that this case is designed to carry your iPad and some minor items. It is not designed to work as a messenger bag that you can throw a magazine or two in, plus a lot of other stuff. STM Bags did an excellent job of producing a bag that does exactly what it is supposed to do; carry your iPad in a protective pouch and to do it at a price point that is readily digestible. In my time using the bag, I have not encountered any issues or problems. The bag is a well designed and nicely put together item.
If you are looking for a bag that does what it was designed for, carrying an iPad in a protective case, then really consider STM Bags Jacket for the iPad. I don't think that you will be disappointed at all.
Specs:Â  7.8 x 9.9 x 0.6 inches, weight .4 pound. The Jacket comes in two colors – Black with Teal interior or Chocolate Brown with Orange interior.
All in all, I give the STM Jacket for iPad a My Mac rating of 9 out of a possible 10.