GoToMyPC
Company: Citrix Online
Price: $9.95 – $19.95/mo
http://www.gotomypc.com/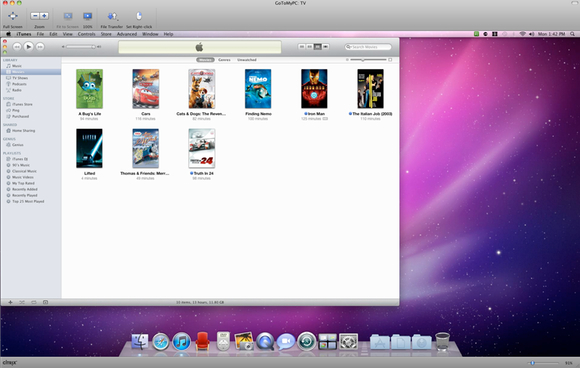 Choosing a remote computer access service can seem a little like wandering around the strip in Las Vegas — there are lots of interesting choices vying for your attention, and possibly some gambling involved. But it needn't be that way. GoToMyPC from Citrix Online provides a quality, easy to use product backed by a name that's well known in the online computer services industry. Citrix Online also provides the highly regarded GoToMeeting, GoToTraining, GoToAssist, and Webinar, which gives an indication of the company's ability to run secure and scalable services.
Getting started with GoToMyPC is straightforward. First, create an account on the GoToMyPC web site. Secondly, download and install the GoToMyPC software on a computer that you want to remotely access. Finally, you go to any other computer, log into your GoToMyPC account on their web site, view the list of computers you've installed the software on, and click the Connect button. The browser will launch a Java application which will then access your computer. Then you can play solitaire on your computer from a thousand miles away, just like you always dreamed of. For extra security, there is an option to enable a passcode that will need to be entered after clicking Connect before you can access your computer's desktop.
One minor note, in the following screen capture images, you might be wondering why one of the computers I'm connecting to with GoToMyPC is a TV. This is actually the name of the Mac mini we have been using as our home media system, just to avoid any confusion about what I'm connected to. It's not really a TV, it just has that unfortunate designation as its name.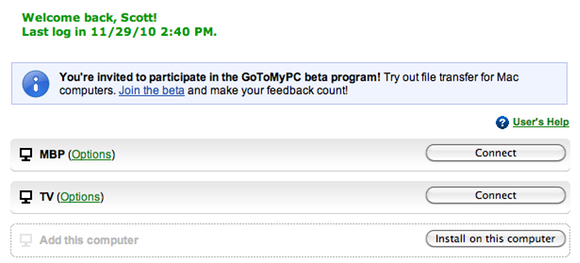 Using the client software to control your computer is very easy as well. The mouse and keyboard work as normal. There is a toggle button on the Mac GoToMyPC client to make left mouse clicks act as right mouse clicks, but in my testing, I never needed it. I honestly wondered if it was due to the old preconception of one-button mice on Macs, although it hardly seems likely given Citrix clearly have people working on the Mac versions of their software. Regardless, left clicks work fine as left clicks, and right clicks work fine as right clicks, just like they do on your local Mac.
You can choose to view your remote computer's screen in full screen on the local computer, or in 100% size, or you can zoom in on portions of the remote computer's screen. You can also make it fit the client software window size on the local computer.
One of the nice things about GoToMyPC is that it works on both Macs and PCs. One of the not so nice things about GoToMyPC is that several features that PC users will enjoy simply don't work on the Mac clients. These include keyboard locking and screen blanking on the remote system, being able to invite a guest to view your computer, remote printing, and remote sound. File transfer between local and remote systems is also not currently a feature of the Mac version of GoToMyPC, but it is currently in a beta version of the software. In fact, I used it while writing this review, and the file transfer features work well.
To start a file transfer in either direction, click the File Transfer icon on the GoToMyPC client toolbar. You'll be given the option of sending files to the remote system, or receiving files from it to your local computer.

When sending a file to the remote Mac, the file goes into the Downloads folder on that computer. When receiving a file from the remote Mac to the local system, the file goes into the Downloads folder of the local Mac. Either way, the client shows a progress bar on the lower right edge of the GoToMyPC window.

Another interesting item of note that I came across on the GoToMyPC web site was that you can access your computer from a Windows Mobile device. They don't list Windows 7 mobile, but they do list PocketPC, Microsoft Windows Mobile, and Microsoft Windows CE. Quite frankly, I figured the last Windows CE device had been thrown in the landfill long ago, but perhaps I overestimate the ability of all gadget owners to keep with the times. It would be nice to see them write an app for the most popular mobile devices (read: iOS) rather than supporting the ones that almost no one uses anymore.
Pricing varies depending on whether or not you need to administer teams of people who will be using GoToMyPC. For a single user accessing a single computer, it's $9.95 per month. You can figure you'll need to add roughly $10 per month for each additional computer you'll be installing GoToMyPC on so that you can remotely access that machine. So if you're a single user accessing ten computers remotely with GoToMyPC, you'll be billed almost $100 per month.
For teams with one administrator and between two to fifty users, pricing is almost identical for the same number of computers. The difference is that individual accounts can only go up to twenty remotely accessible computers, while the team plan goes to fifty computers allowable. For larger teams that need subgroups, shared access to computers, and other flexibility, you have to contact sales to get a quote on the price.
Regardless of how many Macs or PCs you need remote access to, you probably won't be looking at GoToMyPC unless you own a business or work for a company that will pay for the service for you. It seems hard to imagine a typical home user paying $100 per year to access their Mom's computer to help her figure out what important files she deleted this time.
Considering that it is most likely to appeal to business customers, GoToMyPC seems like a pretty good value compared to the potential cost and complexity of setting up a Virtual Private Network (VPN) on your company network. On the other hand, the VPN is more flexible and acceptable to many corporations. My employer blocks GoToMyPC and other similar remote log in services, as we do have a company IT managed VPN configured for us to use. Before getting too excited about the potential of GoToMyPC, you'll want to find out your company's policy and adhere to it.
The bottom line is that, if you're the right type of customer for this service, you'll be perfectly happy with the quality of the service and software, and the company that provides it. While I wish the Mac and PC clients were on par with each other, you probably won't miss the extra features of the PC client in practice. If you do need remote printing and you're on a Mac, or if you were hoping for a compatible iPhone app, you'll be disappointed. For this reason, as a Mac owner, I rated GoToMyPC a 7 of a possible 10.
Mac system requirements are Mac OS X 10.5 (Leopard) or newer, Safari 3.0 or newer, or Firefox 3.0 or newer.