Crystal Film
Company: Power Support
Price: $24.95 USD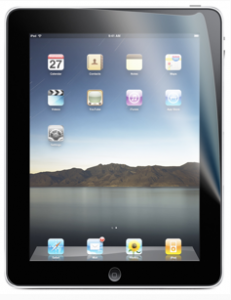 When I got my new iPad, my first thought was, "How can I protect this large beautiful screen?"
I began looking at all of the various screen protectors out there from Zagg and others. I've used Zagg protectors on my iPod Touch and they worked fine, except you really have to wet the protector down to install it. Using that much liquid was troublesome to me and I didn't want to do that with my iPad.
I've read that the iPad screen is quite tough and while it does get smudgy fingerprints on it, using a micro-fiber cloth cleans it up easy. Maybe I don't need any kind of protector. Then I read through the iPad manual, (yes, I actually read manuals) and found this:
"iPad has an oleophobic coating on the screen; simply wipe the iPad screen with a soft, lint-free cloth to remove oil left by your hands. The ability of this coating to repel oil will diminish over time with normal usage, and rubbing the screen with an abrasive material will further diminish its effect and may scratch your screen."
The statement, "over time the ability to repel oil will diminish" sealed the deal for me. I went searching for a film that had a dry installation process.
I decided to give Crystal Film from Power Support a try. Crystal Film  has "advanced silicone static cling adhesive technology" which tells me it will should stick to the iPad screen and stay there. Additionally, a "static cling" stick should not leave any residue behind should I decided to remove the Crystal Film.
Crystal Film comes in a simple, flat, almost 8.5" by 11" folder in an outer envelope. A slip of paper inside the outer envelope gives instructions and directs you to their website for instructional videos. A check of the website found NO instructional videos. In fact, there was no installation help at all at the web site. Instead, I used the instructions that came on a slip of paper in the envelope which described four steps to applying Crystal Film.
The paper instructions tell you to start by cleaning your iPad with a lint free cloth dampened with glass cleaner. I'd also read that you should not clean your iPad with anything except a damp cloth, so I only used a damp cloth with water.
One of the problems I had was actually getting the Crystal Film out of the envelope.
I peeled back the opening on the envelope then I had a problem trying to get the film out and not have it touch the adhesive residue from the flap. After playing around with this a bit, I decided to cut the flap off. Make sure you don't cut the film!
Once out of the envelope it wasn't very difficult to lay the film on the iPad, but alignment can be a bit tricky. I stated from the bottom up, aligning the home button first. I didn't end up with many bubbles at all and used my cloth to get them out. I did have to peel up one corner and lay it down again, but this was easy and caused no issues.
I've had Crystal Film on my iPad for a few weeks now, and I like it. I find that it is harder to clean the film with a micro cloth, then realized I really didn't need the micro cloth any longer. I find a very slightly damp bath towel works very well. I detect no different in  touch sensitivity and if you use a Pogo Sketch, you will find the film doesn't interfere at all.
Frankly, I'd like to see companies that offer these kinds of films pack two of them in the envelope in case disaster strikes.
MyMac Rating: 9 out of 10