Soulra Solar Powered iPod Speaker
Company: Eton
Price: $180 to $200 online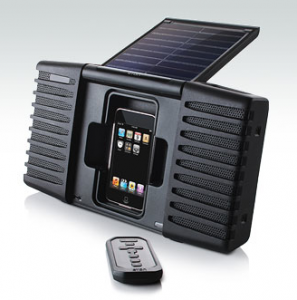 Superpipe Battery Powered iPod Speaker
Company: Skullcandy
Price: $70 to $100 online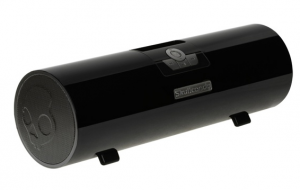 Eton's Soulra is the most innovative portable iPod speaker/dock and audio player we have evaluated at MyMac. Charge its Li-Ion battery with the included AC power unit and play Soulra anywhere and everywhere for four hours. Flip open the built-in solar panel charger and continue trickle charging while enjoying your music. When inclement weather dampens your picnic, or when you are at the beach, fold closed the hinged solar panel and listen to the weatherproof sealed unit.
Four hours of AC charge equals four hours of audio playback. Ten hours of solar charging accomplishes the same result. Translation: solar charging is 40 percent as efficient as powered charging. Meaning: when it's sunny outside during playback you will extend playback by several hours hours with the solar panel aimed toward the sun. "It should give you an additional 3-4 hours," according to the company rep.
I tried it in sunny Tucson, Arizona, and it works. A conveniently located battery indicator displays how much charge is available, in four incremental LED icons that are difficult to see in bright light, but otherwise are clearly visible. All the above is explained in a printed User Manual written in English, Spanish, French, German, and Italian.
We don't award extra points for packing design, but Soulra's product box is a masterpiece of beauty and elegance. The included remote control works perfectly for typical iPod/iPhone controls, but its buttons' color scheme is difficult to see in low light.
The BASS button boosts low-end output, but the audio signal becomes muddy. Music sounds much better without BASS activated. An M button changes the mode from iPod dock to AUX input, when an external device is connected.
Frequency response and sound volume are not audiophile quality. Treble is noticeably lacking when listening at proximity to the unit. Music playback sounds great outdoors for casual listening, with the experience improving as you get a little distance from the front-firing speakers. If this was a report card, our grade for audio would be C, and our grade for everything else would be A minus.
Styling and design are splendid. A lot of thought, talent, and engineering went into Soulra's development. Its built-in handle and balanced, compact size make it a 2010 boombox. You'll turn heads when you carry Soulra to work or school in the rain or snow, not to mention when you power it from the sun. A plastic insert keeps your iDevice protected and stable when Soulra is on the move or hinged shut.
This is an exceptionally innovative addition to the iPod speaker/dock lineup. Soulra's price is more than most people will pay — at first — until they hear and see it in person. Think: graduation gift, wedding gift, holiday gift, lottery winning present to self. The company's visually exciting product web site has photos and a groovy video of Soulra in action.
MyMac's suggestions for future improvements include better sonic spectrum and more efficient solar charger and battery, with easier to see buttons and controls, all at a lower price. With those mild criticisms in mind, we award Soulra a MyMac Review Rating 8 out of 10 recommendation.
Warning! Do NOT touch your docked iPod or iPhone, or the solar panel, when they have been in full sun for any length of time, or you risk burning your fingers. Trust me on this one. You may choose to place your iDevice behind Soulra, in the shade, using the AUX audio cable, when solar charging the unit on a hot day. Ouch! The company rep tells MyMac: "Eton is adding a reflective component to the plastic shield to combat this problem – it should prevent the iPod/iPhone from overheating. The Soulra itself can withstand the heat and its performance will not be affected."
* * * * * * * * * * * * * * * * *
Skullcandy's Superpipe is the jumbo sibling to the company's original pipsqueak Pipe iPod speaker/dock. The junior Pipe is a diminutive cylinder with end-firing speakers that can be powered via AC or batteries and has a nice, small remote control. Sound is brilliantly crisp, clear, and efficient for such a tiny tike. You can read our capsule 2008 comments on Pipe a little way down this page.
Something got lost when Pipe was scaled up to Superpipe. It looks great, works as advertised, and can play from AC power or four AA batteries. But Superpipe's sonic response is peculiar. It's heavy on the bass, strong on treble when listening from a distance, but uneven overall. This complaint won't bother most typical purchasers and listeners. Skullcandy markets itself as a lifestyle company that makes a variety of audio products.
If the paragraph above strikes you as bad news, don't stop reading yet. At the highly discounted price of $70 you can purchase three battery powered Superpipes for about the same price as one solar powered Soulra. Superpipe's treble is much more evident than Soulra's, if such things matter to you. Take time to experiment with your iPod, iPhone, or iPad equalizer settings to determine your optimum listening experience with both these products.
Superpipe has a small, handy remote with buttons that also are difficult to see in low light. Skullcandy's product packaging also is first-rate. Carrying a Superpipe as a boombox will be awkward after a hundred paces, and MyMac does not recommend doing so with an iPod or iPhone sitting unprotected in the dock. Exposure to the elements is not an good idea.
Top Superpipe volume levels are loud; much louder than on Soulra. An accessory mini-plug audio cable is included with Superpipe, but not with Soulra. Rechargeable AA batteries are our recommendation, for economic and environmental reasons.
Given its versatility, low price, high volume, and target audience, Superpipe receives a 7 out of 10 MyMac Review Rating.
On a personal note:
Last Sunday was a beautiful day in Tucson, Arizona. I inserted my iPod Classic into Soulra's speaker dock, and I went onto the patio carrying Soulra and my folk guitar. For two hours I played along with a bunch of tracks from my personal favorite top rated playlist. The experience was glorious.
Last Thursday was my wife's monthly paper arts group meeting. They needed a speaker system for audio playback of a DVD video from a MacBook Pro that was projected in a large room. I loaned her the Superpipe. It was loud and clear enough for this situation, and now her group wants to purchase one.