Lightsoft Weather Center
Company: Lightsoft
Price: $79US/£44 GBP – Upgrade from Version One – Free
Lightsoft Weather Center
The good folks at Lightsoft have released Lightsoft Weather Center Version 2 (LWC2).
I reviewed version number one last year (Link: Lightsoft Weather Center Review) and I was quite impressed with the program.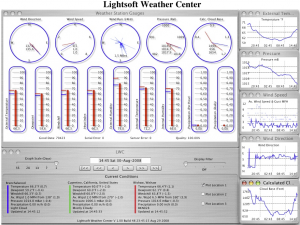 I've been playing with LWC2 for a couple of weeks now and, once again, I am quite impressed with this application. The transition from version #1 was fast and flawless. My external web pages were not affected at all, and neither were my weather alert emails even though this function has been improved. I love the fact that LWC2 shows the time in regular AM/PM instead of 24 hour segments.
LWC2 is designed to work with hardware-based weather stations and at this time LWC2 works with the following stations:
LWC currently supports the La Crosse/Technoline 23xx series (2300, 08, 10, 15, 50 and
others), Oregon Scientific WMR 928/968 stations (it may also work with 918's), the Davis
Vantage range (Vantage, Vantage Pro, Vantage Pro 2, Vue & Weather Envoy – wired and
wireless), Davis Monitor and Wizard weather stations and Weather Hawk stations
equipped with an IP server.
LWC has been tested with a La Crosse WS-2300, Davis Vantage Pro2 with USB data
logger, Davis Envoy, Davis Wizard & Monitor stations and the Oregon Scientific WMR
968.
The LWC Tools Menu now has more options to help you customize the program and get more out of it. The "LWC Importer" will help you get your old data into LWC from other programs: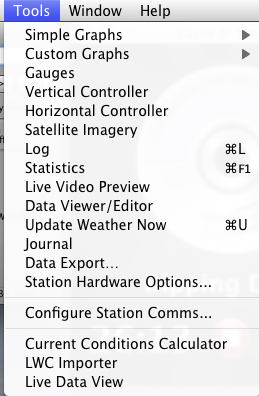 The "Live Data View" will show your current stats: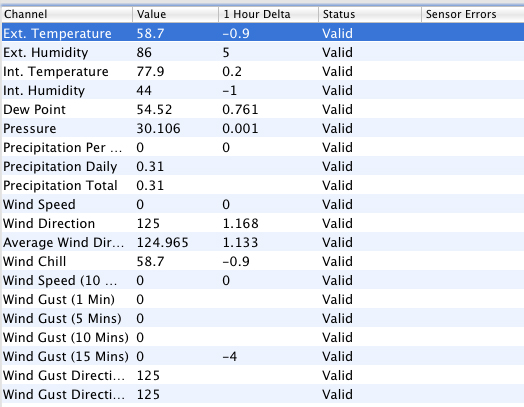 The new "Custom Graph" option makes building the graph you want easy: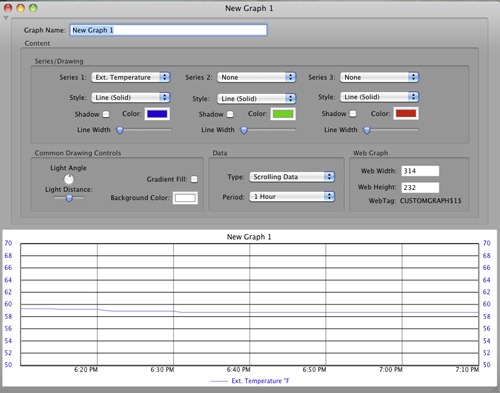 From the release notes:
Major changes over version 1 are as follows:
1. Added support for WMR928/968 weather stations – all extra channels are supported along with rain bucket multiplication.
2. Added initial support for WeatherHawk (with IPServer) stations.
3. Expanded support for Davis Vantage stations (all additional channels are now recorded, channels can be renamed).
4. Added rain bucket multiplication to WS23xx stations.
5. Now supports recording rates down to 1 minute. Adaptive sampling watches the weather and records the data if the weather changes thus maintaining resolution but saving disk space.
6. You can now create and upload to your web pages custom graphs. Custom graphs can plot any weather variable (up to 3 on the same graph) and are available in scrolling, fixed and bar formats.
7. Added an AppleScript interface.
8. More than doubled the range of webtags available to include things such as rain season, sunshine hours, sunset and sunrise times, U.V., last week/month/year and so on.
10. All available data is now uploaded to Wunderground.
11. Historical uploads to Wunderground are now supported.
12. The current conditions are now set by user definable rules; automatic operation can be manually overridden. Override also possible via AppleScript.
13. Entirely new data format on disk – user editable, constant boot time irrespective of database size, support for unlimited database sizes.
14. Added a WeatherLinkâ"¢ V5 importer.
15. A new email system can send to multiple addresses.
16. Custom alerts now respond much faster to events (typically < 10 seconds). Custom alerts can now run clear actions that execute when an alert clears.
17. FTP efficiency improvements and FTP error reporting has been improved.
18. New web-cam driver code, old driver maintained for legacy devices. LWC can now use a locally connected camera, a local file (for integration with third party web-cam software) or via http (useful for I.P. based cameras).
19. Localized in English, Italian, German and French.
For complete details of all changes and new features, please see the release notes included in the distribution.
LWC2 runs on Mac OS X 10.5 and later.Lightsoft Weather Center 2 is available for 44 UK Pounds and can be purchased directly from Lightsoft. This update is free for registered users.LWC2 comes with a very detailed and well written manual. Yes, I still read manuals and LWC has a GREAT manual.
If you own a Weather Station, Lightsoft Weather Center 2 is a program you simply MUST own.