Lightsoft Weather Center
Company: Lightsoft
Price: $79US/£44 GBP
http://www.lightsoft.co.uk/
If you've owned a weather station and a Mac for any length of time, you know that Mac compatible software, used to monitor and collect data from your station, has been impossible to find. I am happy to report the search is finally over.
Lightsoft Weather Center (LWC) is a full featured weather display and data collection system that is compatible with the following weather stations: Davis Instruments Vantage Pro series, Weather Envoy, Weather Monitor, Weather Wizard, and the LaCrosse WS23xx range.
I own a Davis Vantage Pro 2 station and I have suffered these many years using the overpriced and under powered WeatherLink software that Davis sells. If you own a Davis station and have been using this software, you know what I mean. Lightsource Weather Center is light years ahead of the Davis software.
LWC was was easy to set up and begin using. If you are running a Davis station you must have a a USB to serial converter. It's important to note that you will need the Davis Weather logger (Weather Envoy optional) in order to attach the station to your Mac. In addition, you will need to download the free drivers from the Davis website. Links to where these drivers reside are provided in the well written 89 page manual that comes with the software. You can't run the Davis WeatherLink software and Lightsource Weather Center at the same time. Only one program can access the serial port at a time. You can run both, just not simultaneously. If you plan to do this you'll want to disable the "clear log" option within the preferences.
If you have a station already installed, Lightsource Weather Center will find and connect to it once launched. It was that easy. LWC then prompts you for some of the information it needs for set up. You'll spend the rest of your time setting up the many features this software offers and adjusting the interface to suit your needs.
If you prefer, there is a control panel that can sit on your Desktop for a quick view of the current temperature, and has the ability to display weather information from the Internet for two additional locations.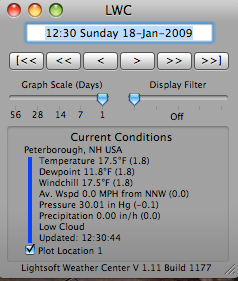 LWC provides a drop down "Tools" menu that provides quick access to many of the programs major features.
From this menu you can adjust the view of the control panel, look at satellite imagery you've set up in your preferences, and even open a journal window where you can record your weather observations. LWC also offers a web cam option with time lapse movies every hour as well as the ability to generate graphs on just about any reading your weather station can record. You can even adjust the timeframe by using a slider provided in the control panel.
The statistics page displays a wide range of data points collected over time from your weather station. You can see "all time" information, like the highest temperature your station has ever recorded as well as monthly averages and records. This is part of the data LWC collects over time, so the page will take time to populate. LWC provides a number of methods to query its internal database of weather records collected from your station. You can also see a graphical representation of your current weather readings by choosing the gauges option.
LWC offers a variety of ways to get your data out of the program and up on the web. In the prefs pane you'll find several options to get your data up on the web including a "simple web page" option, and an "enable custom web pages" options as well as data uploads to the Weather Underground and CWOP (Citizen's Weather Observer Program). I used the custom web page option, and by utilizing an extensive list of provided html "tags" I was able to get my weather data up to my web site. You can see the results by following this link to RichLefko.Com, my weather website.
LWC can also utilize CGI scripts using PHP or any programming language you choose.
LWC also provides weather alert emailing. Yes, LWC can even email you when certain weather criteria are met, such as below freezing temps, or rainfall, for example. LWC has the ability to send messages to your cell phone via SMS messaging. The extensive manual discusses how you might use LWC to turn your home heating system or sprinklers on if you have some home automation programs running.
I could go on and on about the features Lightsource Weather Center offers. I keep discovering new things it can do.
Did I mention LWC comes with a client you can install on your laptop that links up to your the main computer running the program? This client offers a gauges view with real time readings. I wish I had one for my iPod Touch.
Support from the Lightsource forums and the developer was excellent. Questions were mostly answered within 24 hours, sometimes the same day within hours of posting.
There are several items I hope will find their way into future versions, like a monthly and daily summary page that would display high and low readings.
A method to generate graphs by querying the database using specific dates, rather than using the slider on the control panel, would be most welcome.
LWC only displays time in 24 hour mode. Would be great to see an AM/PM option. An expansion of the email alert capability, with the added ability to send to groups of people would be appreciated. Printing and/or exporting the Journal would be a nice touch.
Those of us using Davis's WeatherLink software would like to have the ability to import our current WeatherLink database information into Lightsource Weather Center.
LWC is a Mac centric alternative to WeatherLink, and even better, this is a version one product with a very bright future. If you own one of the supported weather stations, I highly recommend you check out Lightsoft Weather Center.
email – MyMac Magazine – Twitter – Advertise – Reviews Archive – Podcast