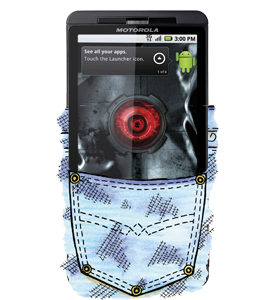 As an iPhone 3GS owner, I've been watching with interest as companies have started releasing Android phones with larger screens. The Motorola Droid X and the HTC both have 4.3 inch screens, compared to the iPhone 3GS and iPhone 4's 3.5 inch display. The Droid X is 12.3 mm taller and 6.9 mm wider than the iPhone 4, and weighs almost .7 ounces more. Dell is going to be introducing a phone that's being branded as an android tablet, the Dell Streak, with a 5 inch display.
Certainly more screen real estate comes in handy. Apple certainly recognized this and released the iPad, which has been selling very well. People are finding that the additional screen real estate really transforms how the device is used compared to their iPhones and iPod Touches, and people who have them love them. So, especially after seeing the iPad spark massive interest, it's understandable that some of the other smartphone manufacturers would be tempted to think that making the screens on their devices larger is a great idea. But there is a flip side to this, and Cnn.com has an article talking about the problem of phones too big for pockets.
I'm by trade a technician in the semiconductor industry. While engineers deal with theory and find inefficient ways of doing anything that requires hand tools, my job is to get stuff done quickly and effectively. To that end, years of work has taught me that if something's not efficient, quick, simple, and effective, it's useless. Get it out of my way and let me get my job done. I feel that way about my phones too. I've hated every single mobile phone I've ever had until I got my iPhone 3GS. The iPhone is simple, elegant, and it doesn't hinder or frustrate me. And that includes the element of mobility — it fits in my pocket and I don't really even know its there. I can promise you that if a phone was large enough to stick out of my pocket, interfere with me moving my legs normally while walking or crawling around on the floor under equipment at work, I'd throw it across the floor and be done with it. That's assuming I'd be dumb enough to buy it in the first place.
Apple, in my opinion, did this one right. They created the iPhone to be a smartphone, a mobile phone that IS mobile and fits in a jeans pocket. It gets out of the way, and is there when you need it. It's thin and light and small enough to be almost unnoticeable carried this way. And then, for those times and applications which call for a larger screen, Apple has the iPad. Neither device tries to be all things to all people. The iPhone goes in the pocket. The iPad goes in a bag or backpack, and sits on tables in the house.
For all the criticism over how Apple has changed as a company as they've become more successful and created more new markets with the iPhone and iPad, they still know what the user experience for a given device should be. They know that a phone should be small, and a tablet should be big. And they've refused to compromise either for the sake of tech specs.