Understanding Adobe Photoshop CS CS4
by Richard Harrington
http://peachpit.com
347 pages
ISBN: 978-0-321-56366-8
US $49.99 CAN $54.99 UK £31.99
Real World Photoshop CS4 for Photographers,
by Conrad Chavez and David Blatner
http://www.peachpit.com
584 pages
ISBN: 978-0-321-60451-4
US $59.99 CAN $65.99 UK £38.99
Photoshop CS4: The Missing Manual
by Lesa Snider King
796 pages
http://www.missingmanuals.com
ISBN: 978-0-596-52296-4
US $49.99 CAN $54.99 UK £31.99
Photoshop CS: Photographer's Handbook
by Stephen Laskevitch
270 pages
www.rockynook.com
ISBN: 978-1-933952-42-0
US $39.95 CAN $39.95
I've read and used at least a dozen or so Photoshop books in the last four years. With each new Photoshop of CS update, the manual styled books for the application grow larger and better. Figuring out which books will be mot useful for you largely depends on your experience and skills with the application, your learning style, and what you want to learn.
When I read and review these books, I assess them based on their clarity of writing, the quality of screen shots and images used, and the depth of their coverage of the program. There are two broad categories of Photoshop books: they're either tutorial-based or they try to be a comprehensive manual that explain the essential features of the program. The worst books are merely technical manuals that aren't much better than the Help documents that come installed with the program.
Some books are intended for novice Photoshop users, while others are written for intermediate and advanced users. Some books are best used in a classroom settings and will probably not be very useful for a Photoshop hobbyists.

Understanding Adobe Photoshop CS CS4
Richard Harrington's book is great for Photoshop beginners and hobbyists. Most of the book includes step-by-step instructions and bulleted outlines explaining the essential features of CS4. The book also includes a CD-ROM of exercises, as well as the 234 images used in the book. The images are not the most attractive, but the lessons and activities are very clear and concise. The CD-ROM also includes a link to about a 100 or so QuickTime video tutorials that compliment the lessons in the book. The file size of these tutorials are large, so they're not useful for viewing directly online. You will need to download them directly to your computer. These tutorials are extremely well done, and could easily make the price of the book double than what it is.
Harrington begins the book explaining the concepts of digital resolution, image mode, bit depth, and the Photoshop interface itself. He covers other subjects found in most Photoshop books, which include layer masking, blending modes, repairing and improving photos, layer styles, actions and automation, and printing options.
Harrington's book to me is more for the general users. I would not recommend it for serious or professional photographers, per se. It's more useful for classroom settings and those who want to get acquainted with the program by working through each of the lessons. Understanding Adobe Photoshop CS4Â can also work as a reference book. For readers familiar with Photoshop, it would pretty easy to use the book's table of contents and index to reference questions they have about particular features and techniques of Photoshop.
And finally, Understanding Adobe Photoshop CS4 would work great as a college or even maybe a high school textbook. It comes with interactive quizzes based on what is covered in the book. The quizzes might also be useful for those wanting to take the Adobe Photoshop expert certification exam. Harrington truly provides a comprehensive multi-media approach to learning Photoshop CS4. Whatever your style of learning, you will find this book resourceful.

Real World Photoshop CS4 for Photographers
Conrad Chavez and David Blatner's book on Photoshop CS4 is also a comprehensive manual covering the essential features of Photoshop and digital photography in general. It does not take the tutorial or step-by-step approach to learning the program. It's explicative in its presentation. Photographers upgrading to CS4 will find this book very useful. Chavez and Blatner go deeper into a Photoshop workflow for digital photography. They break down the connection and use of the two programs that come installed with the Photoshop CS4-Adobe Camera Raw (a digital RAW processing application, and Adobe Bridge (an image management application.) Part of the difficulty some people have with Photoshop is knowing where to start and how to manage and process a media card of images. This book will help you develop a workflow.
The authors also cover in detail the use of Levels, Curves, Unsharp Masking, and Channels-tools particularly useful to photographers. And though the book is not about Adobe Lightroom, they do explain many of the similarities and differences between it and Adobe Camera RAW and Bridge. Many photographers including myself have tried to make sense of which programs are most useful to their workflow, especially since each of them share similar image processing tools. Real World Photoshop CS4 for Photographers does not come with a CD-ROM or website of downloadable images used in the book. The authors are writing I would say for intermediate users of Photoshop-users wanting to learn the new features found in CS4, as well advancing their skills in other areas of the program.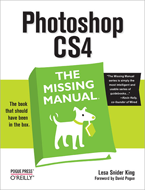 Photoshop CS4: The Missing Manual
Lesa Snider King's book is the largest of the four under review. Like most Missing Manual tomes, King's Photoshop book shares the clarity of style and breadth of coverage that I look forward to in O'Reilly's Missing Manual books.
This Missing Manual is not necessarily tutorial-based, but it does provide down loadable images used in the step-by-step instructions of the book. Missing Manual is both useful for beginning and advanced Photoshop users, but I think it's a little too broad in approach for photographers, in particular. I'm not saying that book is not useful to photographers, but there are other photoshop books, such as Stephen Laskevitch's book discussed below, that are more well suited for serious photographers.
What is also great about this Missing Manual book are the underlining tips interspersed throughout the book. Nearly every page of the book includes a box with illustrations and and a paragraph or two that sort of re-iterates what is has been explained in preceding sections. The illustrations are easily referenced so that you don't have to turn pages back and forth to see what the author is referring to.
I would almost say that Photoshop CS4: The Missing Manual is the type of book that you could read and work through from cover to cover, because the writing style and organization of the content lends itself to that type of reading. But this Missing Manual probably will most used as a reference book, answering questions and explaining strategies that you want to learn. It could also be useful as a college textbook.

Photoshop CS4: Photographer's Handbook
Stephen Laskevitch's book is for me, a photographer, the most appealing of the books under review. Laskevitch's book follows the fine art tradition of the Rockynook series of books on digital photography. The layout of the nearly 8 by 10 size book is beautifully designed with sufficient space to jot notes in the margins.
Because this book covers Photoshop CS4, Adobe Bridge, Lightroom 2, and Adobe Camera Raw, the right side of each page is marked with an application icon that indicates which Adobe application is being discussed. Unlike King's Missing Manual book, and Harrington's book, this Handbook does not go into detail about features of Photoshop that might be more useful to designers and illustrators, e.g. artistic brushes, typography, and layer styles.
Laskevitch explains well how his book is broken down: "The first chapter familiarizes the reader with the key concepts behind color and digital images, as well as some though how cameras covert light to to data. The brief second chapter will help you decide hot to configure your hardware and software settings including certain application preference settings you'll want to configure correctly early in your use of them for the kinds of images you work with. The third chapter, most likely to earn dog ears on the pages, covers the layout general use of the software applications used.
The second section focuses on the key steps in the complete photography workflow. Each chapter highlights those steps: Capture and Import; Organizational and Archiving Images; Global Adjustments; Local Adjustments; Cleanup and Retouching; Creative Edits & Alternates; Output-Print, Web, and Presentation."
And I would agree with the author that it would be useful to work through this book from cover-to-cover. It's not necessarily tutorial-based, but it's geared toward, like Chavez and Blatner's book, helping you understand not only Photoshop CS4 and related Adobe digital photography programs, but to also understanding digital photography in general. However, while the book includes screen shots on nearly every page, it does not come with the downloadable images used in the book. In all the books under review, it seems that Laskevitch's contains the least amount of photographs. Each chapter however does begin with a full-page fine art photo that adds to overall attractive design of the book.
One essential feature not covered in Laskevitch's book are Photoshop automation tools and actions. Automating your workflow in Photoshop is to me very important to serious Photoshop users. I rarely take a photo(s) into Photoshop and not use some sort of automating feature that either comes installed with the program or was created by me.
If you're a photographer learning to use Photoshop CS4, Adobe Bridge, Camera Raw and Lightroom 2, then you'll find Laskevitch's book even more useful. As you work through this book, you'll want to work out for yourself your own particular workflow using the programs. Without a workflow, these programs can often become overwhelming, and thus not often used to their advantage. Laskevitch's book stands out in this regard in helping you outline your own workflow, even though you'll constantly refine it as your learn new tools and strategies in Photoshop.
Photoshop CS: Photographer's Handbook is indeed for serious photographers who want to advance their skills with Adobe's main image processing and management applications. Like the other books under review, this one is not just about the programs themselves but all the concepts that you need to understand about digital photography. As Adobe continues to upgrade their programs, photographers will need books like this one in order to take full advantage of the upgrades.
Conclusion
As I stated at the outset, it's difficult to recommend any particular book for learning Photoshop. If tutorials and lessons are helpful to you as a learner, then Harrington's book is a great way to go. If you're looking to advance your skills with Photoshop, then Snider's, Chavez and Blatner's book are equally useful. And if you're serious photographer, Laskevitch's Handbook will make a great resource.
email – MyMac Magazine – Twitter – Advertise – Reviews Archive – Podcast