26-inch Multisync EA261WM
Company: NEC
Price: List: $747 – Street $585
http://www.nec-display.com
It's tough buying a monitor.
The web is full of static pictures of monitors, and worse, when you go to brick and mortar stores to find the one you saw on the web, it often isn't there. If you read the feedback on sites like Amazon, you'll find that some people love a particular model while others think the same model is the worst viewing experience they ever had. Unfortunately, I don't have an easy answer to this conundrum. I read those reviews posted on various sites and I try to get a feel for the monitors that have generally good feedback. Then I find a site that allows you to pick monitors and compare them side by side. In this way, I can get a cleaner picture of the various specifications. Using this methodology, I homed in on NEC's 26" Multisync EA261WM. Yeah, not the most clever name, but all manufactures use numbers to name their monitors. This is a matte screen monitor.
My old monitor was a 19" Viewsonic VP912. I was looking for a larger screen size, but didn't realize just how much bigger a 26" monitor really is. Here is the 19" Viewsonic next to the 26" Multisync: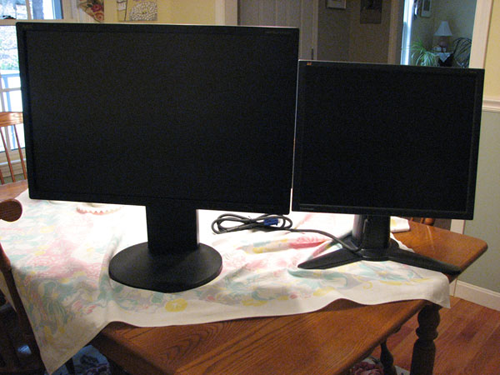 The Multisync EA261WM (hereafter referred to as the MEA) has an impressive list of supported resolutions and a quick 5 ms response time. The "response time" is the amount of time it takes for a liquid crystal cell to go from active (black) to inactive (white) and back to active (black) again. The faster the response time the less chance there is for picture blurring. I saw no blurring during my testing. Native resolution is 1920×1200 (read more about "native resolution" here and the MEA supports 720p and 1080p HD video. You can read more about 720p with links to 1080p here.
Setting up the MEA was pretty easy. Just plug in your DVI-D or D-SUB connector and turn it on. It was that simple. If you have a newer Mac with a Mini DisplayPort, you'll have to purchase the $29 Mini DisplayPort adapter from Apple. The only problem I had was actually getting at the ports. They are situated in the back under an overhang that connects to the base. See the video for more on this.
The base is a wonder. It swivels to the left and right, and the monitor itself can adjust from widescreen 26" landscape mode to a full 26" portrait mode. The screen tilts and swivels in any direction you can image. See the video for more on this.
At the right bottom of the monitor, along the bezel, you have a set of buttons that control all of the settings. One of the buttons is a small 4-direction button that acts as a joystick of sorts to help you move through the menus. I found this button a bit stubby, which makes adjustments just a tad bit kludgy. In reality though, how often do you change your monitor settings? On my old monitor I didn't touch the settings for years. There is, however, a "DV Mode" button that allows you to quickly switch the view settings from text, to movie, to gaming, to photo, or back to text again. These generally change the brightness of the screen, and the screen is plenty bright, with specifications of 400 cd/m2 luminance ("luminance" explained here) and a contrast ratio of 1,000:1. See this link for more info about "contrast ratio". The colors are bright, crisp and accurate, and I saw no blurring while viewing video or fast moving video games.
This monitor also comes with a set of speakers that face downward on the bottom bezel. If you plan on buying this monitor for the speakers you'll be disappointed. The speakers carry virtually no base response and sound "tinny." Since they point downward the sound does not carry well.
I've included a video in this review that may help you more than the static pictures you'll find on a website. Obviously, due to bandwidth considerations, a lower resolution video can only give you a feel for the monitor and its features.
Download MP4 version of above video here
In conclusion:
This is a beautiful, large widescreen monitor with bright colors and sharp text. With the OSD (On Screen Display) buttons you can adjust any settings you'd like to suit your preference. The settings menu comes in eight languages, and there are numerous energy savings preferences that will even calculate your carbon footprint. A nice bonus is the inclusion of two USB ports on the left side. The adjustability of the MEA allows you to set the viewing angle and height to any setting you can think of. Portrait mode is unbelievably tall. I had the monitor on all day, over 12 hours, and the vents were just warm to the touch. I found no frozen pixels on my review unit.
If you are in the market for a solid performing monitor that is a good value for your hard earned cash, you should take a look at the NEC Multisync EA261WM.
email – MyMac Magazine – Twitter – Advertise – Reviews Archive – Podcast