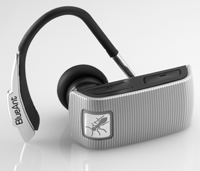 BlueAnt V1 Voice Control Bluetooth headset
Company: BlueAnt
$99.95 US
http://www.blueantwireless.com
While I've long been a cellphone user, I've never taken to using a Bluetooth headset. Each time I see a person with one stuck in an ear, my first reaction is that they have some horrible growth on the side of their head, and why don't they get it surgically removed. However, the Weeks Division of MyMac Labs recently received an evaluation unit of BlueAnt's V1 Voice Control headset. I swallowed my fashion concerns, and gave the V1 a try during a four-day business trip.
BlueAnt touts the V1 as the world's first voice controlled Bluetooth headset. While I take any such "world's first" claims with more than a pinch of salt, BlueAnt has created a fairly good Bluetooth headset.
The V1 is a stylish gadget, with a plastic outer shell that strongly resembles aluminum. At the rear end is a large, easily clickable button that controls the many V1 functions.
"Many functions" may be an understatement. Here's a partial list of the V1's features :
Pair Me – Puts your V1 into pairing mode ready to connect with your phone. Follow the Prompts.
Teach Me – This menu helps you to understand and use the V1
Try it Now – Takes you through a program which lets you practice the voice commands.
Speed Dial Set Up – Assistance in how to set up the Speed list in your phone
Tips and Tricks – Some helpful information to get the most out of the kit
What Can I Say? – Gives you a list of all the available commands
Redial – Calls the number you last dialed
Call Back – Calls the last received number
Call Home – Calls your Home
Call GOOG-411 – Connects you to the GOOG-411 service
Answer – Answers an incoming call
Ignore – Terminates and incoming call without answering
For a more complete list, click here.
As with any self-respecting portable gadget, the V1 uses a rechargeable battery. The V1 specification sheet says the V1 provides up to 5 hours talk time, and 200 hours in standby mode. As I use a 3g iPhone, which is not known for having unending battery life, I charged the V1 most nights when I charged the iPhone. I never accumulated 5 hours of talk time between recharges, so I can't comment on the V1 battery life.
Gadgets need to be plugged in to charge, and the V1 provides enough options so you'll never be caught with a dead V1. BlueAnt ships the unit with two USB adapters: a wall socket USB adapter to charge from a 120V wall outlet, and a car cigarette lighter USB adapter. Combine this with the included USB cable, and you have three charging options. Kudos to BlueAnt for providing this many options.
Next, you have to get a comfortable fit. Once I conquered my fear of looking like a part-human, part-machine member of the Borg Collective from Start Trek The Next Generation, I experimented with the numerous included ear tips to try to find a good fit. Unfortunately, getting a good fit proved problematic. I quickly found a comfortable ear tip, but I had ongoing difficulty getting the plastic loop that fits around the ear to stay in place. The loop did not conform to the shape of my ear, Â and it was not bendable. The ear loop slides up and down to provide a vertical adjustment, but that did not help. Even after much fiddling, I never got a totally comfortable fit. Perhaps my ears are not average; you may have better luck getting a good fit.
The V1's selling point is its voice control. My initial skepticism was proved wrong, when the V1 recognized my voice straight out of the box. No training is needed, and no training feature is included. In noisy environments, I had to speak more loudly, but I was still able to get the V1 to recognize voice commands. Later, I did come across a few minor problems with voice recognition for speed dialing.
Pairing the V1 with my iPhone was absolutely easy. Click the button, say "Pair" and the V1 walks you through the pairing process. The V1 paired with my iPhone in 15 seconds on the first try. It tells you exactly what to do, and when to do it.
Configuring Speed Dial for the iPhone is a bit different. Unlike conventional keyboard-driven cellphones, the iPhone has no way to press and hold a key to activate a particular speed dial number. The BlueAnt V1 will talk with the iPhone Favorites list, but you have to rearrange the order of the favorites. When you click the button, and say "Call Home," the V1 will dial the second phone Favorite. "Call Voice Mail" dials the first Favorite, regardless of whether the first favorite is Voice Mail. "Call Office" always calls Favorite number three. Given that most iPhone owners use Visual Voicemail, and don't call their own number to access voicemail, you'll have to move someone else's number into the first Favorites position, otherwise it may not be useful. Don't forget that you can rearrange the order of your phone Favorites by displaying Favorites, clicking Edit, then dragging entries into the desired order, then clicking Done.
I found the voice recognition for the various speed dial numbers to be more finicky than for the other commands. I had to make sure to clearly enunciate the speed dial number itself. Sometimes the wrong speed dial number would be dialed, and I'd have to cancel the call.
Call GOOG-411 is a built-in speed dial feature that's very useful. Click the headset button, say "Call GOOG-411" or "Call Speed Dial 5" and the Google voice recognition-driven phone directory is called. Once GOOG-411 finds the desired number, and it's generally quick to do so, it dials the number for you.
Audio quality is excellent for the listener using the V1, but most callers told me that audio quality on their end was loud enough, but slightly tinny and scratchy. The V1 has adjustable noise reduction, but this made little difference, and callers complained of tinny audio even when I was in a quiet location.
The V1 comes with a good manual, even though it's printed in a tiny format. You'll want to read it to take advantage of all the V1 features. If you forget the basics, you can click the button and say "Teach Me" or "What Can I Say?"
I attempted to install an update to the V1's firmware that I found on the BlueAnt website. The updater is Windows-only, so I attempted to do it using Parallels Desktop. The effort was unsuccessful, as I could not get the updater application to find the V1. I suspect this is a Parallels USB problem, and I'm continuing the experiment.
Conclusion. The BlueAnt V1 Voice Control Bluetooth headset is a good headset with some issues. It's loaded with features, and the numerous voice control features work well right out of the box. Users may need to spend some time getting the headset to fit properly, and I never got a perfectly satisfactory fit. Lots of charger cables ships with the V1. Audio quality from the V1 headset is very good, but call recipients complained of tinny sound at their end. Speed Dial voice dialing sometimes dials the wrong number unless you speak very clearly.
email – MyMac Magazine – Twitter – Advertise – Reviews Archive – Podcast