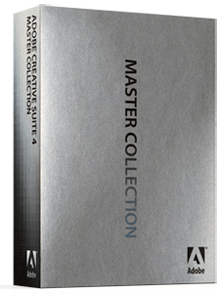 Adobe Creative Suite 4 Master Collection
Company: Adobe Systems, Inc.
Price: $2,499
http://www.adobe.com/
ABOUT THIS REVIEW:
This is a "first look" review for a general audience — design shops and creative professionals already know what they want and how to get it. You won't see any in-depth evaluations of individual programs here (those will come later), but I will hit the high points and let you know what's new. I'll also discuss ordering and pricing options, tell you about special deals, and share my thoughts on how mere mortals can afford this software suite. Finally, I'll talk about the installation and how that went. I learned a few things about the new Photoshop and Dreamweaver, too, so let's have a look.
OVERVIEW:
Reviewing the CS4 Master Collection in toto is like describing America after a single transcontinental flight, so please bear with me. To demonstrate what I mean, when I first opened the box, this is what I found (for more information on the individual apps, browse the main Adobe Products page)
Adobe InDesign CS4
Adobe Photoshop CS4 Extended
Adobe Illustrator CS4
Adobe Acrobat 9 Pro
Adobe Flash CS4 Professional
Adobe Dreamweaver CS4
Adobe Fireworks CS4
Adobe Contribute CS4
Adobe After Effects CS4
Adobe Premiere Pro CS4
Adobe Soundbooth CS4
Adobe OnLocation CS4
Adobe Encore CS4
Adobe Bridge CS4
Adobe Device Central CS4
Adobe Dynamic Link
Adobe Version Cue CS4
Adobe's pitch for this collection is "Design across media," and they seem to have it covered: "Create visually rich content for virtually any medium' print, web, interactive, video, audio, and mobile' using the tightly integrated tools and services in Adobe Creative Suite 4 Master Collection software." That's from the Master Collection website, which you can access here.
OKAY, WHAT'S NEW IN CS4?
No doubt thousands of things, and it will take months to discover them all. For that matter, there have to be features of CS3 that I never encountered or used, and it's a little tricky to keep straight what features appear here for the first time. Not examined below and worthy of a separate review is the array of new online services Adobe has set up to work with this new Creative Suite version. That being understood, these are the improvements Adobe wants you to know about with regard to CS4:
1. More speed and control — Improved Live Preflight and customizable Links panel in InDesign CS4, improved zooming and rotation in Photoshop CS4, combined variable-sized artboards in Illustrator CS4.
2. Image editing — This would be in Photoshop CS4, where the hot new feature is Content-Aware Scaling, which lets you do things like this:

Now that is pretty outrageous (original image on the left). I can't immediately think of a good reason to use this feature, but I'm sure I'll think of one. We'll certainly have some fun with it when I write a deeper Photoshop CS4 review. The Save dialog boxes are quite different, by the way, with many more options and relocated buttons. You will no doubt find your cursor moving to the wrong spot at first!
3. Interactive documents — A principal theme of this update. Not exactly new, but better, and with a lot more Flash CS4 integration. For example, you can export an InDesign CS4 layout as an XLF file and open it in Flash CS4 to add animation and other goodies.
4. New animation controls — There's a new "Bones" tool in Flash CS4, and you can also apply tweens directly to objects instead of to keyframes. You'll find new 3D translation and rotation tools, too.
5. Easier working with web pages — Dreamweaver CS4 has a very cool new feature called "Live View" for interactive code editing. What that means is that you can tweak your code (even in associated external documents) and see the changes simultaneously in your main document's Design view. This should be a big time-saver, and I'm truly looking forward to it.
6. Video post-production — Dynamic Link now lets you see updates across multiple apps without rendering: make a change in Premiere Pro CS4, for example, and the layer in After Effects CS4 updates instantly.
7. Direct-to-disk recording and editing — Record right from your camera with the redesigned Adobe OnLocation CS4. Import and edit tapeless formats without transcoding or rewrapping in Premier Pro CS4.
8. XMP metadata — Premiere Pro CS4 and Soundbooth can now use Speech Search technology to turn spoken dialog into metadata, so you can find clips and search video assets online.
9. Audio improvements — Soundbooth is now more tightly integrated with other apps. The Match Volume feature, which automatically sets various audio files to a specific volume level, ought to save a lot of hassle, and I'll be checking this out in the near future.
10. PDFs on the march! — Did you know you can embed video, audio, and more into PDF files? (If one could do that before, I certainly never tried it.) Suffice it to say that the Portable Document Format plays well with all the Creative Suite apps and does more than you ever knew it could.
ORDERING AND PRICING OPTIONS:
This is one complicated subject, but let's start with the basics. The Master Collection will set you back $2,499, and CS3 owners can upgrade for $899. For all other particulars, and there are a ton of them, I'll refer you to Adobe's CS4 upgrade paths and upgrade eligibility tool page. The main thing to remember is that if you already own earlier versions of some of the components in the Master Collection, you probably get a price break. Check it out and see. Adobe is also offering free shipping until Dec. 1, and there's a special introductory offer for owners of pre-CS3 versions that can save you up to $200 through February 28, 2009. (See this Nov. 9 MyMac.com blog post for more details on the latter.) Take your time, do the research, make sure you have your old serial numbers, and you can order the Master Collection for less than you think.
The least inexpensive way to call this your very own is with educational pricing, of course: only $998! For that whopping discount, you may find it worth your while to take (or teach) a couple of courses at your local community college. Students in grades K-12 also qualify, which ought to set you parents thinking, and apparently certain "home schools" qualify as educational institutions, if Adobe approves. There may be an angle to play with university-owned teaching hospitals and research laboratories, too, so you'll just have to check.
INSTALLATION:
Being a much too hip, experienced Mac user, the first thing I did before installing the Adobe Creative Suite 4 Master Collection was to search online for word of any bugs or installation glitches one might encounter. I was also concerned about whether to remove my CS3 apps before or after installing CS4. You may decide to skip this initial investigation, because most of what I learned was contradictory and misleading! For example, it took me two hours to figure out that the one bug I did discover applied only to Windows installations. I also read comments by people who swore that you should uninstall CS3 first and people who said that was absolute rubbish. The net result of that was that I decided to do whatever the installer program told me to do and ignore the rest.
The test machine is an original 1.83 GHz MacBook with 2 MB of DDR2 SDRAM and a 160 GB Hitachi 7200 rpm hard drive with 62 GB of free space remaining, running OS X 10.5.5 with all current software updates, including applications. Before diving in, I cloned the hard drive and ran a Time Machine update on a second external drive. Here's how it went:
In a word, PERFECTLY! As it turns out, the installation Read Me file doesn't say a thing about uninstalling earlier versions first, so I didn't bother. At the moment, all the CS3 and CS4 apps are installed in parallel on the MacBook. The installation took roughly an hour and a half, using an external SuperDrive instead of the MacBook's inoperable Combo drive, and appears to be taking up about 22GB of hard drive space. The plan is to uninstall my CS3 apps after a few days.
IMPRESSIONS & RECOMMENDATIONS:
The only apps I've taken for a test drive so far are Photoshop and Dreamweaver, and both of them work fine in CS4 so far. Each has been extensively reworked. There are many more options available when you save an image in Photoshop, for example, and you can open multiple images in tabs, which makes for a much cleaner desktop. Dreamweaver also looks and feels more technical, more competent. We shall see, of course, but the main thing is, I immediately liked both of them much better and can't wait to uninstall the old versions. Good work!
Should you buy the suite instead of individual apps? If you possibly can, sure. (The savings are mind-blowing if you add up the costs of buying them separately.) Be sure to review the many pricing and purchasing options before you decide you can't afford it, because what you get is astounding, even at the full price of $2,499. The value is there, in other words.
SYSTEM REQUIREMENTS:
• Multicore Intel processor
• Mac OS X v10.4.11' 10.5.4
• Java' Runtime Environment 1.5 required for Adobe Version Cue Server
• 2GB of RAM (more RAM recommended when running multiple components)
• 26.3GB of available hard-disk space for installation; additional hard-disk space required during installation (cannot install on a volume that uses a case-sensitive file system or on flash-based storage devices)
• 1,280×900 display with OpenGL 2.0' compatible graphics card
• Some GPU-accelerated features require graphics support for Shader Model 3.0
• Dedicated 7200 RPM hard drive for DV and HDV editing; striped disk array storage (RAID 0) for HD; SCSI disk subsystem preferred
• DVD-ROM drive (SuperDrive required for DVD creation)
• Blu-ray burner required for Blu-ray disc creation
• Core Audio' compatible sound card
• QuickTime 7.4.5 software required for QuickTime and multimedia features
• Broadband Internet connection required for online services
(Note that an original 1.83GHz MacBook works just fine!)
MYMAC RATING:
I'm not sure if a "first look" review qualifies any software for a rating, but I'll give this 4 out of 5 at the outset. There's no question that this is one heck of a solid, professional package you'd be proud to own if you can justify it and afford it.
In the near future, I'll be reviewing Photoshop CS4 and probably Dreamweaver as well. Look for more about this and my experience with the new Adobe online services here at MyMac!
email – MyMac Magazine – Twitter – Advertise – Reviews Archive – Podcast