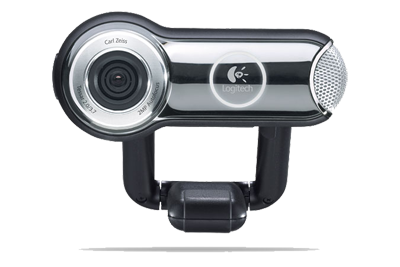 Logitech QuickCam Vision Pro
Company: Logitech
Price $129.99
www.logitech.com
This past spring I made it a mission of mine to find as many Mac compatible webcams as possible. It hasn't been easy. They seem to be few and far between. Recently, Logitech released the QuickCam Vision Pro, a Mac only camera, that is one of the best webcams I have tried.
The QuickCam Vision Pro is not cheap. It retails for $129.99, but you get what you pay for. The unit is a nice solid camera that has an easel like clip for mounting on a monitor, laptop, is resting on a counter surface. It has a camera with a Carl Zeiss lens and a built in microphone.
When I say you get what you pay for, I mean it. The picture quality on this unit is fantastic! It is capable of up to 720p images up to 1600×1200 resolution. I was blown away by the crispness and clarity of the image. Of course, when talking over the internet the image quality will also depend on the connection speed on both ends. In addition to the great quality, the camera has autofocus, which quickly adjusts as you move the camera around.
Audio quality is clear and crisp also. Like video, the quality on the other end of your conversation also depends on the connection speed on both ends.
A six foot USB cable allows you to move the camera around freely to show what you need to show.
Setup was a piece of cake. Plug the camera into a USB device and you are good to go. No other setup is need and no drivers are required. You do need OS 10.4.11 or higher and an 800mhz G4 processor for the camera to work.
The camera works with Skype, iChat, and even Photo Booth without a problem.
The only complaint is the price. While you get what you pay for, $129.99 is a little pricey for some (including myself). However, if you are in the market for a high-end webcam for your Mac this is the one to get!
email – MyMac Magazine – Twitter – Advertise – Reviews Archive – Podcast