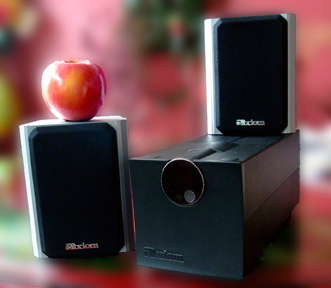 Audiobyte Computer Speakers w/ Amplifier
Axiom Home Theaters
Price: $349.00 USD
EPZero Subwoofer
Price: $179.00
AxiomAudio.com
One never knows what to expect when a company invites evaluation of the product they produce. I suppose they think that, for the money, their product can't be beat. Well, guess what? There are lots of products out there which can be beat, easily, especially "for the money." I don't know why some companies even bother putting out a product at all except for the fact that not everyone knows a good "widget" from a bad one. However, in our estimation, the Axiom Audiobyte Computer Speakers will stand with any home or professional speakers in their class.
I must say that when I first viewed these little speakers and held them in my hand I was impressed with the immediate signs of good workmanship and heft. Those two things alone won't win the race, but it is certainly a good start. After all, no speaker system is going to sound good if it's not put together well. Unpacking the sub-woofer and separate amplifier whetted my excitement and spurred me to set the system up ASAP.
Setup was simple as dirt. Everything is color-coded and instructions, though sparse, were sufficient. It took me about 5 minutes. I grabbed my MacBook and plugged it in.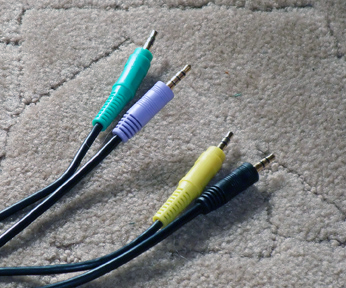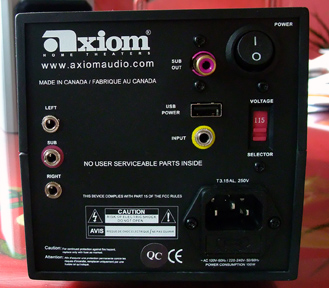 My first musical choice was one of my all-time faves, John Lennon's "Double Fantasy," which is in my iTunes Library, sans the Yoko Ono tracks. Sorry Yoko, but your screeching does little for me. "Starting Over" began with its trade-mark finger cymbal, crisp and ringing. John chimed in, and when the lead-in drum lick brought in the rest of the band I thought I was listening to studio monitors. Clarity was near perfect. A few minutes at about 1/4 volume and I was ready to crank them. JJ, my trusty hound, ran for cover.
The music was clear, clean, and with little detectable distortion. And these little guys were LOUD. They were on 10. The EPZero Passive Subwoofer was set on Flat (no boost). There was enough bass, the drums, man, the drums. I could hear/feel the stick hitting the heads. Guitars gave away their character, and the bass was smooth as could possibly be. Clipping occurred several times during this extreme volume test. At that point the speakers would stop working for a second and then come back on. This is most likely a safety factor to keep the speakers or amp from blowing themselves up. I turned the volume down slightly from 10 and the clipping stopped. It was still very loud and clear.
I then turned the volume down to very low. I had to wait 'til my head stopped ringing. Then I listened, and even at low volumes the music displayed the full array of instruments. Since the Audiobytes replicate music with little color distortion (flat) the music could have use a touch of low end at that volume level. But even at that level the sound was not tinny. Like a half cup of coffee it just needed a little warm-up. This is where the subwoofer would make itself useful. Now let's try it with the EPZero Passive Subwoofer in play.
There are only three settings on the subwoofer: Flat, Half-boost, and Boost. I went from Flat to Half-boost and then stood back. I was not knocked out by the added frequency boost, but I did feel, or sense, the lower frequencies as more apparent, just not dominant. At the lower volume level it added that needed dimension…just enough for me. Ok then, let's give it the full monty. I turned the select knob up to Boost. I stood back and realized immediately that this was what subwoofers are really about. The system remained flat, meaning that the frequencies were not fighting each other for the spotlight. The real low end was almost transparent. I could "feel" the bass. It filled out the entire musical spectrum and I was impressed. When I turned the volume back to about half the subwoofer boosted only the very lowest frequencies, keeping the overall bass where it needed to be. Warm, round, and comforting.
As a matter of fact the whole system was transparent, meaning the music was just "there" and not coming from any particular place. It filled my room, a good-sized living room / dining room combo about 17′ X 25′.
After listening to the same song with different settings I changed over to Levon Helm's new album, "Dirt Farmer." I listened to the whole album at about 1/4 volume with the subwoofer set to Flat. Mandolins and fiddles sang away and sounded like they were right there with me. Levon's drums were juicy and kinetic. The upright bass sounded like an upright bass should sound. Low and woody. Supportive and warm. I've listened to this album on a number of systems. Real good home systems. And none sounded better than these little Axiom Audiobyte computer speakers. This could easily be the main system in my home. My MacBook never sounded better, and I never enjoyed listening to music more on any system even close to this size. I can only guess what Axiom's large systems sound like.
A few short spec notes: The enclosures are sealed, and the shape of each speaker, which makes perfect sense, is flared on the sides. This keeps the speakers from setting up standing waves and taking on tone coloration. Frequency response, +/-3dB, 100-20kHz. The tweeters are 1″ titanium domes, and the woofers are 3″ aluminum cones. Each speaker weighs 2.7 lbs.
The Audiobyte Amplifier has an output of 55 watts per channel. The power is obviously matched to the speakers, hence the very low distortion, even at highest volume. It is a compact 5 x 5 x 12 3/8 inches and is included with the speakers.
The optional Audiobyte EPZero Subwoofer has a fixed crossover, a dual 6.5″ Woofer and is (H W D)12.4 x 7.875 x 14.5 inches. Room Response: +/- 9dB is 25Hz to 150Hz.
Axiom offers their products right over the internet at AxiomAudio.com. You can even audition your new system with their 30 day in-home trial. You can also take advantage of their free shipping, and No Interest for 6 months financing.
Audiophiles will love these speakers. Gamers will love these speakers. Music lovers will love them. You can opt for the optional EPZero Passive Subwoofer if you just gotta have the thunder, but the speakers are surprisingly full, especially for their size, all by themselves. For the quality you'll get out of the Audiobytes, and for the money spent, you will have made a very smart purchase.
MyMac Rating: 5 out of 5 (I'd go six if we had 'em)
email – MyMac Magazine – Twitter – Advertise – Reviews Archive – Podcast