One of the Mac and iPod/iPhone accessories manufacturer you'll find at every Apple Expo is Macally. Gregorio Fernández from Macally's European branch showed me some of their hottest stuff. While I admittedly feel a little dizzy with the abundance of sleeves, protectors and pouches, those continuously attract flocks of customers eager to vest their precious mobile Apple devices. And rightly so. The newest kid on the block is almost a "classic": the MCase-2T (19.95 Euros incl. VAT vs.19.99 USD w/o tax) is an update to the well-known slim but sturdy leather-style MCase which has been around for the original iPod touch for a while now:
 
What I like a lot is the iVoicePro (49.95 Euros incl. VAT; likely the same price tag in US Dollars), a stylish microphone and speaker combination, similar to the iVoiceIII but with improved sound, which plugs into the 5th generation iPod, 2nd and 3rd generation iPod nano and iPod classic. With its additional line-in stereo audio jack, you can record and mix sound from the iVoicPro's microphone with practically any other external source:
Probably even more attractive to some is the new PowerLink, a 3-in-1 USB-to-Dock-Connector adapter, providing data sync and charge for your iPhone or iPod, as well as doubling as a backup battery with gives you up to an additional 60 minutes of talk time or even 2 to 3 hours of extra music playback. The PowerLink will be selling for the same price as the iVoicePro (49.95 Euros):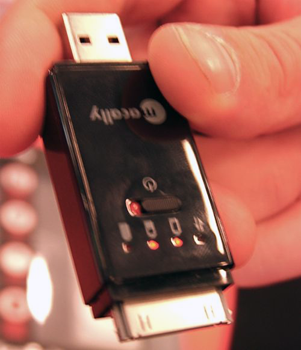 Ah, yes, for the US market, all prices are estimated to be a rough equivalent of the European ones, but, obviously without VAT/sales tax.
Algam Multimedia, the French distributor shows off SHURE earphones and accessories as well as ION products for Vinyl-to-USB and other audio recording accessories. François showed me their SE102 entry-level earphones, available for 79.00 Euros, which are actually the first such products from SHURE to breach the 3-digit-barrier and embrace also the high-quality mid-range market. A popular bargain on the show was the Music Phone Adapter MPA3C, destined to make any SHURE earphone compatible with the iPhone which regularly sells for 59.00 Euros:
New from ION – you may know the logotype with an asterisk in front of their name – is the U-RECORD A/D converter box which handles the conversion of audio recordings on vinyl and K7 audio media to the digital age via USB. A driverless installation on any compatible Mac or PC also includes Audacity (Mac and Windows) and EZ Converter (Windows-only). The U-RECORD sells for 59.00 Euros.
Some new AKG products, not even out yet, courtesy of Philippe Guerin from Harman France:
K 309 P (earbud type), SRP 9.99 Euros, colored in "juicy orange" or "cocoa brown", new entry-level model (18 HZ – 20 kHz, 124 dB/mW, 17 Ohms)
K 315 P (earbud type), SRP 24.99 Euros, colored either in "pebble black" or dual-colored with "brick red" (17 Hz – 23 kHz, 126 dB/mW, 17 Ohms, 5 grams)
K 317 P (earbud type), SRP 59.99 Euros, colored "snow white" with black and red (17 Hz – 25 kHz, 129 dB/mW, 17 Ohms, 5 grams)
K321 P (in-ear type), SRP 39.99 Euros, "cloud white" or "sky blue" (13 Hz – 22.5 kHz, 121 dB/mW, 16 Ohms, 4 grams)
and the very lightweight, aggressively-looking "wasp" or "scarab" colored K 330 P (12 Hz – 23.5 kHz, 121 dB/mW, 16 Ohms, 3 grams) for 69.99 Euros suggested retail price.
OK, all weights are without cables.
email – MyMac Magazine – Twitter – Advertise – Reviews Archive – Podcast