Like on most of the Apple- and Mac-related shows in recent years, audio and video take up a growing proportion of the show floor: professional production hardware and software, service providers and accessories demonstrate that Apple has conquered the desktop A/V market just like it practically invented the DTP industry since 1984:
This kid's getting a first hands-on experience with the Wacom Cintiq 21 UX interactive pen display which over here sells for just below 2,500 Euros. The 12-inch version Cintiq 12 WX may be much better targeted at this customer's budget with the roughly 50% of its bigger brother's price: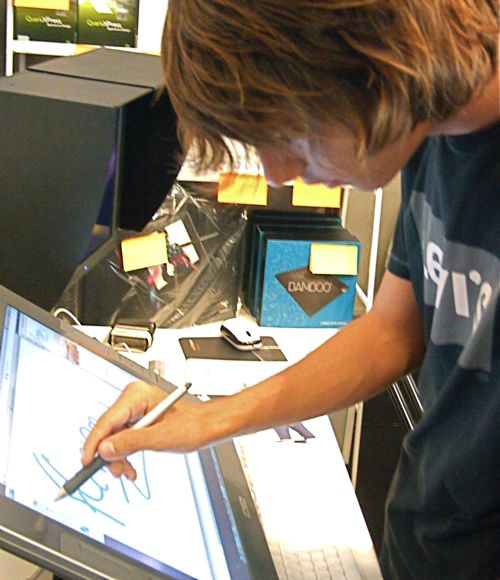 Color Grading using "Color" included with Apple's Final Cut Studio 2 and an true professional-grade control panel from Atreid: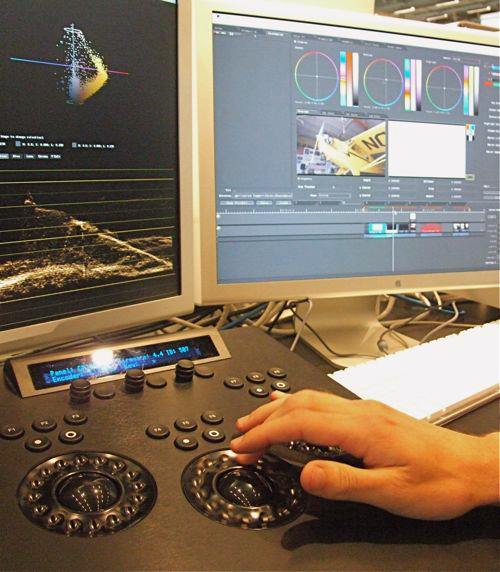 Once you've touched the cool black surface and smooth precision dials, you don't ever want to mess with mouse-centric UI controls again, not for accurate color adjustment that is. After all, are you a Pro or what?!
Simultaneously, with the success of those ubiquitous iPods, now the iPhone and the iTunes Store as its back-end, came the foray into Consumer Land. Which is good. Extremely good. Actually it's essential to Apple's continuously strengthening position in the IT industry worldwide… but, oh well, someone switch off that amp over there, please!
With a myriad of different deafening and interfering soundtracks it's frankly impossible to make oneself heard over just a few feet! OK, enough complaining, on with business: everyone's getting along well, even notorious competitors make fun of their meeting every week at a different show in the world these days.
And so are Sennheiser and the likes ever present with quite distinct appearances, friendly staff and a great customer experience. The former with a dance-floor-like setup and live DJ, transmitting a vibrant soundscape: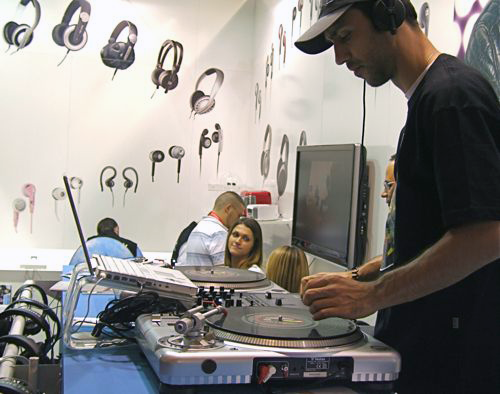 Harman/JBL/AKG invest in style over BPM, attracting design students from Europe's traditional capital of Fine Arts, fashion industry and Savoir Vivre: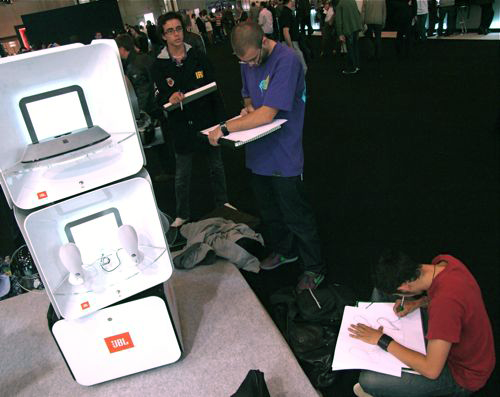 Apart from their current and upcoming line of products…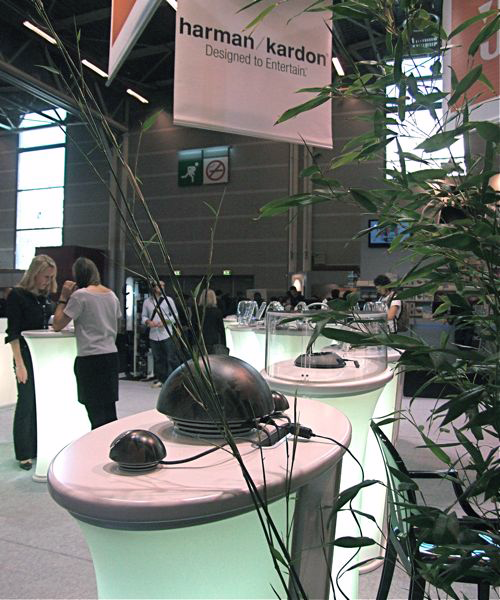 … one splendid new set of high quality active speakers caught my eyes. The massive, heavy, crystal-like GLA-55 which are still to be released and I'm told they'll cost 599 Euros: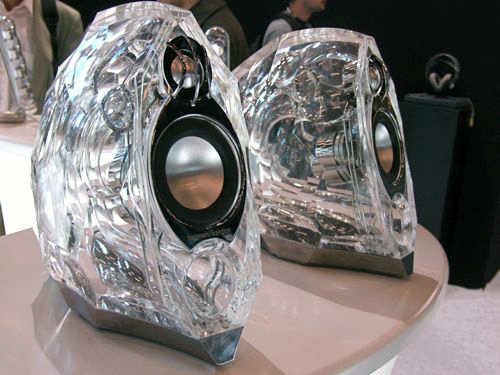 And back to the grass roots and garageband mentality of making music: not being a Mac-related product at all, the XBOX-360-based "RockBand" entertainment system from Harmonix Music Systems is a big hit with the audience of Apple Expo R3MIX'08!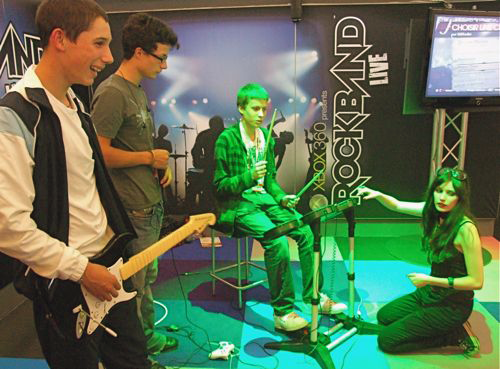 I've spotted it twice yet in live performances: once, in "corporate" RockBand colors, close to Microsoft's ample booth, and once, directly left of the entrance area, being marketed by the local distributor Algam Multimedia.
email – MyMac Magazine – Twitter – Advertise – Reviews Archive – Podcast