eMedia My Piano
Company: eMedia Music
Price: $30
http://www.emediamusic.com/mypaino.html
eMedia Music released My Piano for ages 6 and up just as Jim Hilbert and I were wrapping up our review of the company's My Guitar companion Mac/Windows CD. You can read our evaluation here.
My Piano uses Pam the Piano as cartoon tour guide, instead of Gary the Guitar. Irma Irene Justicia is the human tutor. Promotional material explains: "In eMedia My Piano, an animated character named Pam the Piano leads kids through over 100 lessons by Irma Irene Justicia, M.A., who has taught at the renowned Juilliard School of Music. Pam explains how, the videos show how, and the screens have the songs. Learn proper hand position, note names, how to read music notation, play accompaniments, and more. Learn many fun songs you and your friends can sing along with!"
More to the point is the presentation description, in which: "My Piano covers the basics, such as learning your notes, counting rhythm, and moves on to playing chords, reading music, playing songs, and much more. An animated keyboard shows you where to put your fingers as the live recorded audio plays. With MIDI tracks, the speed of the music can be adjusted so you can learn at your own pace. When My Piano is used with a MIDI keyboard, kids get instant feedback on notes and rhythms they played wrong and find out what they should have played instead. Additional features such as a metronome and digital recorder are also included."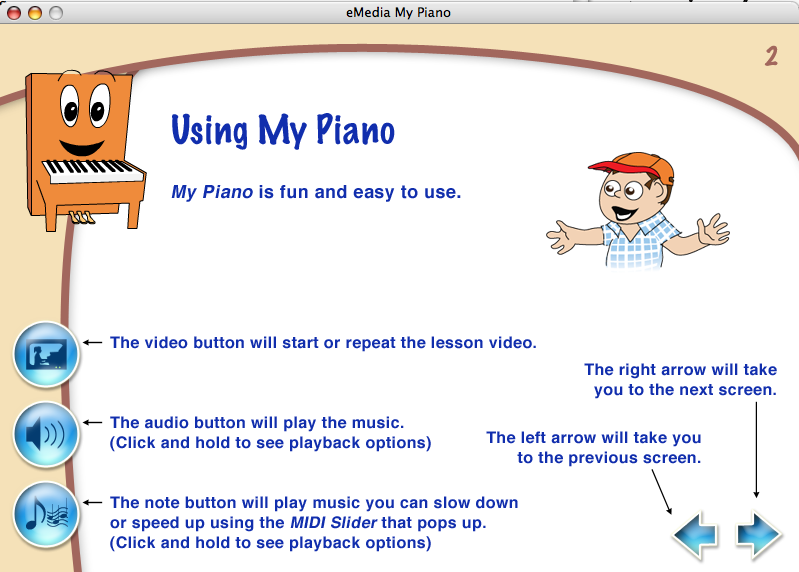 At the software's web site you can read the Table of Contents, and see a brief visual snapshot of My Piano's look and feel. Previous MyMac reviews of eMedia products praise their technology and methodology, with gentle criticisms of their demo song selections. This time we're given, among others:
• 93. When the Saints Go Marching In
• 101. New World Symphony
• 111. Jingle Bells
so Elton John, Sergei Rachmaninoff, and Art Tatum will have to wait for later editions. Oh — My Piano is for ages SIX and up! "Go Tell Aunt Rhody" may hit pay-dirt once again, if she ever finds out that the old grey goose never died after all.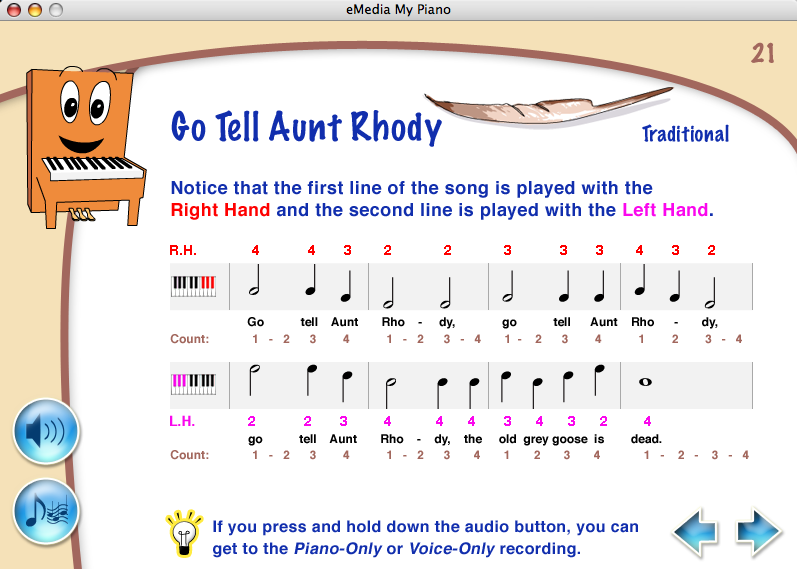 Computer requirements are modest:
Macintosh:
Power PC G3 or better (Intel OK)
Mac OS X 10.1+
64 MB of free RAM, CD-ROM
CD-ROM drive, 256+ color display
speakers or headphones
Windows:
Pentium II PC
Windows 98/2000/NT/Me/XP/Vista
64 MB of free RAM, CD-ROM
CD-ROM drive, sound card, 256+ color display
speakers or headphones
and a brief sampler of chapters offers a cross-section of the range of lessons: Playing on Black Keys, Clef Signs and Music Staff, Middle C Position, Measures and Bar Lines, and Playing Crescendo and Diminuendo.
My Piano's "drag to Applications folder" installer takes two minutes to put a 178 MB MyPiano.app onto your computer. Keep the CD in your drive bay, open the software, register with eMedia Music, "click to continue," and let the good times roll. Follow along with on-screen instructions and videos, while working through the lessons. MyMac always recommends learning music accompanied by an experienced instructor, family member, or friend.
Pam Piano's pleasant persuasion is easy on the psyche, as are the games and hand clapping she conducts. Click appropriate buttons to hear audio samples of numbered piano key displays, or work with built-in MIDI files. Individual lessons don't have pause or repeat options, which we hope are added in the next version of this product.
A comprehensive Glossary of useful terms is found in the application's Help menu. A Metronome and Recorder are in the Tools Menu. The Goto menu assists with navigation to any desired spot within the full range of tutorial info. Spend time customizing your Options menu settings, and ask eMedia for assistance if you don't understand what they are or how they work. When you complete all 107 lessons, you'll be an accomplished beginner, ready to proceed to the company's successor series.
For $30, the value is top notch. Each iteration of eMedia training gets a little better, as the company learns what works and what needs work. Complete beginners who have an experienced pianist or instructor available will agree with our 4 out of 5 MyMac rating.
email – MyMac Magazine – Twitter – Advertise – Reviews Archive – Podcast