Plopp
Company: impara
Price: $19.50
http://www.planet-plopp.com
In my classroom I have 3 emacs. The older kids use iPhoto and Photoshop, but the only program I have for the younger kids is Kid Pix. I am always looking for something new to accompany Kid Pix. My search had been unsuccessful, until I found Plopp.
Plopp is a "different" kind of art program. Instead of just drawing a cool picture, kids (of all ages) will learn something (even if they don't realize it). Just the name "Plopp" sounds fun.
So what is Plopp? Simply put, Plopp is a scene creator. Kids can make a background, and characters, or objects, to go into that background. There are pre-made characters and backgrounds, or you can make your own. All of the choosing and creating gets down in little slide out windows for each of these sections. When a section is done it becomes part of the picture.
So what is the big deal? The big deal is in the character/object creation. This is where Plopp becomes unique. Plopp takes a character, like the one below…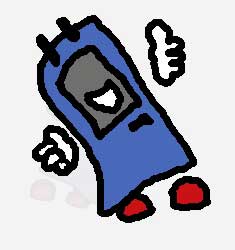 and inflates it into a 3 dimensional beach ball character…
This is really cool.
Once the character is inflated it an be turned, duplicated, resized and repositioned. As your child is repositioning and resizing the character he/she is learning basic art principles. As something gets further away it gets smaller. Size and overlapping also come into play. If you want to get rid of a character, click the pin and it deflates like a balloon losing its air.
At the top right of the Plopp window is a sun and moon icon. Moving the arrow on this icon will change the time of day. This makes it darker, or lighter, and also repositions the shadows.
The drawing tools are easy to use. There are different pencil and eraser sizes. A fill bucket is available for filling large spaces. There are even tubes of paint to mix colors. Clicking a tube adds more of a color to the current one. Little feet on the bottom of the drawing space are for undo and redo.
If your child needs help, the Plopp mascot Plipp is there to give guidance. All you have to do is click him.
Once finished the picture can be saved, printed, emailed, or even turned into a desktop picture.
Emailing the image happens directly in the program and is sent as an ecard. This is a great feature. There is no need for your child to get into an email program.
When saved the image is exported in jpg format to a Plopp folder in your Pictures folder.
With all of these great features, there are a couple of features I'd like to see in a future release or update. First, it would be nice to see the inflation feature expanded on. The ability to control the amount an object gets inflated would be a great addition. Second, keyboard shortcuts (like Apple+Z for undo, or Apple+P for print) don't work. You'd be surprised at how many of my students know these shortcuts, and use them. Finally, cutting and pasting from outside programs, and the ability to import other image files is needed. How many kids would love to import a picture of Spongebob and inflate him into their picture? I know a bunch.
Even without the above suggestions, Plopp is a fantastic program for kids. However, you don't have to take the opinion of an adult to determine if your kids will like it. I let my students take Plopp for a spin, and even my middle school students loved playing with it. They were actually fighting over who got to try it next.
If your child likes creating art on the computer, this is a must have! especially, at $19.50.