Macally XKEYLED Backlit Full Size USB Keyboard for Mac
Macally.com
$59.99USD
Macally XKEYLED Backlit Full Size USB Keyboard for Mac
is a mouthful, and it describes the item very well. The main features that make the keyboard appealing to potential users are:
Backlit
: Three levels of illumination are available for the white-on-black keys. Holding down the [fn] key and clicking the 'up' or 'down' arrow keys (marked with function reminders and appropriately pointing triangles) will change the illumination level. If you have used an illuminated keyboard with more light-level increments then you may regard this as a limitation. In the real world, the three levels are sufficient. There is an 'on/off' button (marked with a lightbulb symbol) for the backlighting, but mostly you will probably want the illumination turned on. When turned off, the keys are grey-on-black and low visibility. The middle setting was most often just right during our testing.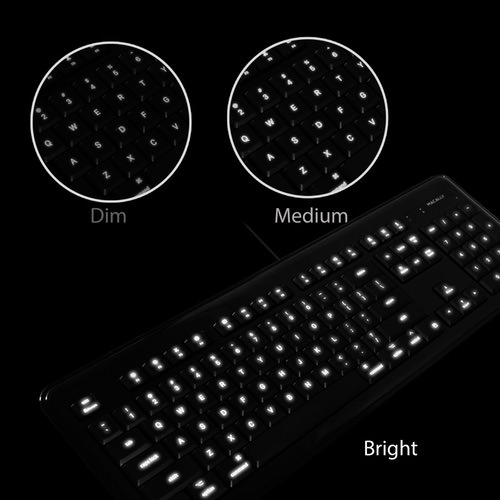 Full Size
: This is indeed a large keyboard, measuring 18.1" (460mm) width by 6.2" (157mm). For test purposes, we squeezed it diagonally onto a desk with a 24" (61.5mm) by 10.5" (26.5mm) keyboard/mouse well. It was a squeeze, but operationally possible at a pinch.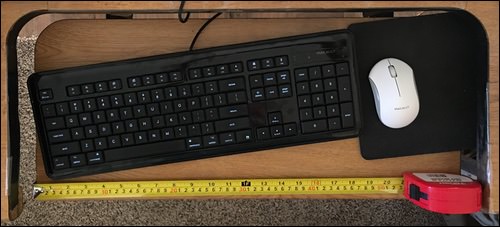 USB
: This device has USB TypeA connecter, so if you require a USB Type C connection you will need to purchase an additional adapter. There is no setup required, other than plugging into a USB port and identifying the type by pressing the requested keys if queried by a MacOS dialog box. The wired connection (a generous 56"/142cm in length) did not seem to be an issue, especially as this size of keyboard would be unsuitable for operating in any context other than a workstation. A wired power supply for the illumination is the most practical method: not having to change batteries seems like a good idea in any case.
Mac
: It's good to know Macally is servicing Mac users so well with Mac-specific keyboards. There are plenty of one-type-fits-all alternatives, but it's nice to have something designed specifically for the Mac. In practice, this means that the [control] [option] and [command] keys are present, correctly named, and additionally have the correct Mac symbols on them. The [shift] keys do not have symbols. The [F…] and some other keys are also Mac-specific, but more on that later.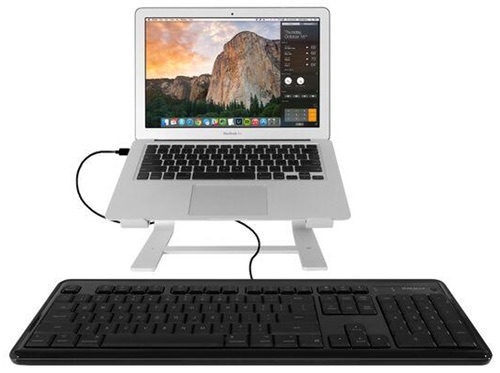 The construction is all-plastic and well-finished, giving an almost retro experience, in a good way. In use, the keys are light, with enough travel to make them positive. The tactile feedback is halfway between what you might typically experience from a mechanical keyboard and the opposite experience from a soft-touch keyboard. The keys are not silent, and neither do they click. The
Macally XKEYLED
experience was the opposite pole from using a standard Apple keyboard—neither is necessarily better than or even preferable to the other. They are just different experiences. There are 104 keys on
Macally XKEYLED
keyboard.The uppermost row contains the [esc] key on the left and fifteen function keys to the right of it, all labelled with their [F…] number or a secondary function symbol. Switching between functions is done by holding down the [fn] key and tapping the [esc] key. In the top-right corner panel there is a warning light that illuminates when the secondary function is off and the keys are operating as standard [F…] keys. The [caps lock] key also has a warning light in the top-right corner panel to show when it is in operation. The [control], [option], and [command] keys are duplicated left and right of the main key cluster. The left-side [shift] key did not de-activate extensions when held down during a restart (aka Safe Mode), but the right-side one did. There is a block of navigation keys and a numeric keypad block. Both blocks came as a delight after using Apple's own pared down standard-issue keyboard. Oh, the joy of being able to 'forward delete' once again! There is a even a 'save' key marked with a symbol of an HD 3-1/2" floppy disk if you remember them, although they now only live on as an interface metaphor. Surprisingly, after years of [command]+[s] usage stored in muscle memory, we found ourselves using the [save] key with a discreet tap of the right pinkie finger, and sometimes even with a commanding flourish of the right index finger. We liked the
Macally XKEYLED
keyboard. It cries out for a matching illuminated mouse. Perhaps
Macally
will oblige at some time in the future. Devices that become extensions of our own operational parts are a very personal and individual choices. Unless you are sure of your likes and dislikes, it is generally advisable to test drive any peripheral that differs from that to which you have become accustomed. If you will benefit from an illuminated Mac keyboard then your choice is not very wide. If you have the desk real estate and you will welcome extra keys and their functions then the
Macally XKEYLED
is a worthy contender for your choice.
MyMac review rating: 9 out of 10.
A robust, fully-featured traditional keyboard with backlit keys at a reasonable price from a company with a good reputation.