NEC PA243W Professional Wide Gamut Desktop Monitor
Price: $949 U.S.
Company: NEC
When I first connected the NEC PA243W Professional Wide Gamut Desktop Monitor to my MacBook Pro, I was totally amazed by the brightness of the screen and the shiny colors it was displaying. Out of the box, without any calibration or other manipulation from me, the display stunned me on my chair. But what makes this display sparkle to the eyes? Let's dig into its specifications.
The monitor is a 24.1" AH-IPS panel with a native resolution of 1920 x 1200, a large viewing angle of 178° both vertical and horizontal with a typical brightness of 350cd/m2 and contrast ratio of 1000:1. It shows 100% of the sRGB color gamut, and 99.6% of Adobe RGB and NTSC. Using the DisplayPort or HDMI inputs, this monitor can show 1.07 billion colors out of 4.3 trillion in 10 bits mode. The display is equipped with multiple internal sensors to measure and correct brightness, whitepoint and colors as you work with it. Its video inputs include a HDMI port, a DisplayPort and a VGA connector.


The NEC PA243W is a computer display aimed at professionals who needs color accuracy for their work. These professionals will be artists like photographers, digital artists, videographers or they can be scientists who need a perfect medical imagery.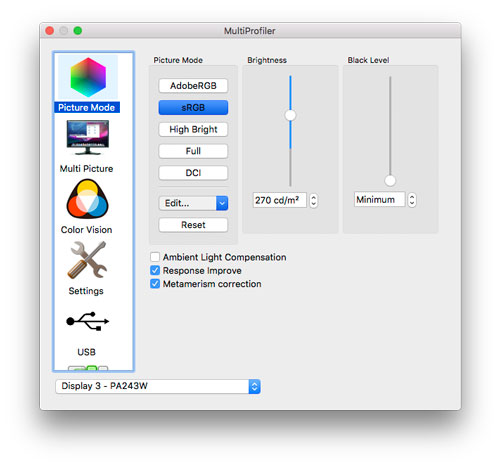 While most of the settings of the display can be changed with the on-screen menu, the monitor is delivered with software named MultiProfiler available on computers running macOS, Windows or Linux. The software communicates with the PA243W using only the DisplayPort interface and will show the detailed configuration of the monitor. From there you can use this software to modify the default or create new profiles for a specific usage. It can be specific for a printer or any other aspects required for your color specific workflow. The software is accompanied with a PDF manual is 54 pages, that shows how much it can do, and why I cannot describe everything the software can do with this monitor in this review.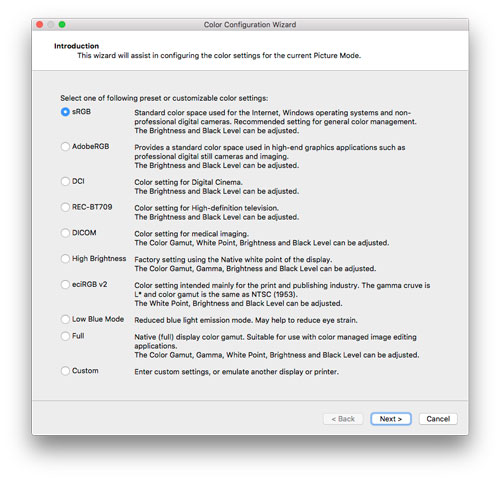 For artists, the PA243W has default picture modes for Adobe RGB and sRGB, and for video editing a DCI picture mode is available. For scientists or physicians studying visual impairments, the Color Vision Emulation panel enables different modes. In this panel you'll also find a beautiful grayscale mode. 
In addition to all the already mentioned features, the monitor is also a USB 3.0 hub that can be use with two computers to share one keyboard and mouse. This can be configured with the MultiProfiler software. The on-screen controls are easy and intuitive to use, by having a full set of controls on the bottom-right. Having a set of arrows both vertically and horizontally makes navigating the on-screen menu much easier than many other monitors I've tried. It also includes stereo speakers that will work over the DisplayPort connectivity, and the horizontal arrows of the on-screen controls become the volume knob. The monitor can also be pivoted in portrait mode if you prefer to work that way for the task you need to accomplish.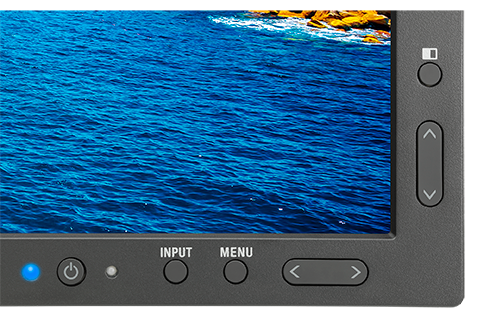 The NEC PA243W is so full featured that I am unable to cover more than a quarter of what it can do for color sensitive tasks in this review. I cannot recommend the display for physicians who need to study color impairments as it is far from my expertise, but I can assure that for an artist, the display will certainly satisfy the requirements. The price of the display looked too pricey at first, considering it is only a 24" panel, but once you see the performance you'll get from it, the price won't bother you anymore.
MyMac Review Rating: 9 out of 10