Artstudio Pro
Developer: Lucky Clan
Price: $39.99 Mac (as of this writing it is on sale for $23.99) ; $11.99 iOS Universal App (as of this writing on sale for $6.99)
Back in 2010 I review Artstudio by Lucky Clan for iOS. Artstudio was and still is a natural painting program that mimics true drawing and painting tools. At the time the operating system wasn't even called iOS. It would be later that year. At the time I loved Artstudio. Now, almost 7 years later Lucky Clan has released Artstudio Pro for iOS and Mac. Does it still earn a high rating? Read on.
Note: Most of my time for this review was spent with the iPad version, although I did try the app on my Mac and iPhone. All images I created and were not supplied by Lucky Clan.
First, let's talk about the look and interface. The Mac  version is surprisingly similar to the iPad version. In fact I was surprised at how similar it is. Of course, there are some differences,  but going from the iPad to the Mac is a very easy transition. The iPad version even has Mac-like menus, which I really like. It makes finding things a lot easier and more familiar (from app preferences to cut and paste).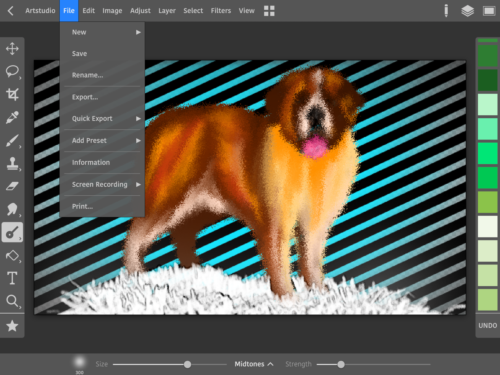 However, going to the iPhone version is a different story, but this is to be expected with the much smaller form factor. Much of the interface is the same, but many of the menu items are hidden in sub menus that you have to find.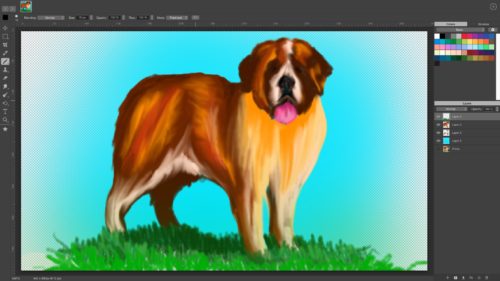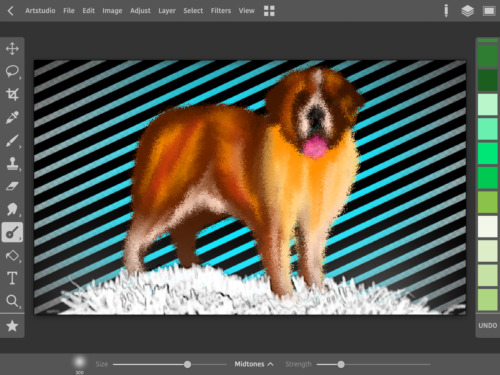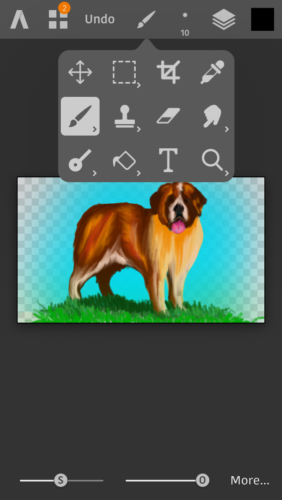 As a painting and drawing program Artstudio is great and it excels with an Apple Pencil (iPad) or Wacom Tablet (Mac). The app has all of the tools you would want and expect from smudge and blur to a variety of drawing tools and brushes. There are also a variety of tools not normally seen in this type of program. There is a clone tool, text tool, fill bucket, and more. There are also several filters to alter your images. Everything is live too, so as you make changes to the images it happens as you slide the controller. There is no lag time to see an effect happen.
My biggest problem with the app on iOS is the image controls like brightness and contrast or shadows. The control window on the iPad is not repositionable and it often gets in the way of seeing how you are changing the image.
Any art program isn't complete without layers and Artstudio Pro has a great layers system. There are layer effects (a rarity in iPad apps), adjustment layers, layer groups, and more. Layers is a must for my workflow and many other artist who create digital art.
Not only is Artstudio a painting and drawing program, but it is a photo editor as well. From brightness and contrast to saturation to levels and more. There are so many filters, tools, effects, and more that when using Artstudio Pro I kept thinking I was using a Photoshop replacement, and an affordable one at that. In fact, for those that don't need the full Photoshop experience this would be a fantastic option, especially on the iPad. It is easy to use and understand, and works great.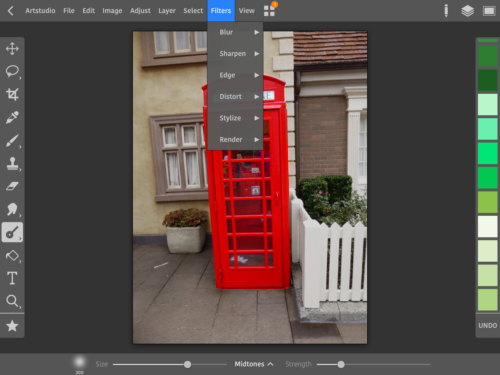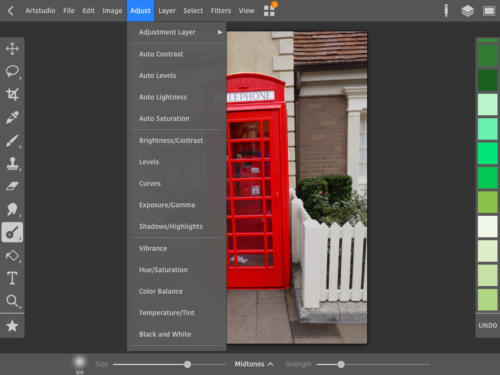 Another nice feature is that you can store your images on iCloud instead of the device. This way you can go from Mac to iPad to iPhone and still continue working on your image. There is also a local copy in the event you have no Internet access.
One annoyance I experienced is that while you are working, the app automatically saves your work. This is a great feature, but a window pops up telling you this is happening which can definitely disrupt your workflow. Of course the Apple Pencil does not work on the phone so I found it much easier to draw on the iPad and Mac (with a Wacom tablet).
A fantastic feature which I have yet to see in any other app of this nature on the iPad, and I have tried many of them, is the ability to have multiple files open at once! This is exceptional! You can refer to other images or simply copy and paste from one to the other. For many this will be a game changer working on the iPad.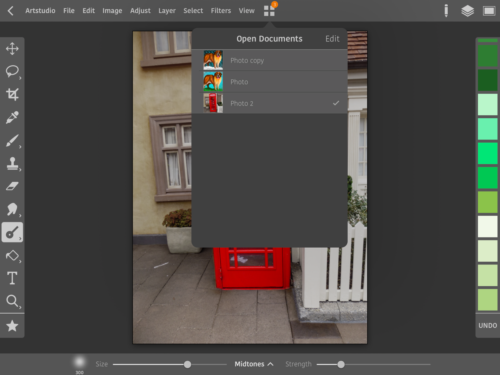 As I have been writing this review I keep referring to the app and finding more and more features that I have forgotten about. For example, you can do screen recording, record as you create. This is great for creating tutorials. You can also export you work into .jpg, .tiff, .png .psd and of course Artstudio. The Photoshop format is a brilliant feature for those using this app and wanting to go into Photoshop and edit or collaborate with those using Photoshop.
I could go on and on about how feature packed ArtStudio Pro is. Overall, I found Artstudio Pro to be a great successor to the original Artstudio. I highly recommend it and look forward to seeing it grow in the future.
MyMac.com review rating 9 out of 10.