MODO BASS Virtual Instrument
IK Multimedia
Price: $299
Let's start with some disclosure. I play bass. I have for years and I am currently playing with a band. I've always been drawn towards busted, broke down basses. The ones from the pawn shops, that have lived a hundred lives before they came to me and are worse for the wear. So I came into reviewing IK Multimedia's MODO BASS with a bit of trepidation.
The MODO BASS is the industry's first physically-modeled bass virtual instrument, according to IK Multimedia. A lot of virtual instruments generate their sound via samples, meaning you are playing recorded samples of the instrument and then processing as you need. MODO BASS has been created to recreate all of the physical properties of a playing a live bass. This is all happening via keyboard controller connected to my Mac. What does all this mean? Let's find out.
You can use MODO BASS as a standalone application, which comes in handy if you are working on building your perfect instrument for your project. It also works as a 64-bit plugin for any popular digital audio workstation.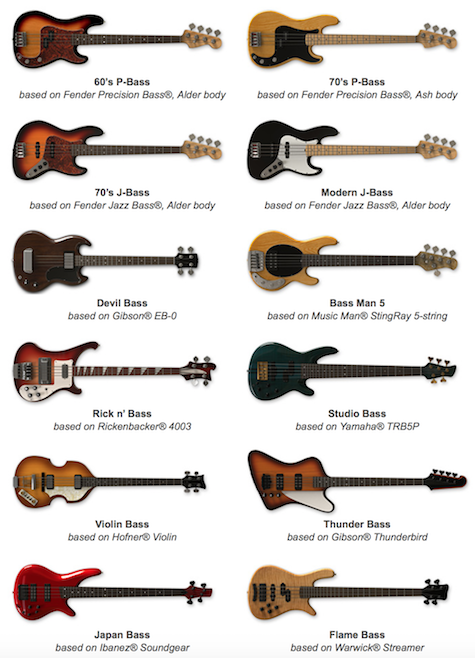 IK Multimedia went deep when creating this virtual bass. You have the choice of 12 different basses, being essentially all the major bass models you need — from the classic 60's Fender Precision Bass style, to the 70's Jazz Bass style, to Rickenbacker, Music Man, even a Gibson EB-0 styled bass.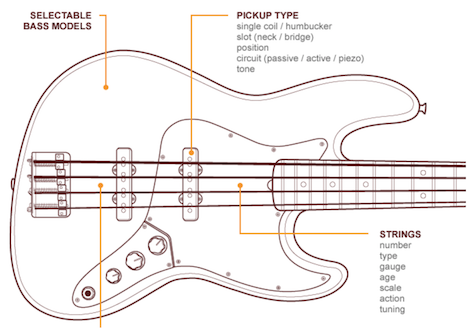 Once you have picked your bass you can also change the "electronics." Want to play a Gibson Thunderbird style bass with 60's Fender Precision split coil pickups? Done. Want your pickups all stacked at the bridge for some reason? It's your choice. You can you have your pickups selected and positioned right where you want them.
What about your strings? Because you can change the type (flat or round wound), the gauge, and even the age, I particularly like this feature because, surprise, I love old, old strings.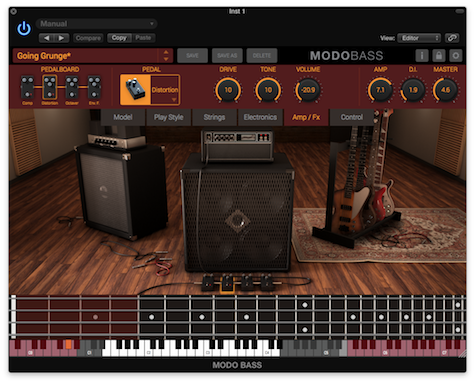 You can also choose between two different types of amps: solid state or tube; four different FX pedals; and all the varying modifications you would expect from these choices. In this sense MODO BASS is like the world's biggest bass store where almost any bass is at your disposal. I spent a whole night just building and trying out every configuration I could imagine.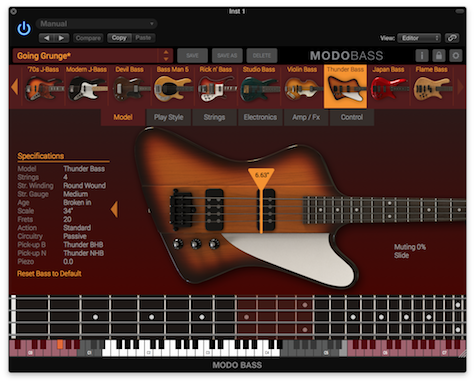 The last two tabs in the application are Play Style and Control, and these give MODO BASS its expression. In Play Style you can choose from finger, pick, and slap style. In addition you can adjust for stroke, touch, and fingering options, to name a few. The Control tab has most of the Play Style effects in a trigger mode that you can command from either your keyboard or your mouse.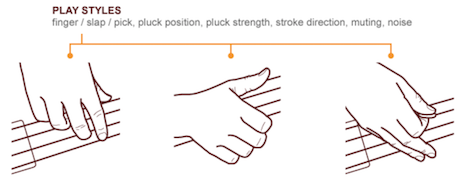 As you are playing your bass line if a particular passage should be played slap style you can just click on the slap key, then click the finger key to go back to that style. Or if you have a keyboard controller with enough keys you can manage these from there.
I am undecided as to which is more powerful — the modeling or the play controls. They both do an excellent job. For this review I tried to recreate the bass line from Night Night by Big Boi as it has finger style and slap style. It also, if played by an actual bass player, is played on a bass with drop D tuning or a five string instrument. I don't have a five string bass, and remember how I love beat up basses? My two current basses sound like garbage when I tune them drop D. So this song seemed like a perfect little evening project to work on and take the MODO BASS through its paces.
By dropping this tune into Logic Pro X and using the modeling controls in the plugin I got pretty close to the song's bass sound. I did a lot of punching in and out because my keyboard playing skills aren't the best and trying to use the expression controls in addition to playing the bass lines were beyond my competency. I was able to get really close to the song's original bass line with trills, slapping, and slides.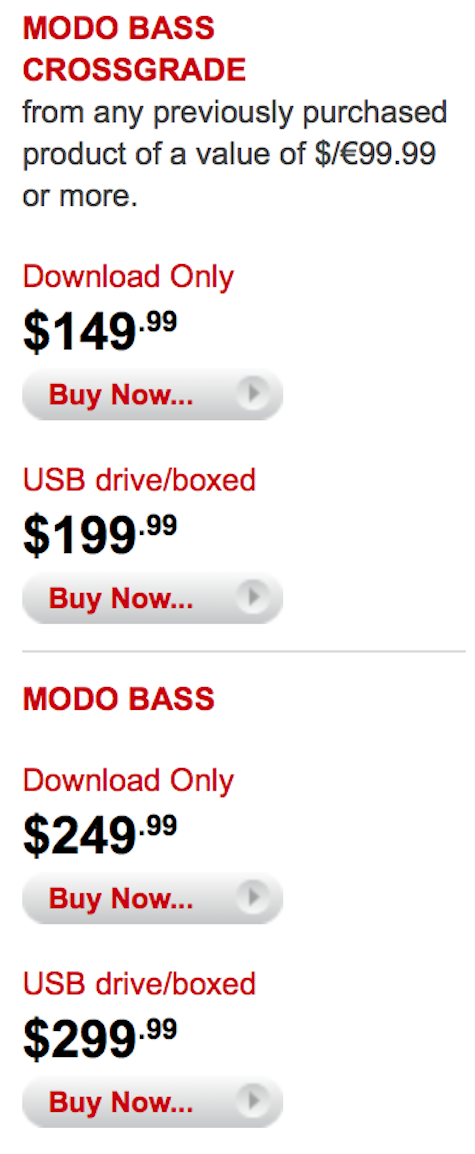 At $249.99 U.S., it's a pricey product but if you are in music production and need a solid bass instrument in your toolkit you will appreciate everything about MODO BASS. As a bass player, this is a valuable discovery and research tool. While it will never beat the real thing, it's great to get a pretty close preview to a whole bunch of basses.
It won't ever replace my beloved cheap, crappy basses — however it does give me the taste of what is out there beyond my current tastes.
MyMac Review Rating is 8 out of 10.