Snow Lizard SLXtreme7 iPhone Case
Snow Lizard
Price: $130 U.S.
Available in black, camo, and two bright safety colors
The Snow Lizard SLXtreme7 iPhone case is like the Humvee of smart phone cases. You pick it up and instantly realize it's the equivalent of a rugged tank that you hold in your hand. If you spend a lot of time in the outdoors or in isolated terrain, this case can be a lifesaver. I wish I'd had one of these during the many years I spent as a reporter in remote and undeveloped parts of Arizona where humans were scarce and basic services were seldom to be found.
You may ask why would anyone get enthused about yet another iPhone 7 case? The answer is this case is waterproof, drop-proof to 6.6 feet, comes with a built in solar-charger, and includes a built in battery charger (see photo below) that can extend your phone's talk time for an additional 16 hours and app usage by 12 hours. It will resist sand, dust, dirt, snow exposure, shocks and vibrations, all of which plagued me during decades of exploring on often horrendous unpaved roads in the American Southwest.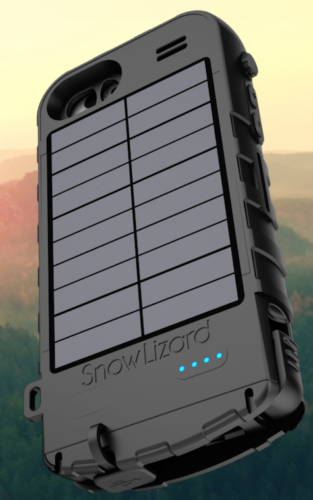 Installing an iPhone 7 (not the 7 Plus) in SLXtreme7 is simple. Unhinge the two latches at the bottom of the case and slide in your iPhone. When you open the bottom you'll see a Lightning connector built into the base that plugs into the iPhone to begin charging. The only thing to remember is that if you already have a screen protector on your phone, you must remove it because the SLXtreme7 has its own screen protector built in. The case also comes with a lens protector that SnowLizard says guarantees you'll get crystal clear photos.
This durable premium case has four buttons: two on the left side for volume control, one on the right for power, and one on the back for the Solar Indicator. There's also a knob on the left for controlling the ringer/silent switch.
If you want extra protection, save the heavy duty plastic package that the case comes in. It has it own tight-fitting latch at the bottom and can be used as a dry box.
I wouldn't want to carry around a case like this all the time, but if you're going rafting or hiking in rugged country, or even fishing on a tranquil lake, this case can provide a little extra protection for your valuable phone. Fortunately, you can install and remove the case easily when it's not needed.
In addition to the black case we received, three other colors are available.