Bolt Crossbody Laptop Bag
Manufacturer: WaterField Designs
Retail: $199.00
The new Bolt Crossbody bags from WaterField Designs offer some features that add a welcome layer of convenience to your day-to-day life. Unlike the usual briefcase orientation, these bags are vertical. This makes carrying them easy and comfortable.
The strap is adjustable for crossbody or over-one-shoulder use. Vertical bags that hang from the top tend to flap against your body when you walk. These Bolt bags have D rings a few inches down from the top so they lie flat and comfortably against your side.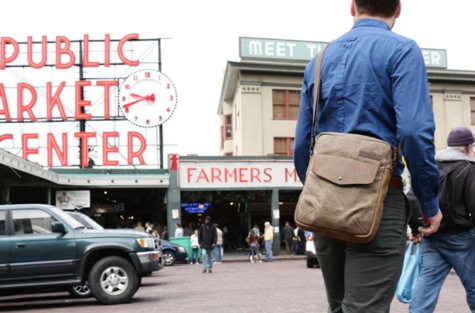 Because I travel often with my 9.7" iPad Pro, I don't need or want a bulky laptop case. WaterField makes the Bolt bags in three sizes. I have the small one and it fits my needs. (Exterior dimensions: 11″ (28CM)  x 9.25″ (23.5CM) x 2.25" (5.7CM.) Inside the central compartment secured by a YKK splash-proof zipper, is a padded, microfiber-lined pocket that fits 9.7 inch iPads (and the new 10.5 inch iPad Pro) perfectly. The screen faces inward so it is well protected. On the other interior side is a six inch deep pocket and beside it are a couple of pen slots. My Apple Pencil sits securely in one of them. The center part of the bag can be crammed with a surprising amount of gear. For a sizing approximation of the small size—a typical magazine will just fit.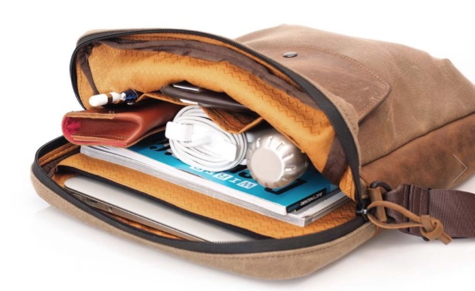 WaterField bags are not only designed in San Francisco, they are made in San Francisco. Their top quality construction is something that needs to be seen to fully appreciate. The full-grain leather has a comfortable lived-in look from the outset and will wear with age like a favorite wallet. The bags are lined in a golden weave fabric. The color is purposely light so that finding things at the bottom of the bag is easier than the usual black hole groping. Several combinations of leather, waxed canvas, and ballistic nylon are available.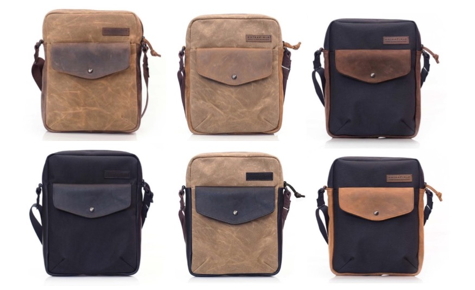 A splash proof, locking YKK zippered pocket on the back of the bag keeps travel documents safe. There is also a rear grab-and-go strap handle. A large pocket with a magnetically secured flap is on the front. The pocket is roomy because it has two sewn-in darts that provide enough bulge to accommodate a point-and-shoot camera, headphones, or other gear. Also inside is a microfiber-lined pocket that holds phones up to and including the iPhone 7 Plus.
I have field-tested this bag on a couple of trips so far and I'm pleased. It only weighs 1.35 lbs, (612g) and it fits under airline seats with enough room for my feet as well. My headphones fit snugly in the bag's front pocket.
I need to mention a couple of small issues. The shoulder strap is permanently attached to the bag's D rings. The grab-and-go handle on the back of the bag is sufficient for walking to the conference room or even out to the car. I would prefer being able to remove the strap (and stow it inside.) The other thing is overall size. A stack of normal office papers will not fit in the small size bag. Another inch or so in height would allow that. I know, I know, using the medium or large bag would eliminate this problem, but I love the tidy form factor of the small one and papers almost fit.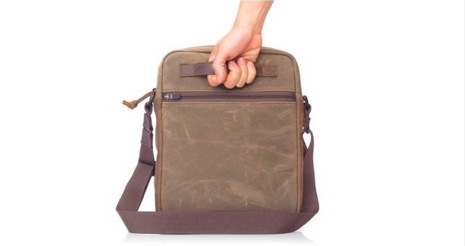 WaterField bags are meticulously crafted and the attention to detail shows—and shows off. These are high-end bags but unlike their cheaply-made brethren, these are built to last. You may even hand yours down to your kids.
MyMac Reviews rating is 8 out of 10.