Kanex GoPower Watch
Price: $100
Company: Kanex
You've probably seen portable chargers for your phone or tablet in stores or online. Now that we wear an Apple Watch, we also need to charge it. While it could charge on any of battery with Apple's watch charger, wouldn't it be cool if your battery pack already had an Apple Watch charging plug built-in? Welcome to Kanex GoPower Watch.
The charger fits in the palm of your hand and has a magnetic charging dock on top of it for the Apple Watch. The button on the front displays the battery charge on the four LED charge indicators around it. When charging, it flashes the LED to show the charging status. The back has two USB ports: a USB A to connect and charge your iPhone and a mini-USB B port to charge the GoPower Watch itself. A USB A to mini-USB B cable is provided, but no power brick. The GoPower Watch has a capacity of 4000mAh.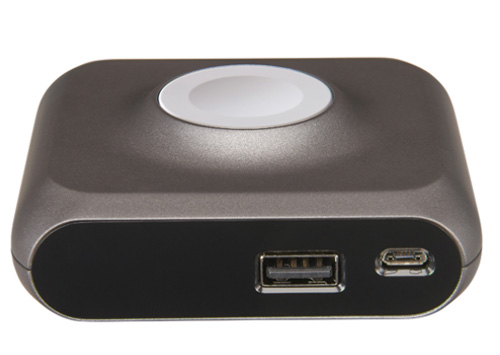 Kanex says that the GoPower Watch can charge your watch six times and an iPhone 6 1.5 times. I tested charging my iPhone 5s with it, and I obtained a 1.6 times charge out of the GoPower Watch, which tends to prove Kanex claims. I could also fully charge both my watch and my iPhone one time over night and the GoPower Watch still had some power left. The GoPower Watch battery will take around four hours to recharge itself. Charging my iPad mini 4, the GoPower Watch could only provide around 60% of recharge.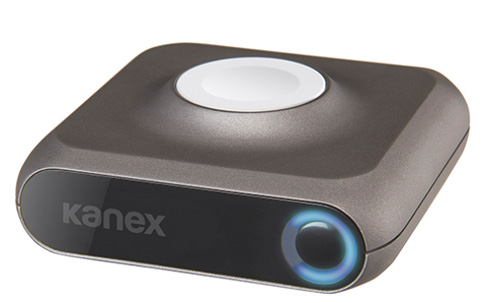 Kanex claims the GoPower Watch is the first portable charging dock for Apple Watch. At date of publication, it is still the only one I've seen. While I always find the price of standalone battery packs on the high side, this one being no exception, I think it is a fair price to pay. With it in your backpack, you can leave your Apple charger cable at home, and still be able to charge your Apple Watch while traveling.
MyMac Review Rating: 9 out of 10