Power Sources from Kanex and NewerTech — USB-C Roundup, Part 1
Kanex GoPower USB-C Portable Battery for USB-C MacBook (and everything else too)
$100 U.S.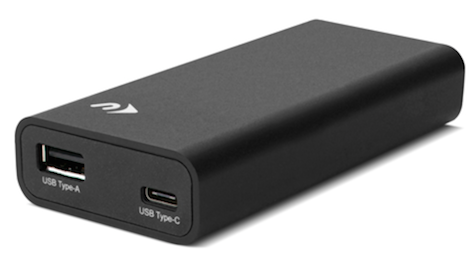 NuPower 60W USB-C Power Adapter
$49 U.S.
USB-C computers need power. NewerTech's efficient NuPower 60W USB-C Power Adapter charges MacBooks and other USB-C peripherals, such as the Kanex GoPower USB-C Portable Battery for USB-C MacBook. The NuPower charger is a charging brick with power cable at one end, and a USB-C charging tip at the other end. Both these items are multipurpose: charge either USB-C hardware or any power-hungry USB gizmo, such as an iPad or iPhone, via an additional standard USB port.
The Kanex battery is slim and gorgeous, but it slips around on a table, because it doesn't have any rubber feet or similar bottom piece to keep it stationary. It charges up efficiently when its input port is connected to the NuPower charger, then the battery distributes the charge either through its USB-C or generic USB output port. With 15,000 mAh capacity, the GoPower battery has enough juice in its tank to fill or top up all iOS and similar equipment, and Apple's original 12 inch MacBook, plus other recent model USB-C non-Apple laptop computers.
NuPower's adapter pumps out its charge faster than does Kanex's battery. If you're in a hurry, use the Power Adapter, but it's not styled like a sexy Apple product, and the battery definitely is stylish, rugged, and space gray.
The NuPower charger, like the Kanex battery, also has a USB output port, which makes it versatile and valuable beyond its modest price. Note that this power supply is slightly underpowered for the new 13 and 15 inch MacBook Pro models with USB-C, although it will work in a pinch.
External articles, tech specs, and photo links:
Review: Kanex's GoPower USB-C Portable Battery for MacBook [Video]