knob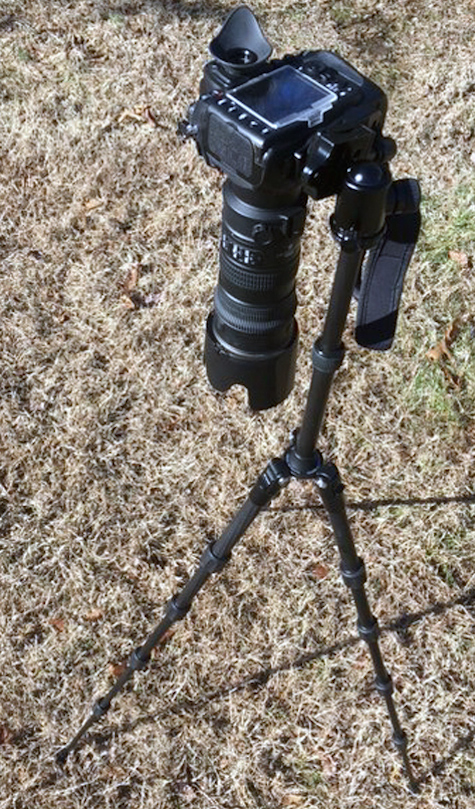 Polaroid Pro Series Carbon Fiber Travel Tripod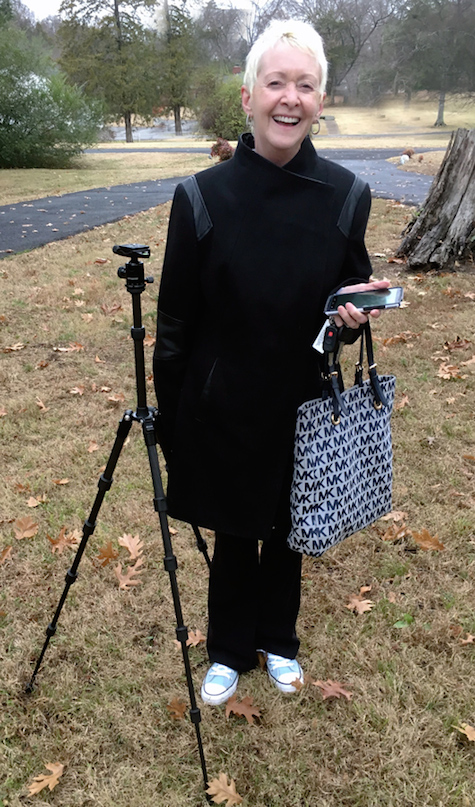 Polaroid Pro Series Carbon FiberTravel Tripod with removable Ball Head is a strong competitor in the field of travel photography. It weighs a mere 2.65 pounds and compactly folds to just 12.5 inches. There are countless tripods on the market geared to the traveling photographer so Polaroid had to know  that creating this tripod demanded attention to detail that seasoned photographers will notice and appreciate.
Polaroid has created a firm niche for itself in this area. This is not a field grade or safari professional-grade tripod and should not be considered as such. Note: This is not an amateur tripod either. It is quality equipment with a nod to serious photographers. There are several other travel tripods on the market that are a bit beefier than this unit but they also cost more, some a lot more. Most of them do not fold as small as this one and they are a bit heavier.
Right out of the box I noticed how compact the unit is. Nothing to assemble, and everything comes complete and ready for action in its own nylon bag. Set-up is simple and straightforward. If you've ever used a tripod, even just once, you'll be able to use this without a lot of head-scratching. There is a one page user guide for those who want instructions. It's a good idea to look through the folded page just to keep from missing a feature or two.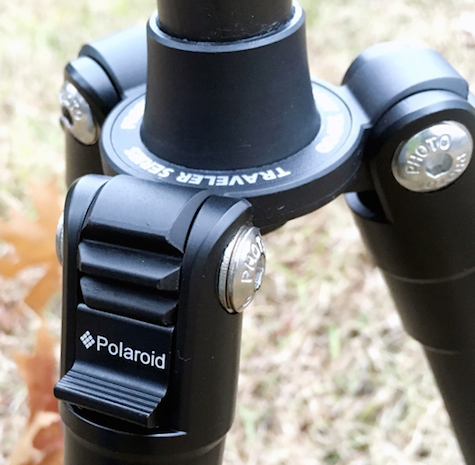 The legs have five tubular sections, or sleeves, secured in place via larger rubberized non-slip collars that tighten and un-tighten smoothly and securely. These collars are well insulated from excess dirt or moisture but the User Guide clearly states: "When used in wet/sandy/dusty environs pay extra mind to keep product dry and clean as sand and other dirt can clog telescoping mechanisms. Not recommended for use in seawater."
Rubber feet at the ends make for sure grip on most surfaces. These feet do not come off. Many professional tripods do reveal spiked feet when the "rubber foot" is removed from the end of a leg, a feature used for staking the legs firmly into the ground, and one I think Polaroid should consider in its next upgrade of this equipment. Maybe it was cost that informed them to leave off the spiked feature but even if it raised the price a few bucks in certain situations the photographer will be glad to have them, the few bucks long forgotten.
Maximum height for the Pro Series Carbon Fiber Travel Tripod is 55 inches with the Center Column extended fully. The Center Column Lock Knob adjusts the height of the column. Make sure this is secure when the camera is attached. My Nikon D700, a large DSLR, weighs 5.5 pounds with my 70-200 zoom lens attached. A loose Lock Knob can pinched fingers or worse.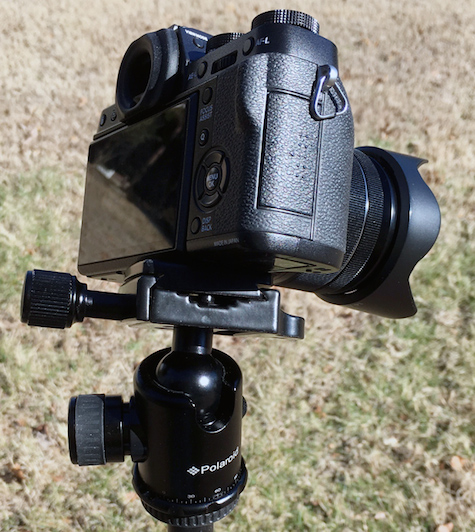 One of the features I liked most about this unit was the way the legs toggle and click into place. The toggle switches let the legs spread out or fold in as desired to one of three spread-positions that are sufficient in most photographic situations. To adjust the splay of the legs you must push slightly in on the leg being adjusted, push down on the toggle switch with your thumb (this is how I do it) and then readjust the leg, clicking it into the new position. The leg cannot be moved in or out without using the toggle switch. Secure. I Love it.
More on the legs. Being a travel tripod the legs are lightweight and get thinner as you extend them. This makes for possible instability when there is a high wind, which I experienced just this afternoon. I recommend using the spring-loaded hanger hook underneath the center post with which to hang some weight. A camera bag or even a plastic grocery bag with a few rocks in it will do. This will help stabilize the unit in high wind if need be. Many professional tripods come with this feature, used often by pros and casual shooters alike.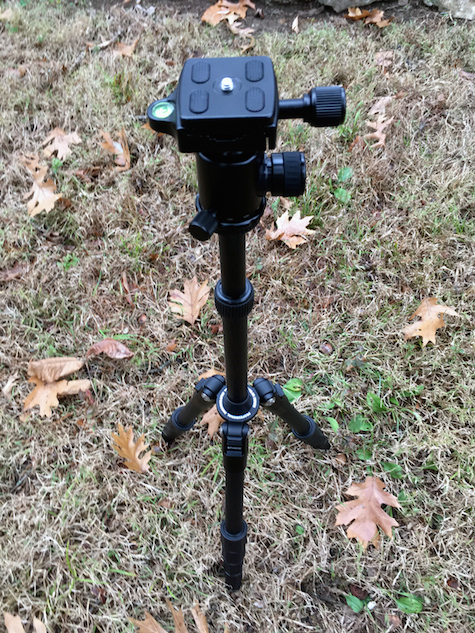 The Ball Head is completely removable revealing a straightforward Center Column with no angle adjustment except through changing the leg heights. I'm not sure why one would want to remove the ball head other than using a camera like the aforementioned D700 with a long lens which could cause the ball head to toggle/slip if the tightening knob is not tightened sufficiently. Even though the load capacity for this tripod is 20 lbs. I had to extra-firmly tighten the ball head to keep my massive Nikon with the 70-200 2.8 zoom from pulling the ball to one side.
I do not recommend using large cameras with heavy long lenses very often with this unit. It can be done but this tripod is not intended for that kind of abusive use. It is, after all, a Travel Tripod marketed to "travelers traveling light." Using it with my Fuji X-T1 and its XF 18-55 lens, half the weight of the Nikon, it presented no problems at all and I didn't have to make anything extra tight as I did with the Nikon.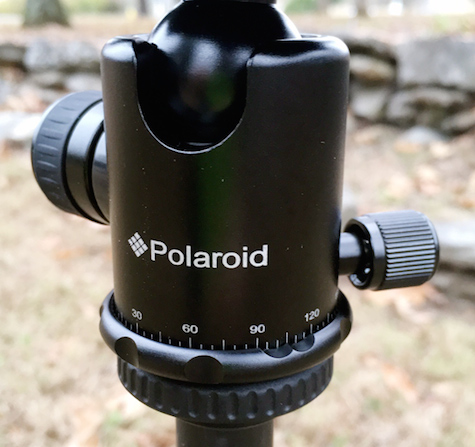 Using the smoothly operating Ball Head the photographer has total control of almost any angle needed with the Head rotating 360º around and almost any other up-down, side to side angle. There is a slot cut into the Ball Head housing that allows the camera a 90º straight down angle for shooting anything below or under the tripod. Since the legs splay straight out from the unit if need be using the legs at, say, 80º out would bring the unit very close to the ground, within 15 inches.
The Ball Head also contains a bubble level for detailed landscape work or other applications where leveling is an issue. On top of the Ball Head is the Transfer Platform where the camera is secured via 1/4" adapter screw. The Transfer Platform is held in place with a tightening screw so the platform can be removed to secure to the camera and then on to the tripod. At first I didn't like this set-up but after changing cameras a few times I came to like the way Polaroid designed the platform. It's solid. Just make sure you screw the platform onto the camera tightly so that it stays that way throughout use with the ball head and the many changes in angles one may use for a shoot.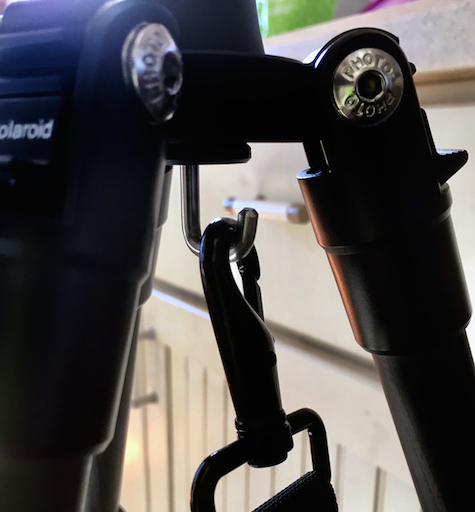 Conclusion: I think Polaroid has a winner here. I have often traveled with my cumbersome Slik tripod that I love dearly. In spite of the fact that nothing short of an earthquake can move it, the weight of it alone has often caused me to just leave it home. With this Polaroid unit I have no qualms about throwing this in my bag and carting this travel tripod all over the place. It does the trick, smoothly, lightly, and for the quality build and all that it does it is affordable.
I award Polaroid Pro Series Carbon FiberTravel Tripod with removable Ball Head a MyMac personal recommendation 9 out of 10 review rating for being exactly what it was intended for and doing the job well.