mStand mobile
Manufacturer: Rain Design
Retail: $25.00
mStand mobile from Rain Design is an elegant one-piece iPhone stand that looks like it came from Apple. It's functional, sculptural, and it just works. Your iPhone will fit vertically or horizontally, with or without a slim case. mStand also accommodates an iPad mini.
mStand is made from satiny anodized aluminum and is available in silver, gold and space gray to match your iPhone. A round hole in the back mimics the iMac leg and keeps the charging cable out of the way. Protective feet keep mStand from sliding on your desk and bumpers of the same material protect your iPhone from scratches at all contact points.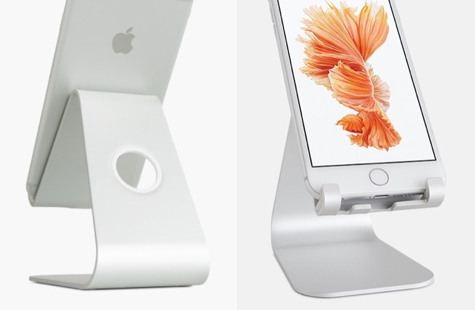 mStand keeps your phone or iPad mini readily at hand on your desk or bedside. The support is stable so that you can safely use the touch screen. mStand is 4.9 inches (12.4CM) tall so your phone's screen is at a conveniently viewable height. The supports at the bottom edge of the stand are curved so that sound is channeled outward instead of down at the desk.
There are very few manufacturers that succeed in engineering their products with Apple's aesthetic in mind. Rain Design gets it. Their catalog is not large, but every accessory they make shows great care in function as well as design.
MyMac Review rating is 10 out of 10.