Float Shelf for iMac
Manufacturer: Prism Designs
Kickstarter project
Is the space behind your iMac cluttered with hard drives, hubs, peripherals, and dust? How about a shelf to lift all of those devices above the surface of your desk so you can keep them clean and organized? The new Float Shelf from Prism Designs does all of that with grace and style.
Float Shelf is a new Kickstarter project. It is a solid slab of tapered, machined aluminum that is anodized to match your iMac. It mounts on the iMac's leg by simply lowering it into position. It's the essence of minimal sleek design requiring no tools or spare parts to install. There is an engineered polymer insert around the area that contacts the leg making a secure connection while protecting its finish.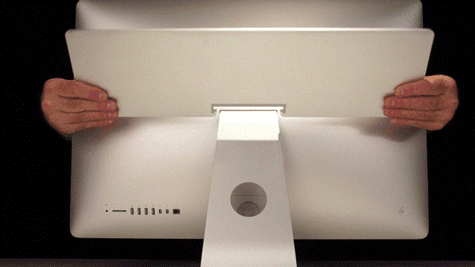 The shelf weighs a substantial 2 lb., 9 oz. (1.16KG). It is exceptionally strong and will support considerable weight. There is photo on Prism Designs site showing a cement block on it! The Float Shelf will be available in two sizes for use with either the current 21.5 inch or the 27 inch tapered-edge iMac. The shelf for the 27 inch iMac sits 10 inches (25.5CM) above your desktop. It measures 22 inches (55.9CM) wide and 6.5 inches (16.5CM) deep. The screen tilts freely without touching the shelf. It hides behind your iMac and it doesn't interfere with its functions in any way. If you are in an office environment where your Mac is seen from the back, the handsome shelf allows you to display a vase or plant next to your other gear.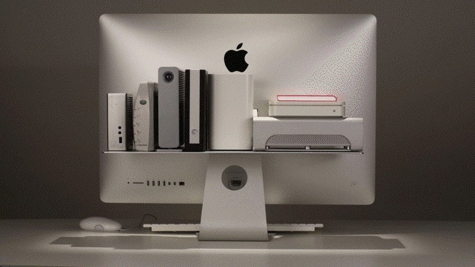 Float Shelf is a strong, convenient solution for decluttering the area behind your Mac. It is also an elegant piece of industrial design that is very much in tune with Apple's esthetic. Float Shelf Kickstarter link.
MyMac Review rating is 10 out of 10 from a longtime Mac user and product designer.
(UPDATE: The Float Shelf project funded very quickly. Originally, it was planned for only tapered edge 21.5″ and 27″ iMacs. Now Prism Designs is making them available for earlier iMacs and displays.)