FLOTE Clamp
CRC Innovations
$23.49 U.S. with free shipping when iPad stand is ordered
In the chaotic and inconsistent universe of iPad stands, there is FLOTE and there is everything else. The company's ORBIT is a vertical-bar tabletop model with a heavy base, and the DESKTOP model adds an extension arm. Both stands swivel, tilt, and rotate via a powerful, round, magnetized, cylindrical joint affixed to an adjustable clamp to hold your precious tablet. The new FLOTE Clamp replaces the massive round base for semi-permanent table, desk, shelf, or similar placement.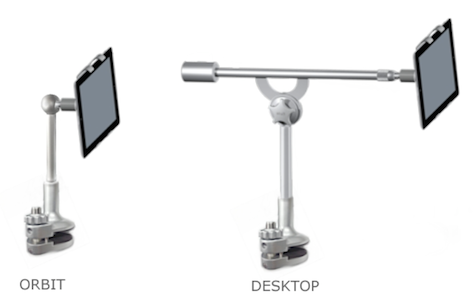 With either heavy base or clamp, an attractive and stylish FLOTE stand securely holds an iPad in place so the user can adjust the tablet to an optimum angle and position. I use an ORBIT every week of the year. I am subjectively enamored of it, because it just works with an iPad that is naked or encased. In my weekly iPad workshops, regardless of where I'm sitting or standing, I always know my iPad is secure and easily positioned.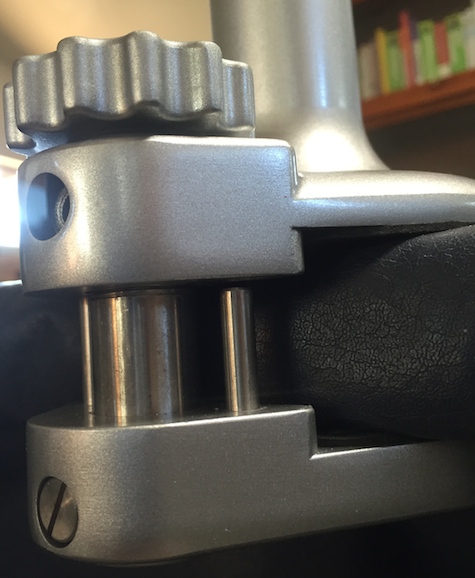 I often hoist the heavy ORBIT and set it near students when I need to make a demonstration at close range. This movement is clumsy and is potentially dangerous. The FLOTE Clamp allows me to affix a second teaching iPad to the demonstration table so several people can see what I am showing, or one of them can test the lesson material on the instructor's device and not their own, for any reason.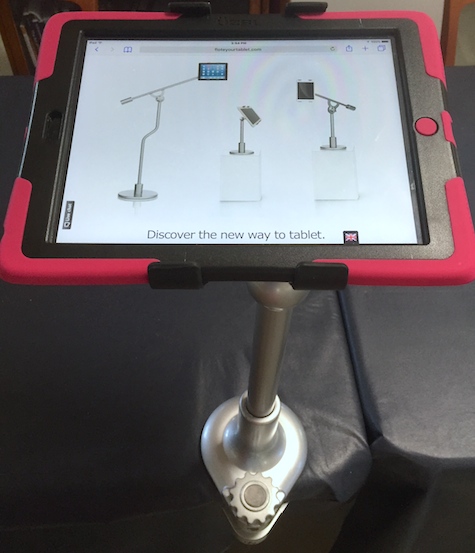 Please see the company's web page for FLOTE Clamp. It explains the clamp visually better than I can do in words. There is a 30-day satisfaction guarantee.
The ORBIT and DESKTOP units are affordable and are worth every penny. You will have them for at least one lifetime, and they will be reliable and stable for close to eternity. The modest price of the new FLOTE Clamp is a no-brainer for iPad situations in education, marketing, business, creative arts, cooking, crafts, personal training, and a thousand other environments.
The FLOTE Clamp makes an outstanding product better and more versatile for the cost of two tickets to a movie plus some popcorn. Long after the movie is over and the popcorn is eaten, your FLOTE ORBIT, DESKTOP, and Clamp will be going strong.
MyMac Review Rating is 10 out of 10.
Our MyMac prior review of the floor-standing FLOTE, with photos.