FLOTE m2 Floor Stand
FloteYourTablet.com
Price: $300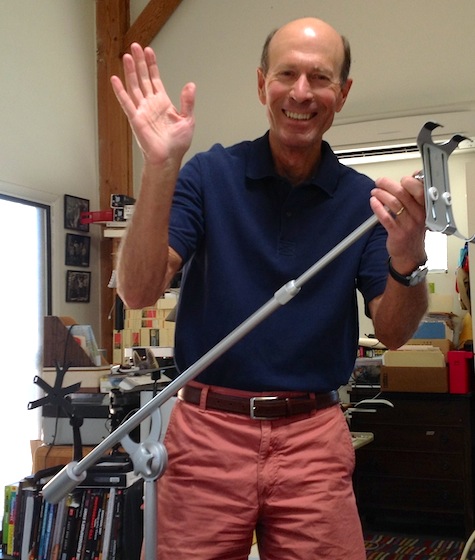 If you want to have your iPad positioned within a zillion height and range possibilities, FLOTE m2 Floor Stand is on the top of your purchase wish list. The clamps that contain your iPad are spring-loaded, so almost every tablet in the world can be used with this ultra-premium FLOTE stand's cradle.
Living room! Office! Classroom! Laboratory! Trade show! Musical stage! These and countless other situations are ideal for FLOTE. If someone accidentally bumps into the tablet or stand, its padded grippers help your device remain in place.
Up and down adjustments are basic, pivoting on a weighted arm. FLOTE's balance is very good. Out and in adjustments are done using a twist-lock on the arm segment. The base is heavy and stationary, and there is no up/down slider, as you would find on a microphone stand.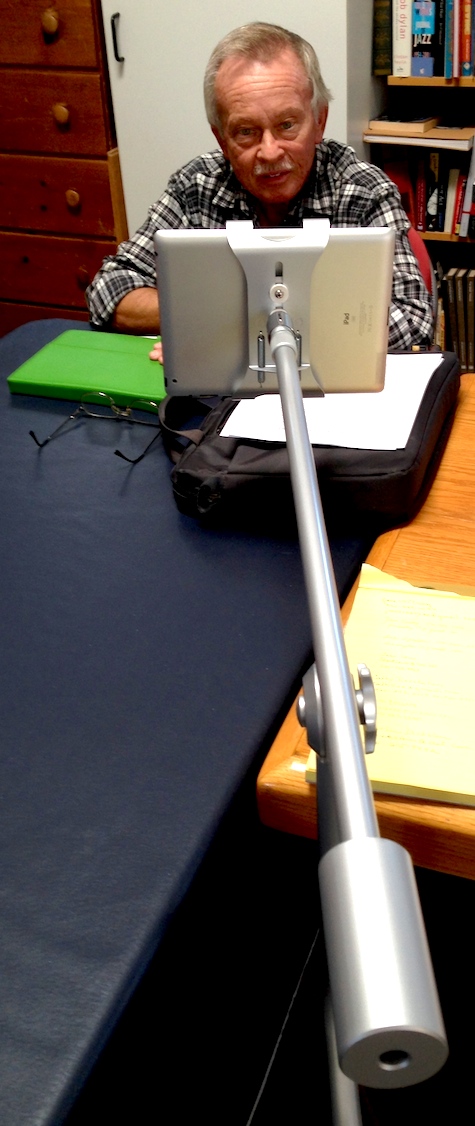 Here is a visual of the specifications. The floor model of FLOTE is heavy at 32 pounds, but it feels heavier upon first arrival in two shipping cartons. Be careful moving it after assembly, so you don't accidentally knock something or someone over with its arm extended.
Read the instructions that are included. Assembly is easy, but be aware the magnetic ball joint snaps quickly and firmly into place, with possible damage to your fingers if you are not careful. The company is aware of this situation, and will include a warning in an updated printed installation guide. Also, follow their instructions carefully regarding assembling FLOTE on a rug or blanket, both for safety and to keep it from being scratched.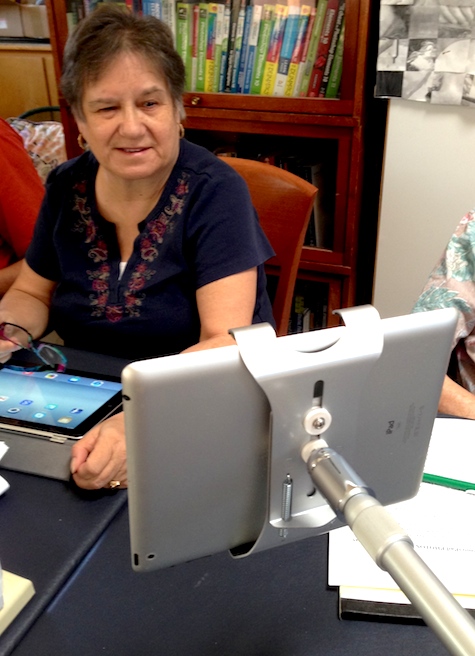 FLOTE has an excellent and full-featured web site. Spend 30 minutes going through it and you will enjoy your FLOTE m2 Floor Stand for 30 years. A desktop version has now been released. We will report on it when we receive an evaluation unit.
This small company and its innovative products are classy and future-proof. If you have deep pockets, strong arms, and like what you see on the videos page, make room in your budget for FLOTE. Factor in flat rate UPS shipping: $45 for USA and Canada, or $125 to Europe.
iKlip Stand for iPad
$70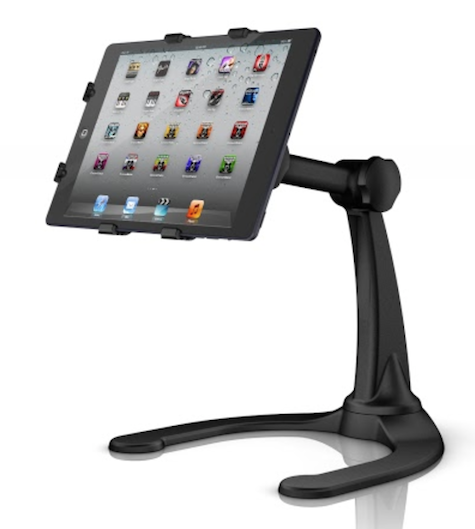 IK Multimedia's new lightweight and strong iKlip Stand for iPad also has plenty of versatility, with tabletop and clamp-on bases, both included. Once assembled, either in tabletop or clamp mode, this is one hefty and rugged iPad stand that will be in service as long as or longer than all current generations of 2, 3, and 4 iPads are operational.
Your secure iPad can be adjusted to swivel, tilt, and be in place within an extensive up and down range, via two firm twist knobs. Musicians will love this stand. So will lab teachers, trade show presenters, merchants, cooks, librarians, and a thousand other occupations and vocations. Warning: don't have the open end bracket face downward.
An iPad mini version is available. MyMac will review it separately. I predict an iPad Air version will be released soon.
Links:
An expanded video and written review by Corry Banks. 
Here is iLounge's review, complete with excellent photos.