Fidelio Lightning Connector Headphones
Manufacturer: Philips
Model: M2L/27
MSRP: $180.00
How's this for timely—quality headphones with a Lightning cable. With all the commotion over Apple's removal of the headphone jack on the new iPhone 7, here are headphones without that jack at all. Instead, these have a Lightning connector and are only compatible with iOS devices.
This is no trade-off. These headphones deliver superb sound that audiophiles will appreciate. They incorporate an integrated amp and a Digital Analog Converter (DAC). This circuitry allows the digital signal to travel all the way to the headphones before it is converted to analog to power the drivers. Only the last inch is analog. That last inch is where Philips engineers concentrated their efforts. The closed back headphones contain powerful 40mm drivers that are contained in vented ear-shells. The ear cushions rest on your ears not around them. Soft, breathable memory foam with a surrounding membrane cover isolate sound surprisingly well. You can hear almost no extraneous noise with them on and there is virtually no sound leakage that others nearby can hear.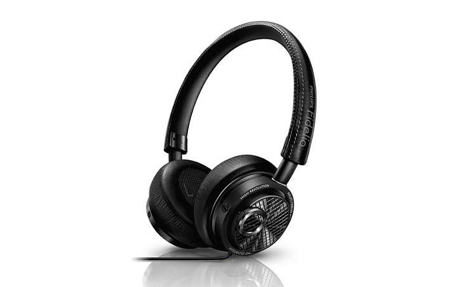 The bass response is impressive without feeling amped-up as is the case with many current headphones. Philips incorporates a responsive Bass Reflex System (they call it BRS). When they are on your ears, there is a chamber created within each ear-shell. Vents regulate the air pressure within them. The big 40mm drivers and their neodymium magnets deliver clear, balanced sound over the entire audio spectrum resulting in an airy, spacious soundstage with extraordinary clarity and strong, solid bass response.

Controls are minimal. A single press anywhere on the right ear cover pauses the music. A press will also answer a phone call when it rings. You can hear the caller through the headphones but you have to talk into your iPhone's mic to answer. Other press combinations let you skip forward and back a track as well as rewind through the current track. This is useful during podcasts. At the rear of the right earpiece, there is an easy-to-use control that directly effects the volume on your iOS device.
These headphones are very comfortable and stay cool even after extended listening sessions. They weigh in at only 6.8 ounces (193g). The headband is padded with a tidy stitched leather covering. The permanently-attached Lightning cable is four feet (1.22M) long. The Fidelio M2s are compatible with iPhone 5 and up and iPad 4, Air, retina Mini, and up. They include an elegant velveteen drawstring carrying bag which is convenient, but I think that premium headphones like these should include a more protective case.
These headphones sound terrific and look good. Some headphones make the wearer look dorky, but these don't. The iOS-only Fidelio M2s are tops in a currently small niche section of the headphone market.
MyMac Review rating is 9 out of 10.