Moose Peterson Edition Small Camera Bag, model MP-7 V2.0
MindShift Gear
$200 U.S.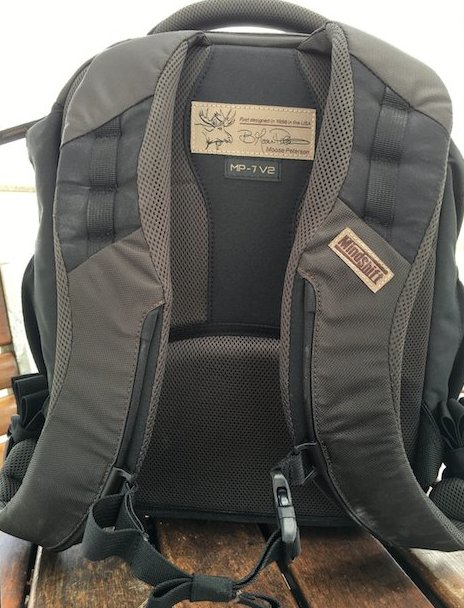 See company web site for additional photos and specifications, plus a demo video with the Moose.
The MindShift Gear Moose Peterson edition small multi-purpose camera backpack/bag is the ideal outdoor and hiking backpack for people who want to be away from the car, yet need a full complement of zip-up pockets and pouches for pro camera and other gear that requires a significant degree of protection.
Here is our YouTube review video link
I put this backpack on with the expansion straps (at bottom) in the unexpanded position, and with the chest strap closed it was a rather tight fit. I needed to expand those expansion straps only about three inches on each side to get a comfortable fit, whereas the total expansion allowed is about 18 inches on each side. So even though this bag is listed as small, it should fit nearly anyone who wants a smallish backpack that can carry a serious amount of possibly fragile gear, such as large DSLR cameras and lenses.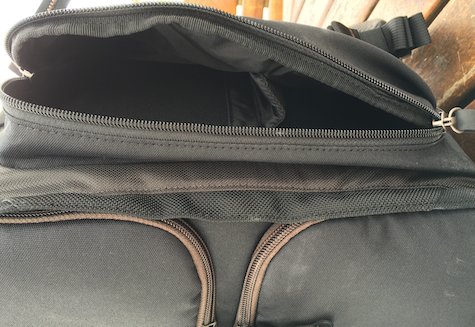 The build and construction quality of this MindShift Moose Peterson small backpack remind me of my Tumi airline carry-on suitcases, having ballistic nylon mainly, with some leather patches sewn on. The backpack has a sturdy padded nylon handle on top for picking it up and carrying it by hand when needed. A large strap that's five inches wide in the center is included, and looks for all the world like a pro weightlifting belt, but it's lightweight nylon instead of thick leather.
Also inside is a waterproof wrapper with a small pouch attached, and while the wrapper isn't big enough to use as a poncho, it can be wrapped around camera gear or placed over one's head to serve as a temporary rainshield when shooting. This wrapper has a substantial drawstring cord with a sliding locking clip, which seems deluxe to me.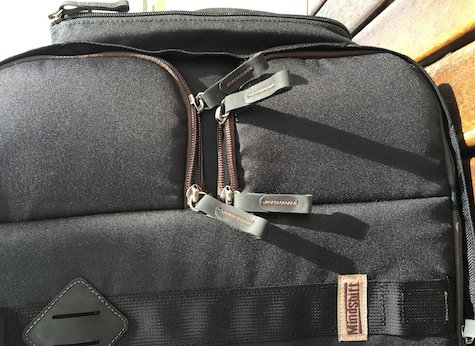 There's a shallow zippered pocket on each side, about 6×10 inches each, with an open stretch-pocket sewn onto the outside that can hold small notepads and other similar-sized items. On the front of the backpack are three permanent zippered pockets. On the right side are two pockets, one on top of the other, each measuring about 6×4 inches internally by approximately 6.5 inches deep. The bottom pocket contains a velcro divider plus a small flat zippered pouch.
On the left side, the zippered pocket measures about 14×6 inches internally by 6.5 inches deep, but that's more like 12×6 inches on the outside edge because of the taper of the backpack's exterior. This double-size pocket contains three velcro dividers plus another small flat zippered pouch. All of the backpack's external zippers (ten total) have two-inch long leatherette pull-tabs, which make it easy to find the zippers in dim light, or no light at all.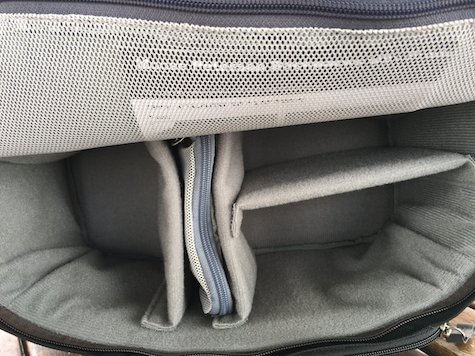 As a photo gear backpack, you can easily carry two DSLR's with several average lenses, or you can remove one or more of the velcro dividers from the large pocket and carry a large lens or two that fit within the measurements I listed above. The total weight of the backpack empty is 2.5 pounds. The build quality of this backpack is excellent as noted above, and the internal pockets have strong, semi-stiff, and very durable-looking walls that should wear extremely well with the range of professional camera gear you can carry in a bag like this.
MyMac Review Rating is a perfect 10 out of 10. Well done, MindShift and Moose.