Laptop Premium Sleeve
Caseable
Price: $50 U.S. Available in different patterns, colors, and MacBook sizes.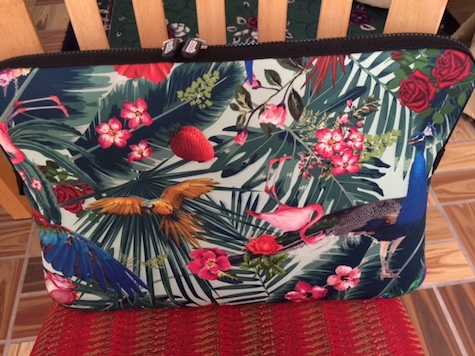 If you want your MacBook Pro to have a colorful, padded home away from home, Caseable has a solution with their many Laptop Premium Sleeve designs. They're creating artistically designed neoprene cases for MacBooks and other computers that will dazzle some people and shock others whose favorite color is gray. I looked at the one called Tropic Fun and knew I will never misplace this sleeve. These designs are vivid and cheerful.
The sleeve easily accommodates my 15 inch MacBook Pro and its charger. That's the good news.
The bad news is that if you're using it for something as heavy as a 15-inch MacBook Pro, it will be nice to have a handle or shoulder strap. Caseable insists you buy those items separately but I could find nothing on the website that says what these options cost. In response to my question, a marketing rep informed me that when you go to add ons in the design tool, you can add a strap, and handles are only available in certain countries. The Strap is $7.90, handles are $3.90.
MyMac Review Rating is 7 out of 10.