W3 Premium Wireless Audio Adapter
Audioengine
$149 plus $89 each for additional receivers

Wireless audio anywhere and everywhere in your home, place of work, or studio, without compression or signal reduction. Strong and clear signals at up to 100 feet from sender to receiver. Effortless setup for up to three receiving sets of speakers. 30-day trial to audition the units. Reasonable price for reliable 16-bit digital audio.
Audioengine's excellent W3 Premium Wireless Audio Adapter is a send/receive two-module system that uses proprietary wireless technology to play your music to any speaker with mini audio or RCA ports. The modules can be powered from either AC or USB sources, including iPhone power plugs and external USB-output batteries, plus many others. Audio quality is superior to Bluetooth.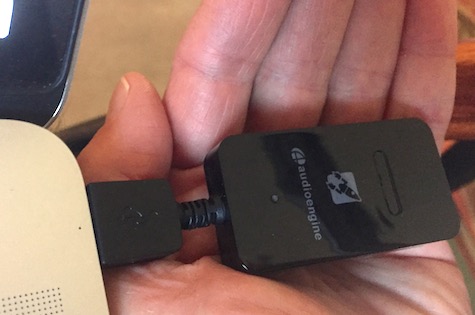 The company representative explains: "The most-popular use for W3 is from a computer's USB port to the receiver. This bypasses the computer's internal DAC and sends audio wirelessly through USB. And there is no need to press any buttons to connect the units wirelessly unless you are adding an extra receiver to the sender/transmitter."
He explains why audio quality is superior to Bluetooth. "Our WiFi-based wireless DACs (W3 and D2) use dedicated senders and receivers while our BT products (B1, B2, HD6) work with any BT-equipped device. W3 has a slightly longer range and can broadcast to up to three receivers. MacOS can also broadcast audio to multiple BT products, while Windows is limited to one at a time."
You will need to read all about W3 at the product's home page page. Spend time studying the content under the tabs for Overview, Features, Tech Specs, and FAQs. The latter is especially informative.
The basic package contains one each small, black Sender and Receiver, plus appropriate audio cables and USB/power plugs. Extra receivers can be purchased for multi-room listening. Written instructions explain typical use situations.
The black send/receive modules have narrow press buttons that connect the units wirelessly in a couple of seconds. It would be better if these physical units were larger with buttons that are not black on black. A white LED glows solid once units are paired with one another.
How's the sound? In a word, perfect. W3 transmits your lossless audio without any snap, crackle, or pop. If you are using external USB batteries attached to each sender and receiver you can place your sound source, such as an iPhone or iPad and a powered speaker anywhere. Pool party! Camping trip! Beach vacation! College dorm! Patio barbecue! Multi-room house! The opportunities for stellar sound are infinite, and are not limited to a computer as the source.
Audioengine makes one speaker system with a USB port built-in to power a receiver module receiving wireless music from a computer, stereo system, or any powered sound device. All other speakers will require either a power plug or a USB battery.
If any of this seems complicated, it's not. Within five minutes of receiving your W3 Premium Wireless Audio Adapter you will be thinking about multiple ways to enjoy using it. Audioengine provides very good phone and email support, in addition to the aforementioned FAQs page.
---
The company representative tells MyMac:
If you have an audio cable that you'd like to eliminate due to inconveniences such as distance between components, then consider W3 for countless applications. You can make an easy wireless stereo audio connection from an A/V receiver to a subwoofer, turntable to powered speakers, a computer to powered speakers or other music system, or from your TV to headphones, as examples — and without any network setup or apps to download.
Range can be affected by walls, appliances, pipes, but depends on the structure and how the devices are set up and the layout of your space. We spent months and months doing all sorts of field testing and we also had a ton of info from products before this (W1 and W2).
W3 is black and tiny, but most people don't care about buttons as the sender and receiver are pre-paired at the factory so shouldn't be any reason to press any buttons unless you want to add more receivers.
---
Audioengine produces innovative solutions for the best possible audio experiences. Their W3 Premium Wireless Audio Adapter is another winner for them and for us. Take your audition soon.