Portectorz
RadTech
Price: $4.95 U.S. and up depending on type and model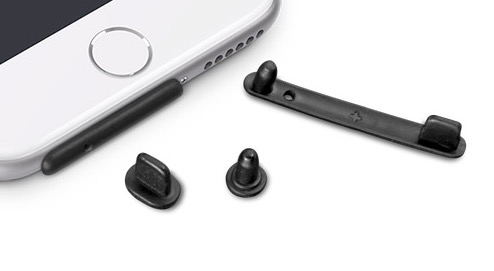 Whenever I go to the beach or pool I usually place my iPhone into a sealed bag to protect the ports from sand and/or water. Portectorz is a simple solution that might allow you to eliminate the need for that sealed plastic bag.
Portectorz consists of silicon port protectors that fit into the lightning port and headphone jack of your iPhone, iPad, or iPod Touch. There is even an Airport Express model that includes protection for the Ethernet port. The package I received contained covers for the iPhone 6 and 6s, standard or Plus. It consists of two strips that have the two port protections in one, and also individual headphone and Lightning plugs. The two strips are fitted for the 6/6s and the 6 Plus/6s Plus.
Each item easily fits into the ports and has a snug fit. I don't see how water or sand would get in through them. They are also easily removed.
The only issue with the Portectorz I see is with cases on your device. Depending on the case you might not be able to use these. The strips can be cut to accommodate cases where the individual plugs will not fit, but it might cause an issue with removing them if they are cut too small. My iPhone case cannot accommodate the headphone jack plug no matter how small I cut it.
However, if your iOS device does not have a case or you case will work these are a fantastic, inexpensive, solution for protecting the ports on your iOS devices. There is even a model for older devices with dock connectors.
MyMac.com Review Rating: 9 out of 10.